An MTSS (multi-tiered system of supports) is an organizational framework used in education settings to ensure that all students' needs are met through increasingly targeted interventions across three levels of support. As educators build intervention plans, they use data to help them make well-informed decisions that will produce the best outcomes for each student.
Traditionally, the MTSS framework is visualized as a three-tiered pyramid. This model represents the three tiers of support that provide increasingly targeted interventions and support for all students.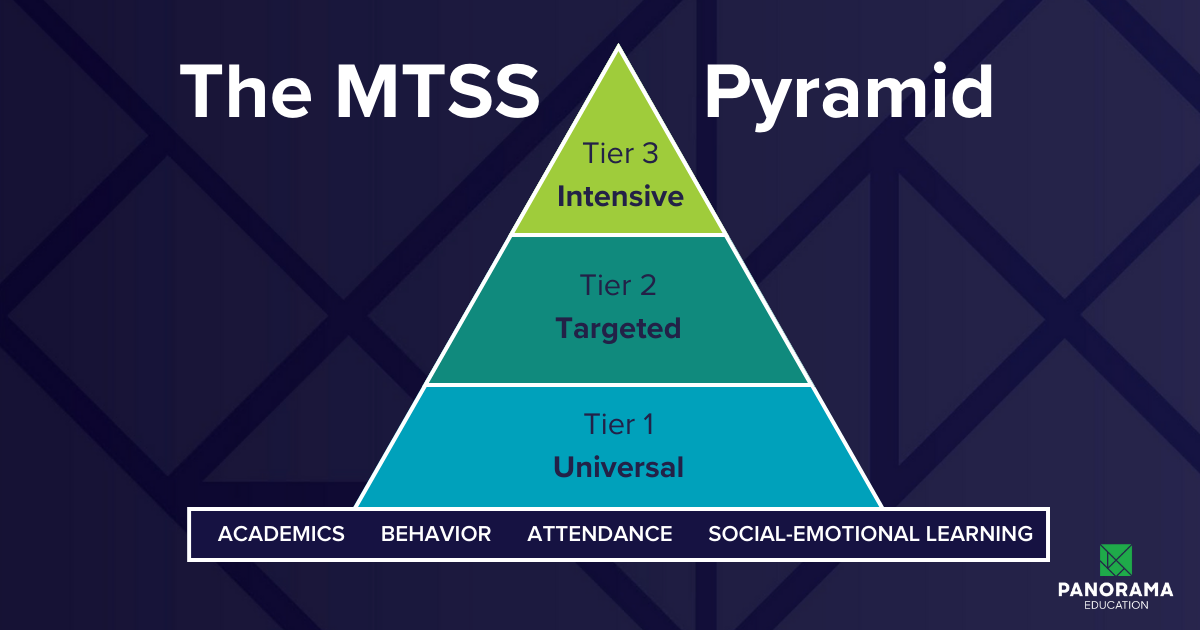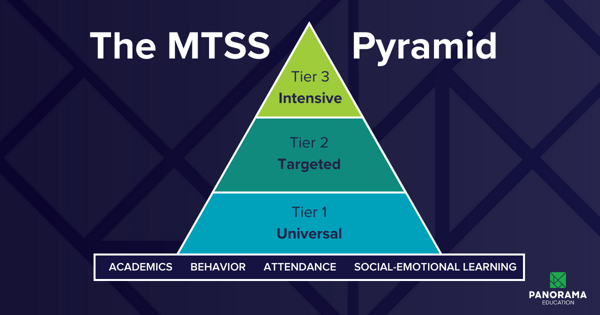 An example of the MTSS pyramid
While the MTSS pyramid helps school and district leaders visualize levels of support, it doesn't tell the whole MTSS story. Visualizing your district's MTSS as an umbrella can be a powerful tool to understand all the aspects of a "whole child" educational journey: social-emotional learning (SEL), academics, behavior, attendance, and family engagement.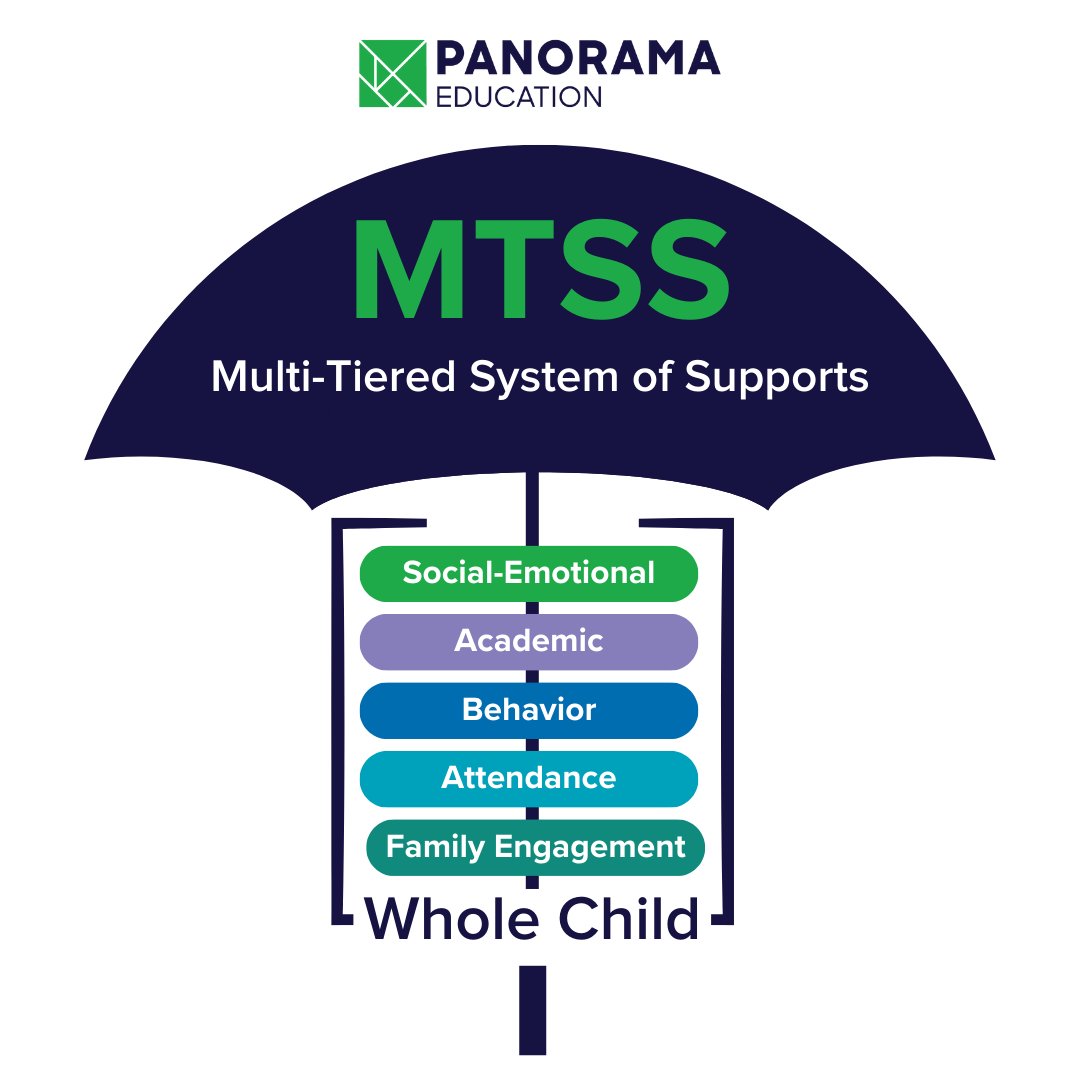 An example of the MTSS umbrella. Feel free to save and use this image!
In this blog, we're doing a deep dive on each of these elements—because when MTSS supports the whole child, it moves the needle on student success.
Strengthen Your District's MTSS With Panorama's Free Interventions and Progress Monitoring Toolkit
Table of Contents: What's Under the Umbrella?
Supporting Academic Success and Student Learning
What is PBIS? Positive Behavior and Your MTSS
Facing the Challenge of Chronic Absenteeism
Supporting Family Engagement in Schools
Integrating Social-Emotional Learning Into MTSS
Supporting Academic Success and Student Learning
We know that MTSS forms the foundation for academic success. However, it's now more necessary than ever to create strong, tiered systems of academic support for students. The October 2022 report from the National Assessment of Educational Progress (NAEP) showed severe declines in literacy and math scores among students in grades 4 and 8 across the United States. NAEP released additional data in June 2023 showing scores declining in both subject areas for 13-year-old students.
One of the key takeaways from the NAEP results was that in order to elevate literacy and math scores, students need to be receiving consistent, high-quality interventions.
Delivering interventions consistently and with fidelity can be challenging, especially when you are already short on resources. Committing to processes around intervention planning and progress monitoring can help lighten the load and ensure that the supports students are receiving are actually working as intended.
Did you know? District and school leaders can visualize the big picture of how their MTSS program is doing using Panorama's Interventions Dashboard. View district-level data at a glance, zoom in to understand how individual schools and classes are performing, or check on individual interventions.
What is PBIS? Positive Behavior and Your MTSS
Positive behavior interventions and support (PBIS) is a part of an overarching MTSS, providing tiered behavior support for students. Districts often implement PBIS as part of their holistic MTSS approach. A PBIS model focuses on increasing positive behaviors and preventing unwanted behaviors, rather than solely responding to behavior incidents. PBIS is both proactive (establishing behavior expectations) and reactive (providing supports when behavior challenges escalate).
The most common form of PBIS uses three tiers of interventions. Note that students are not either "in Tier 1" or "in Tier 2," but can be receiving supports in any of the three tiers at any given time. Consider integrating some—or all—of these Tier 1 PBIS interventions into your school-wide intervention menu.
Facing the Challenge of Chronic Absenteeism
Chronic absenteeism is one of the strongest predictors of students falling off track for graduating high school, poorer social-emotional outcomes, and lower achievement in reading and math in earlier grade levels. So supporting student attendance is crucial, especially as the Covid-19 pandemic had a negative impact on attendance.
There are many strategies for getting kids to attend school regularly—from improved transportation to communication with families. You can access attendance and climate intervention strategies, alongside academic, behavior, and SEL interventions, in this free toolkit.
Did you know? Panorama Student Success provides educators with a complete view of student progress across attendance, academics, behavior, and social-emotional learning. With interactive attendance dashboards that refresh daily, Panorama offers clear "on track" and "at risk" indicators that educators can use to take data-informed actions.

Supporting Family Engagement in Schools
Research shows that involving families in their children's education is paramount to student success. When families are meaningfully and continuously engaged in their children's learning and development, it has a positive impact on their child's academic outcomes. So engaging families in your school or district's MTSS is a crucial component of student success.
In order to better collaborate with families, districts and schools need to better understand the needs, obstacles and challenges facing caregivers. Too often, educator perceptions of family engagement barriers do not align with families' experiences.
Conducting bi-annual, district-wide family surveys is one way to collect robust data that can elevate family voices and experiences. By conducting a survey of your families, your school or district can hear from a representative group of parents and guardians, rather than relying only on the perspectives of parents who are already highly engaged in advisory committees or PTA groups. Strategies for supporting family engagement could include:
Grounding your district's strategic planning in an evidence-based family engagement framework
Inviting families to share priorities, concerns, and feedback
Bringing families into the decision making process
Assessing all family engagement initiatives through an equity lens
Offering flexibility for a variety of options for family involvement
Leveraging a variety of tools to facilitate meaningful, two-way communication
Integrating Social-Emotional Learning Into MTSS
The purpose of MTSS—supporting the individual needs of all students—involves building social-emotional skills such as self-efficacy, positive relationships, and responsible decision-making. Research shows that social-emotional learning is key to student success, and that SEL is equally as important as academics and behavior.
Providing tiered SEL interventions alongside behavioral and academic interventions ensures that your district's students build social-emotional skills that empower them to thrive inside—and outside—the classroom.
Layering in SEL data alongside behavior and academic data not only gives you a fuller view of each student, but also helps you understand the relationships between these data points. Imagine if your teachers could see that a student's declining writing grades correlate to their struggle with self-management. That kind of insight is the beginning point for a more targeted intervention, such as these strategies from Panorama's Playbook.


Did you know? With Panorama for Social-Emotional Learning, you have guidance to evolve and scale your SEL practices—from student and staff surveys, to tools and strategies to take action, to best practices for continuous improvement.

Next Steps for School and District Leaders
School and district leaders are committed to making sure students get the best academic, behavioral, and social-emotional support—but figuring out how to navigate this is a complex endeavor. Implementing a district-wide framework can feel overwhelming, as can intervention tracking and data-driven decision-making.
Panorama Student Success can help. The Panorama platform gives you all of your data in one place, with tools to plan and track interventions, including access to Panorama's Playbook of research- and evidence-based strategies. So your team has quicker access to better data and can focus more on delivering the education and supports that students need.
Download Panorama's Free Interventions and Progress Monitoring Toolkit