"We need to realize that social-emotional learning is not an 'and' that will come at the expense of our academic work. It's an 'and' that allows us to build on our academic work." — Dr. John Marschhausen, superintendent of Dublin City Schools.
Research shows that social-emotional skills like responsible decision-making, problem-solving, and self-awareness are key to student success. However, incorporating social-emotional learning (SEL) curriculum into a multi-tiered system of supports (MTSS) can be challenging without the right systems in place.
The good news: SEL can be built into your district's existing MTSS. In fact, a crucial part of educating the whole child involves supporting their social-emotional learning with data-based decisions for targeted and intensive interventions.

In this blog, we've provided four strategies your school district can use to integrate SEL into your MTSS framework to support the academic, behavioral, and social-emotional learning of the whole child.


Gather actionable data with Panorama's open-source Social-Emotional Learning Survey
Integrating SEL Into MTSS: Why It Matters
When we think about the purpose of MTSS—supporting the individual needs of all students—we can't do that without thinking about social-emotional skills such self-efficacy, positive relationships, and responsible decision-making. Research shows that social-emotional learning is key to student success, and that SEL is equally as important as academics and behavior.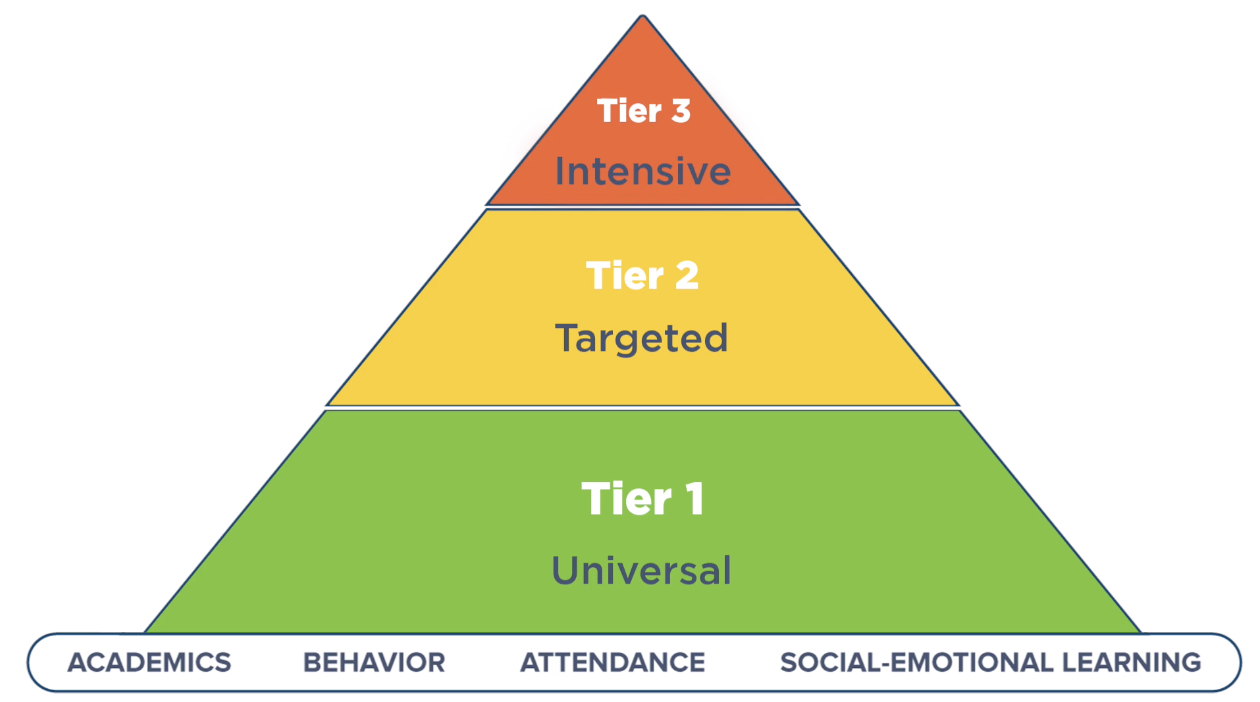 A depiction of the MTSS pyramid
Providing tiered SEL interventions alongside behavioral and academic interventions ensures that your district's students build social-emotional skills that empower them to thrive inside—and outside—the classroom.
4 Key Steps to Integrate SEL Into Your MTSS Framework
Each district's MTSS will look different. However, these strategies for integrating SEL into your MTSS can be applied no matter what stage of the journey you're at, from early stages of gathering baseline data to creating a formal SEL program.


Identify How SEL Can Support Your Existing Priorities
While there are many ways to build social and emotional learning into your school at the universal level, SEL is most impactful when schools focus on building a few targeted student competencies. That way, your SEL and MTSS programs can focus on strengthening existing priorities. CASEL competencies to focus on might include:
Self-awareness
Self-management
Social awareness
Relationship skills
Responsible decision-making
Research shows that specific SEL skills and supports correlate strongly with attendance, behavior, and course performance. For example: If promoting positive student behavior is a priority in your school, you might consider measuring and supporting SEL strategies that help with self-management, social awareness, and teacher-student relationships.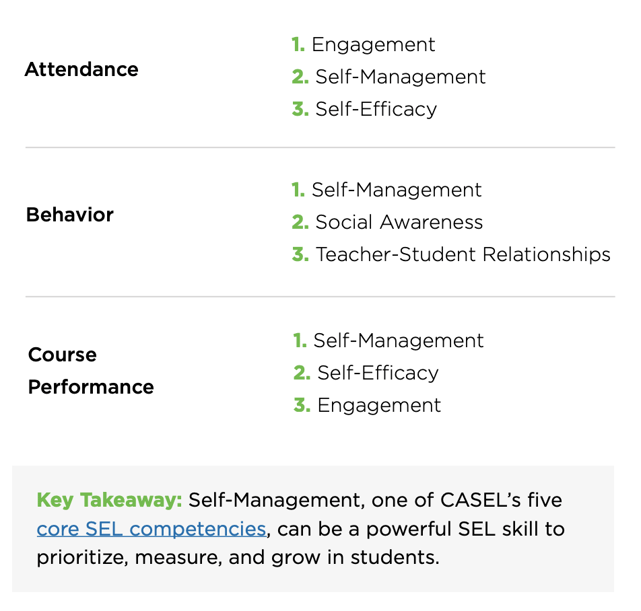 Connections between SEL & the ABCs of student success
Round Lake Area Schools (IL) uses Panorama Surveys to measure Self-Management, Social Awareness, Emotional Regulation, Teacher-Student Relationships, and Sense of Belonging. By choosing just five areas of focus, the district gathers data they could digest and analyze—and uses that data to drive strategic planning.


Create MTSS Teams and Provide Ongoing Professional Development
Both SEL and MTSS are team sports: everyone in the building has a role in making them work. It's crucial to build teams that weave SEL and MTSS into school climate, and it's equally important to provide additional support to those school and district leaders. These district or school-wide initiatives can look like:
Creating central office positions that align with your district's strategic vision for student success. Consider roles like a Director of MTSS, MTSS Coordinator, and SEL Data Strategist to ensure every student gets the support they need across academics, behavior, and social-emotional learning.
Offering professional development and resources. SEL and MTSS teams need access to evidence-based supports and resources. Resources like an interventions and progress monitoring toolkit, coursework on MTSS development, or surveys like an MTSS self-assessment can all be valuable forms of professional learning for your district's teams.
Providing opportunities for adults in your buildings to build social and emotional learning skills. In order to cultivate SEL skills like self-awareness and self-management in students, adult SEL must be a priority. Your district's staff and teachers deserve to feel supported and valued, and have opportunities to build SEL skills in a community where they feel a sense of belonging. Consider incorporating adult SEL activities into staff meetings, small groups, and professional development days.
Collect Actionable Social-Emotional Learning Data
What we measure matters. That means gathering data on students' social-emotional skills and mindsets in the same way that you're already tracking academic performance and behavior. One impactful way to gather that data is through surveys.
Did you know? Your district can use Panorama's free, open-source Social-Emotional Learning Survey to develop your own SEL survey. Our Social-Emotional Learning Survey includes questions across 23 topics like self-management, growth mindset, and social awareness.
After you've identified an SEL measurement tool, the next step is putting that data in context. Layering in SEL data alongside your academic and behavior data not only gives you a fuller view of each student, but also helps you understand the relationships between these data points. Imagine if your teachers could see that a student's declining writing grades are inextricably linked to their struggle with self-management. That kind of insight is the beginning point for a more targeted intervention.
Use Data to Build SEL Supports Into Your Tiered Intervention Strategy
Finally, your school or district can use SEL, academic, and behavior data to build SEL-specific supports into your tiered intervention strategy:
Tier 1 SEL interventions

focus on developing a shared vision for school climate, building positive relationships between students and teachers, and integrating SEL into academic instruction.

Tier 2 SEL interventions

can include strategies like Check-In/Check-Out or The Lunch Bunch. These are all interventions that provide continual, targeted support for emotional skills like social awareness, relationship skills, and responsible decision-making.
Tier 3 SEL interventions might look like smaller group work or individual lessons or support. At this tier, interventions could involve counseling or strategies like rapid positive reinforcement.
Districts like Johnston County Public Schools use a data-driven approach to build a strong base of universal supports alongside targeted SEL interventions, supporting students holistically.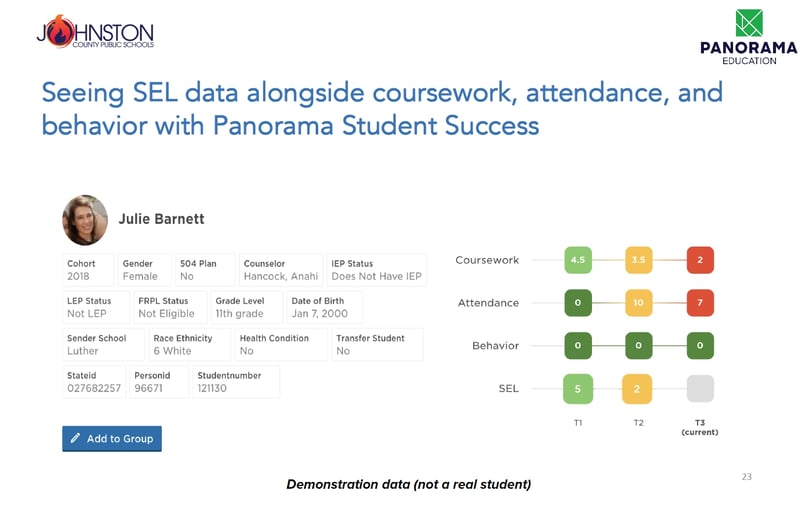 Dr. Amanda H. Allen, Executive Director of Social and Emotional Learning for Johnston County Public Schools, says, "Panorama Student Success is one tool that enables us to have these types of data-based conversations. With a student's coursework, attendance, behavior, and SEL data in one place, we can ask: What is this student telling us? What is the root cause of the student's struggles? Is this student's coursework declining because they are not coming to school? Or is it tied to their social-emotional capacity?"
By asking these types of data-driven questions, districts like Johnston County can build strong SEL interventions into their MTSS, ensuring each student receives the supports they need to thrive.
Did you know? Districts that partner with Panorama have access to Playbook, Panorama's professional learning library that connects educators with hundreds of instructional resources and interventions across SEL, academics, and behavior.
Supporting the Whole Child: Next Steps For Your District
Integrating SEL into your school or district's MTSS framework starts with understanding your students' social-emotional strengths and areas for growth. By collecting SEL data—and layering it into academic and behavior data—you can create a more robust picture of each child, supporting them with meaningful SEL interventions.
Access Panorama's Social-Emotional Learning Survey—with 30+ Survey Topics for Students and Adults