In this Intervention Brief, we explore the Lunch Bunch, an intervention that provides students with ongoing opportunities to make connections with peers while working towards concrete behavioral goals. You can find the Lunch Bunch in the intervention library of Student Success, Panorama's MTSS intervention management platform for school districts.
*****************************
Quick Summary
Intervention Name: Lunch Bunch
Tier(s): 2, 3
CASEL Competency Alignment: Social Awareness, Relationship Skills, Responsible Decision-Making
Grade Levels: K-12
Description: Provide students with a space to both make connections with peers as well as work towards specific social-emotional goals during a regular lunchtime meeting with peers and a caring adult.


Free Download: 15 Social-Emotional Learning Interventions

What is a Lunch Bunch?
A Lunch Bunch is a group-oriented behavioral intervention often used by classroom teachers and school counselors. A small group of students (ideally four to six) meet on a regular basis with a teacher, school counselor, or other student support staff member. The goal of this intervention is to help students connect with peers while working on specific SEL skills.
While a Lunch Bunch will look different for each school community, the core purpose is to promote specific social-emotional and behavioral goals for a small group of students. The versatility of the Lunch Bunch means that teachers and counselors can adapt it to the needs of diverse groups of learners.
For students, participating in a Lunch Bunch can help them feel seen, build positive coping skills, and form trusting relationships. Reluctant or shy students may be better able to "open up" to classmates and adults in this more relaxed setting.
For educators, a Lunch Bunch program can be a consistent time to connect personally with students and foster a warm, safe, and supportive learning environment. The use of lunchtime for this social skills group also means that students won't miss out on academic instruction.
Who Might Benefit From Inclusion in a Lunch Bunch?
A Lunch Bunch can be an effective intervention program for students across all grade levels (K-12) and is predominantly used for students in Tiers 2 or Tier 3.
At the Tier 2 level, teachers and school counselors might start a Lunch Bunch group with students who find it difficult to navigate social situations or who struggle with specific behaviors in the classroom (or at home). At the Tier 3 level, students can be invited to participate in a Lunch Bunch for small group counseling.
When identifying students to invite, consider the purpose of your Lunch Bunch. The main goal can—and should—vary from group to group. For example, you can implement a Lunch Bunch as:
A weekly "meet and greet" for new students who are meeting their classmates for the first time
A transition-focused group for students who have received behavior referrals during the transition from elementary school to middle school (or middle school to high school)
A semester-long book club focused on perspective-taking and related social skills


Topic and SEL Skill Ideas for Lunch Bunch Groups
A Lunch Bunch is a great way to proactively work on core CASEL competencies—such as relationship skills, responsible decision-making, and social awareness—with students in an intimate and relaxed environment.
Consider the following list of topics when planning a Lunch Bunch program for your students.
Social skills. Model social interaction skills and communication practices that can help students learn the behaviors that lead to positive relationships. Have students practice these skills with you and their peers.
Problem solving and conflict resolution. Teach, model, and refer to a process for

conflict resolution

(vs. problem avoidance) with classmates. For example, how should students respond when someone calls them a name?
Personal interest and cultural identity topics. Build comfort within the group by asking simple

get-to-know-you questions

with your Lunch Bunch. What are shared interests or communalities between students? What are their favorite books or games? What new shows did they discover on Netflix with their family during the pandemic? Who speaks Spanish at home? Who likes to eat ice cream? By learning about their peers and considering different perspectives, students can learn to better understand themselves and what others in their community might be coping with.
Collaboration and teamwork. Use fun icebreakers and team building activities to form a sense of community and camaraderie in your Lunch Bunch. The bonds formed in this group can extend into classrooms and beyond.
Self-esteem and growth mindset. Discuss the value of developing a growth mindset and maintaining a positive self-image, especially when setting goals and forming relationships.
If you use Panorama: You can select the "Lunch Bunch" strategy when creating an intervention plan for a student. Monitor the student's progress over time by logging notes. Everything will be saved to the student's profile and visible to other educators with access to Panorama.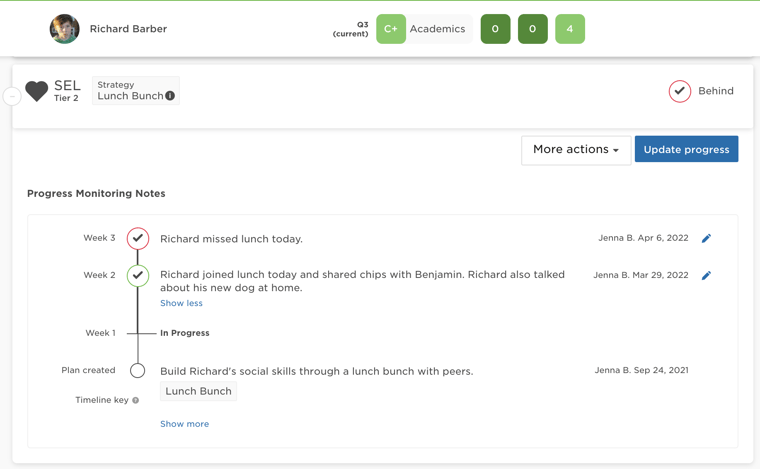 Example of a student intervention plan in Panorama Student Success (mock data pictured)



What to Consider When Creating a Lunch Bunch Program
Use data to identify students who could benefit from inclusion in a Lunch Bunch. Use

SEL assessment data

and

whole child dashboards

to understand which students are in need of additional SEL and behavioral supports. As a best practice, limit each Lunch Bunch group to four to six members and invite new students every few months.
Plan topics strategically. In addition to selecting skills for individual students to build, designate a theme or topic that you want to discuss with students during each convening. Student SEL data can uncover which social skills—such as empathy or perspective-taking—are areas of opportunity for students.
Balance structured activities with time for socializing. Since lunch periods usually last for 20 to 30 minutes, be deliberate about what you want to accomplish with your Lunch Bunch. Consider planning a short activity (10 minutes) that encourages reflection and prompts conversation. That way, you can help students build a specific social skill while leaving plenty of time for socializing.
Track progress for individual students and the group as a whole. To know if your Lunch Bunch is effective, it's important to track progress and adjust based on students' needs. Record your notes after each Lunch Bunch to reflect on how students are progressing towards the Lunch Bunch goal. For example: in

Panorama Student Success

, educators can assign the Lunch Bunch intervention to a group of students and record progress notes for each individual student.
Be mindful of confidentiality. Some students may want to discuss current conflicts during Lunch Bunch. In these cases, offer to meet with them privately instead. If you jump into peer mediation right away, students may expect to work through friendship problems during Lunch Bunch instead of building their social skill sets.
Additional Resources on the Lunch Bunch Strategy
Looking for additional SEL strategies? Download 15 social-emotional learning intervention ideas—and share with your school teams!