In this Intervention Brief, we explore WOOP, a popular goal-setting strategy for students in grades K-12. WOOP, which stands for "Wish, Outcome, Obstacle, Plan," is an evidence-based intervention that is designed to help students initiate and sustain effort to achieve their goals. You can find the WOOP intervention strategy in the intervention library of Student Success, Panorama's MTSS intervention management platform for school districts.
***********************
Quick Summary
Intervention Name: WOOP
Tier(s): 1 and 2
Grade Levels: K-12
Description: WOOP is a student goal-setting strategy. With WOOP, students will explore their wishes, identify internal obstacles, and create an action plan for achieving their goals.

WOOP Intervention Overview
Teachers and counselors regularly help students set attainable goals. Goal-setting is an important way to make progress as a learner and develop skills around working toward short and long-term goals. WOOP (an acronym which stands for Wish, Outcome, Obstacle, and Plan) is an evidence-based intervention that helps introduce students to goal-setting while guiding them through an exploration of obstacles and barriers.

WOOP uses mental contrasting, asking participants to contrast a wish with an inner obstacle and then to create an if-then plan. This is important because research shows that positive thinking alone doesn't help adults or students meet their goals. We are more successful when we define a desired outcome, identify potential obstacles, and create plans to overcome those barriers.



Who Does the WOOP Strategy Work For?
All students (and educators!) can benefit from the WOOP method, whether it is used for social, emotional, behavioral, or academic goals. You can use this strategy with elementary, middle, or high school students, as well as adults in your community.
Dr. Gabriele Oettingen, professor of psychology at NYU, and Character Lab have studied how when the WOOP technique is used in the classroom, it can make significant positive impacts on students' effort, homework completion, attendance, and even GPA. Goal-setting can also help students develop a positive growth mindset and strong problem-solving and decision-making skills. Setting and working towards goals also gives students a sense of ownership over their own learning.
Consider the following possible uses for WOOP:
Tier 1 Intervention: Invite students to create WOOP goals at the beginning of the school year, a new semester, or when new subject areas are introduced. This will help them develop their skills and gain competency in goal-setting. Students can also work together to achieve a larger classroom goal.
Tier 2 Intervention: Work with individual students or small groups to develop WOOP goals around specific behaviors. WOOP can also be incorporated into student support

plans.

Professional development: WOOP goals aren't just for students! Adults can use WOOP to define and achieve specific goals around personal or professional life.



How to Implement WOOP
To begin the WOOP goal-setting process, ask students to determine each of the following areas

Wish

- A meaningful, challenging, and feasible wish or goal
Outcome

- The best result or feeling from accomplishing your wish

Obstacle

- Something inside of you that prevents you from accomplishing your wish

Plan

- If [

obstacle

], then I will [

effective action steps

]
After students have set their goals, teachers can set up a future time to follow-up on their WOOP.
Dr. Jenn Charlot from Character Lab advises that schools introduce, practice, and integrate WOOP in one-on-one sessions with students, during advisory, as a whole class activity, and through whole school assemblies. Showing a video of two adults in school doing WOOP is one nice way to model how WOOP works.
"One of the big challenges that always comes up is: where do I find the time? You can find the time by integrating WOOP into things that you're already doing," says Charlot. "Many schools that have worked with us replaced their current goal-setting strategy with WOOP because they find the process to be a stronger experience."

If you use Panorama: You can select the "WOOP" strategy when creating an intervention plan for a student. Monitor the student's progress over time by logging notes. Everything will be saved to the student's profile and visible to other educators with access to Panorama.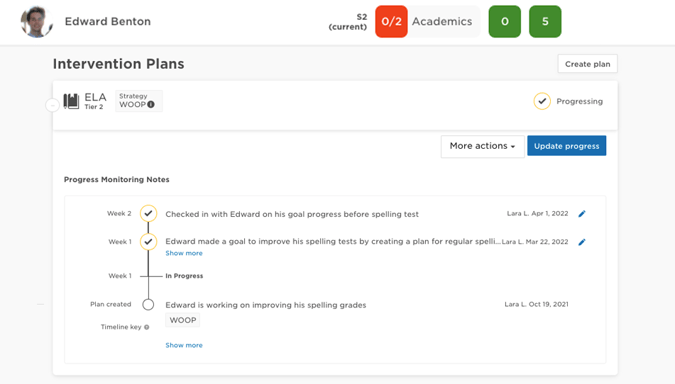 Example of a student intervention plan in Panorama (mock data pictured)


Additional Resources on WOOP & Other Interventions