A unified MTSS platform to monitor student progress
Panorama's MTSS software platform is your school district's foundation to scale a multi-tiered system of supports or response to intervention framework.
With Panorama, you'll have holistic data, easy-to-use intervention workflows and strategies for teachers, and in-depth reporting for administrators.
Explore our MTSS Dashboards
Explore our data dashboards
View Panorama's reports for MTSS, school climate, equity, social-emotional learning, family engagement and more.
Schedule a demo with our team or give us a call at (617)-356-8123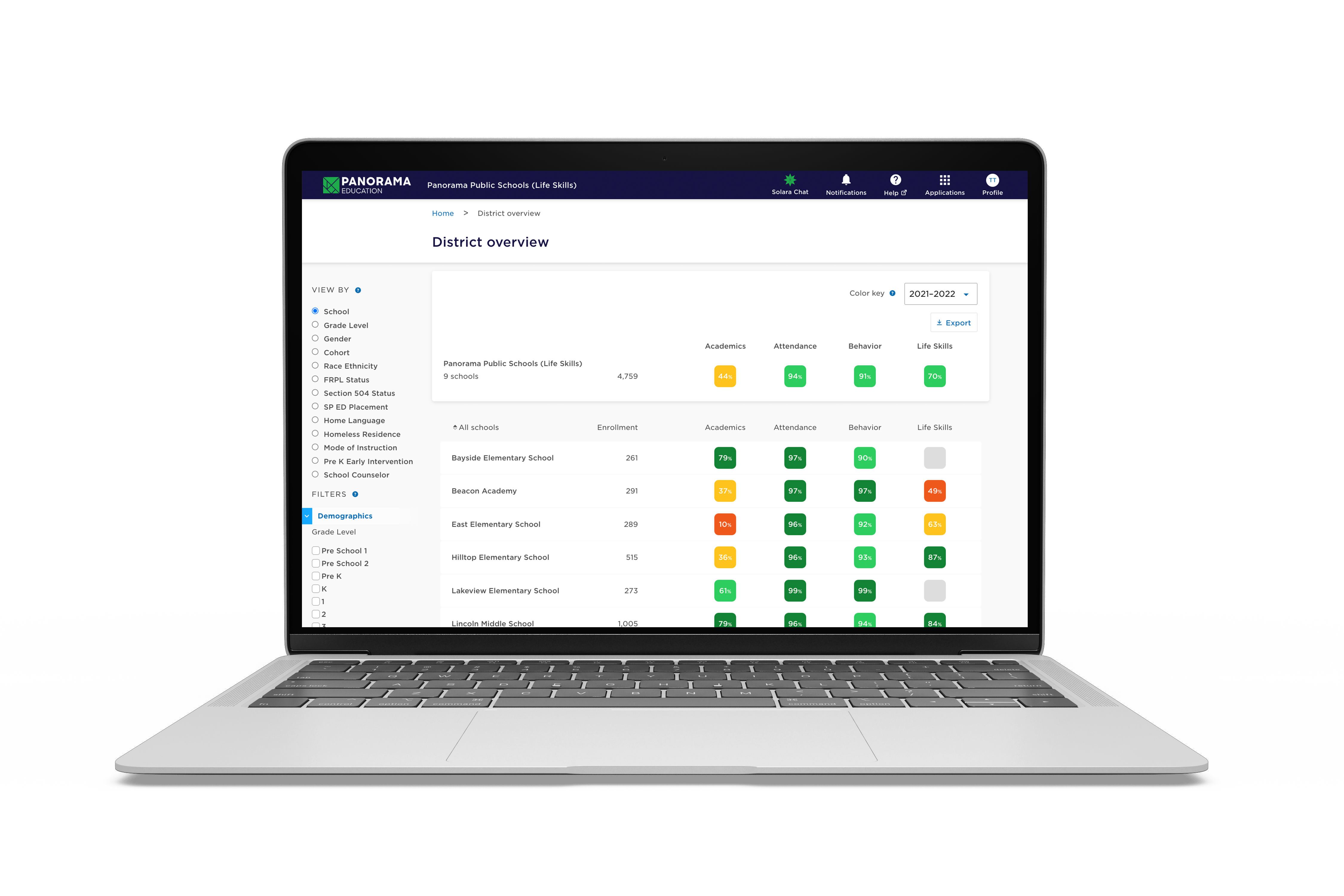 Explore our MTSS Dashboards
Request a Demo
Take a tour of Panorama
Get insights with a technology platform that supports student success
Schedule a demo with our team or give us a call at (617)-356-8123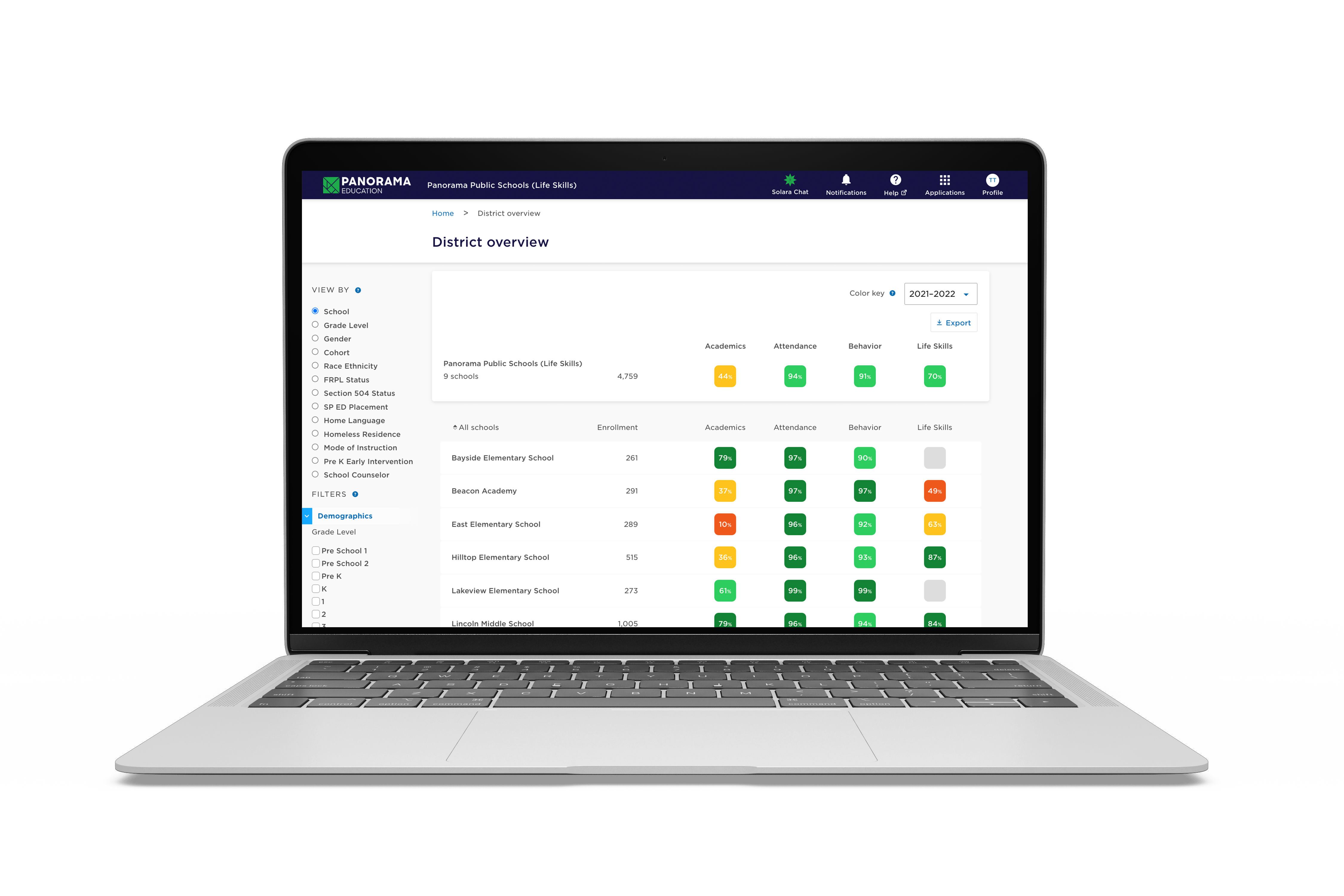 Powering MTSS for leading districts nationwide.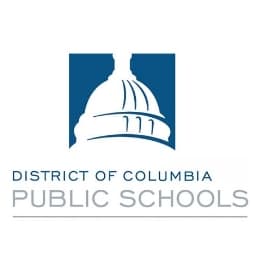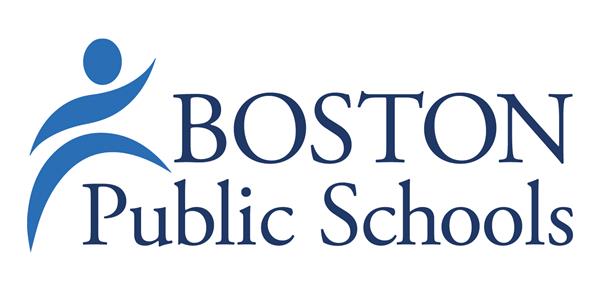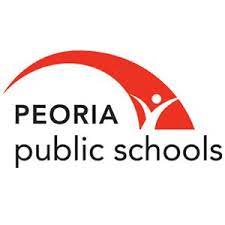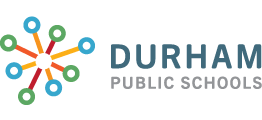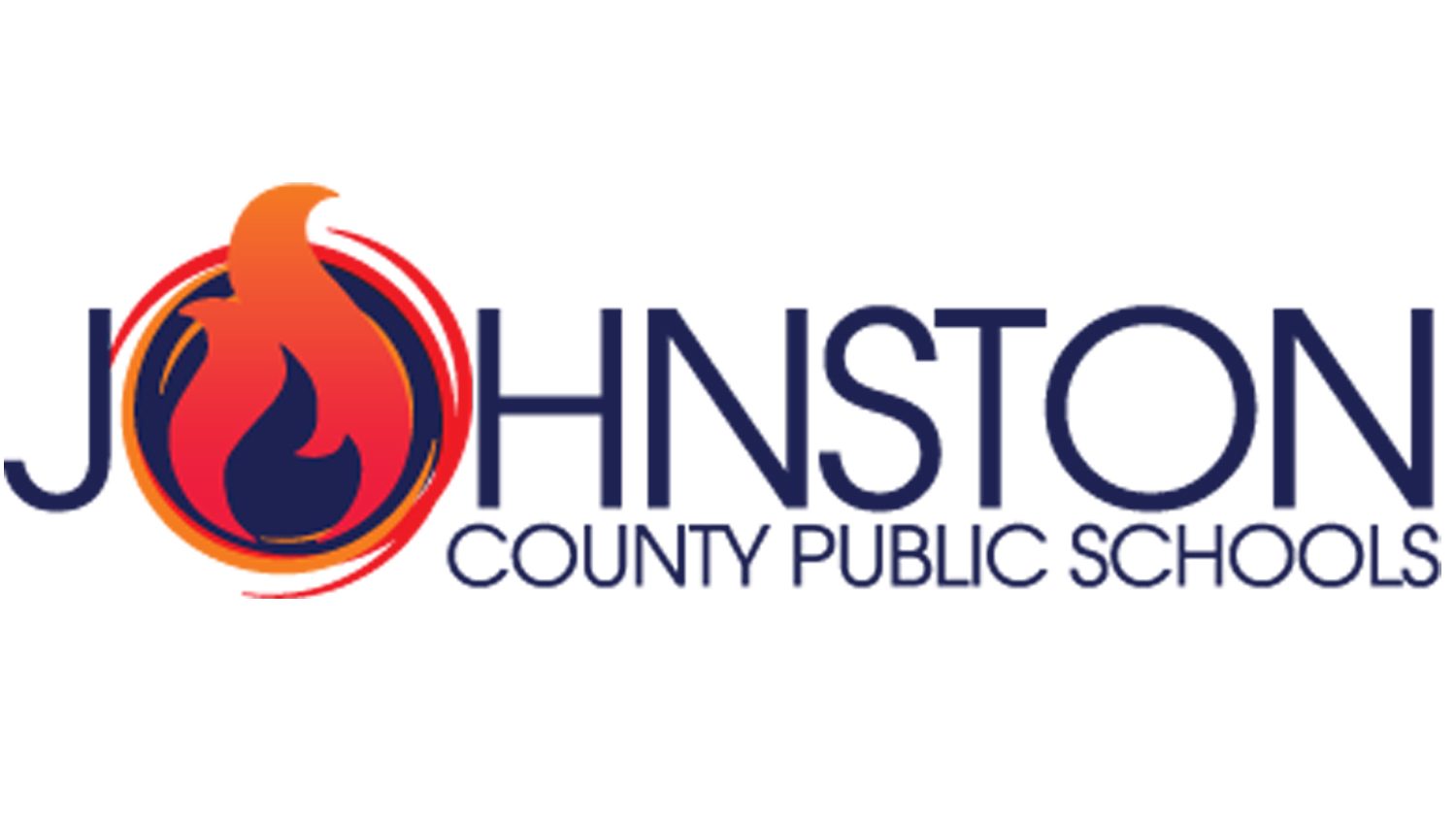 A PANORAMIC VIEW
Whole child and intervention insights in one place
Academics, social-emotional learning, school climate, behavior—they're all linked in the MTSS framework, and they're all crucial to student progress and student success.

Panorama brings together all of that information so that teachers and MTSS teams can spend less time on administrative tasks, and more time on instruction with students.
Guide: 3 Questions Every MTSS Team Must Ask
3 Must-Ask Questions for Student Intervention Teams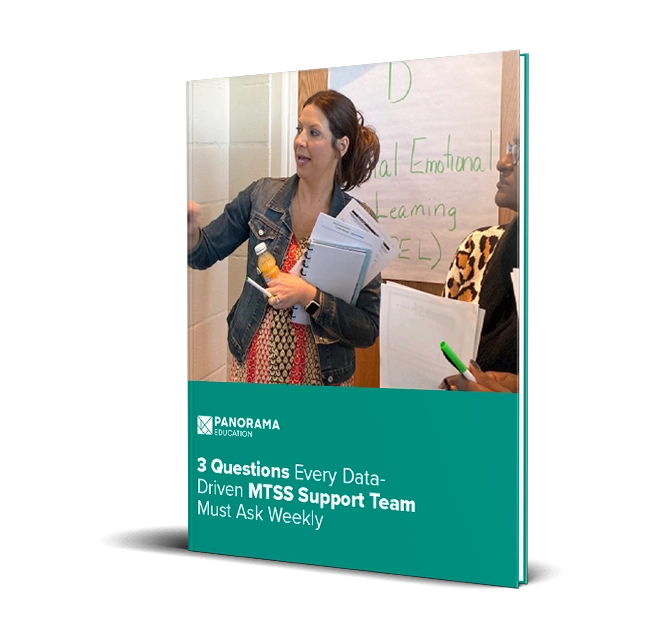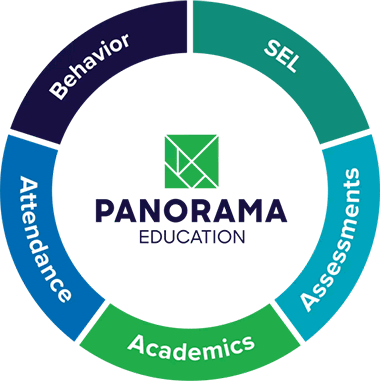 Identify students who need support in minutes, not days
With Panorama, educators can quickly filter across multiple data sources—including assessment, coursework, behavior, attendance, social-emotional learning, and demographic data.

It takes minutes to pull a list of students who may benefit from targeted or intensive MTSS interventions. With data at their fingertips, educators can engage in more data-driven problem solving and decision making around student supports and learning recovery.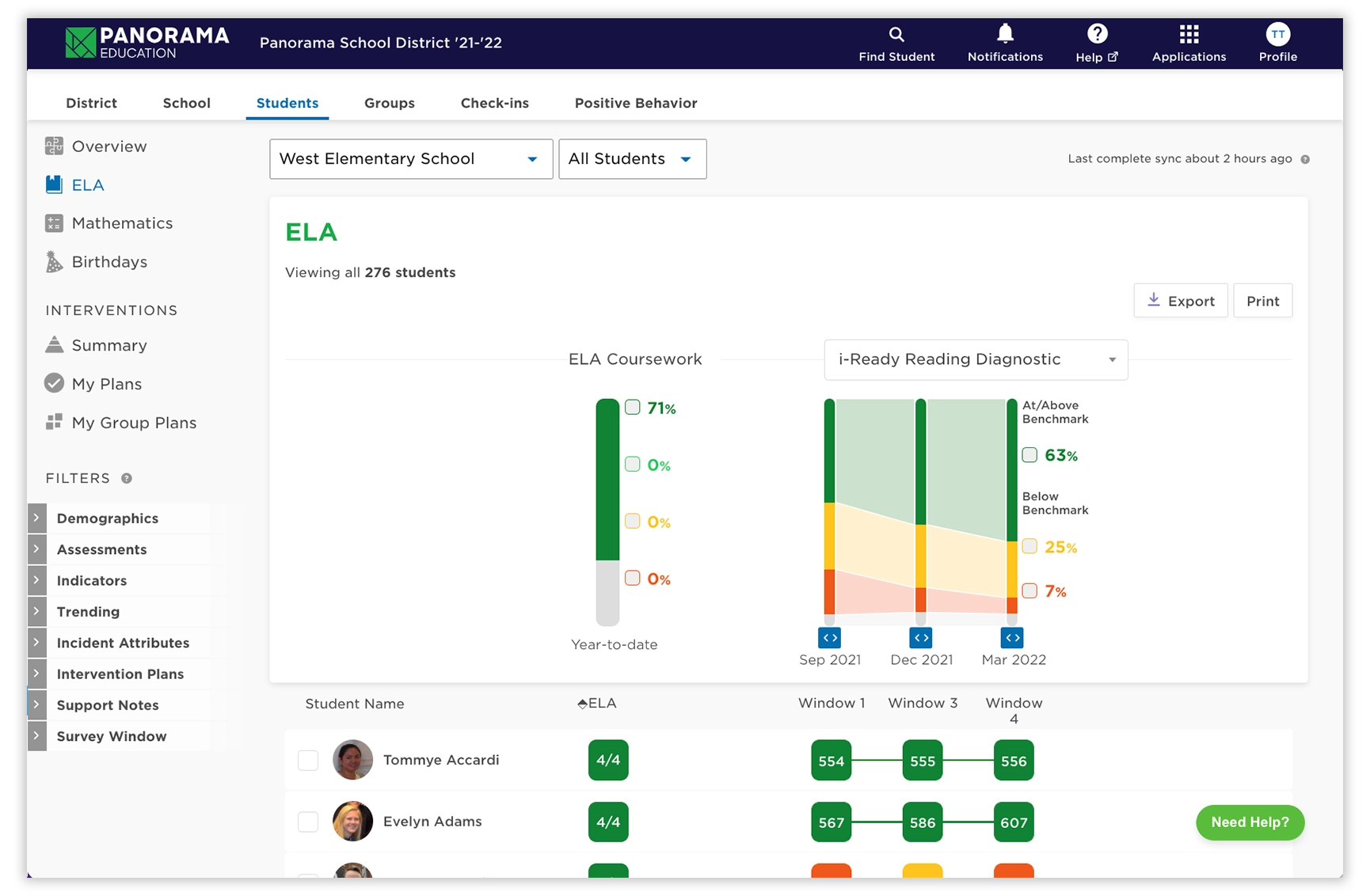 Easily create and progress monitor MTSS intervention plans
Collaboratively build Tier 2 and 3 intervention plans to help individual students develop skills or reach specific academic goals. Track learners' progress toward goals with integrated progress monitoring tools, workflows and dashboards as part of your MTSS process.

Connect educators with hundreds of high-quality instructional resources and evidence-based interventions across academics, behavioral interventions, and SEL using our intervention menu and Playbook.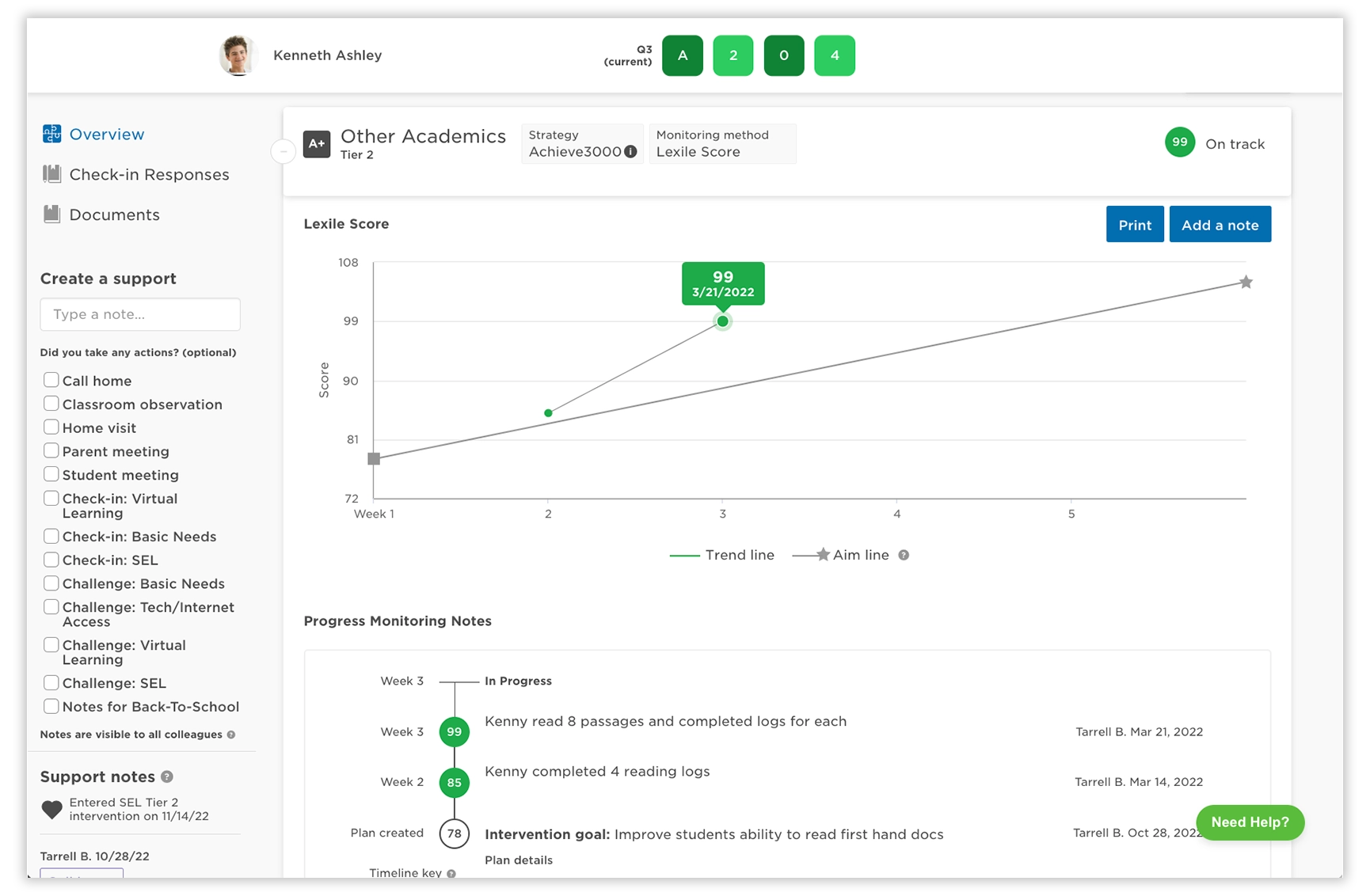 Access powerful school and district-wide reporting
With all your MTSS data in one platform, get a bird's-eye view of intervention effectiveness across your school, district, or various demographic groups. See how students are progressing in ELA, math, behavior, SEL, and other core academic areas.

Monitor the overall health of your MTSS implementation, see what's working to improve student outcomes, and understand where to allocate resources in school buildings.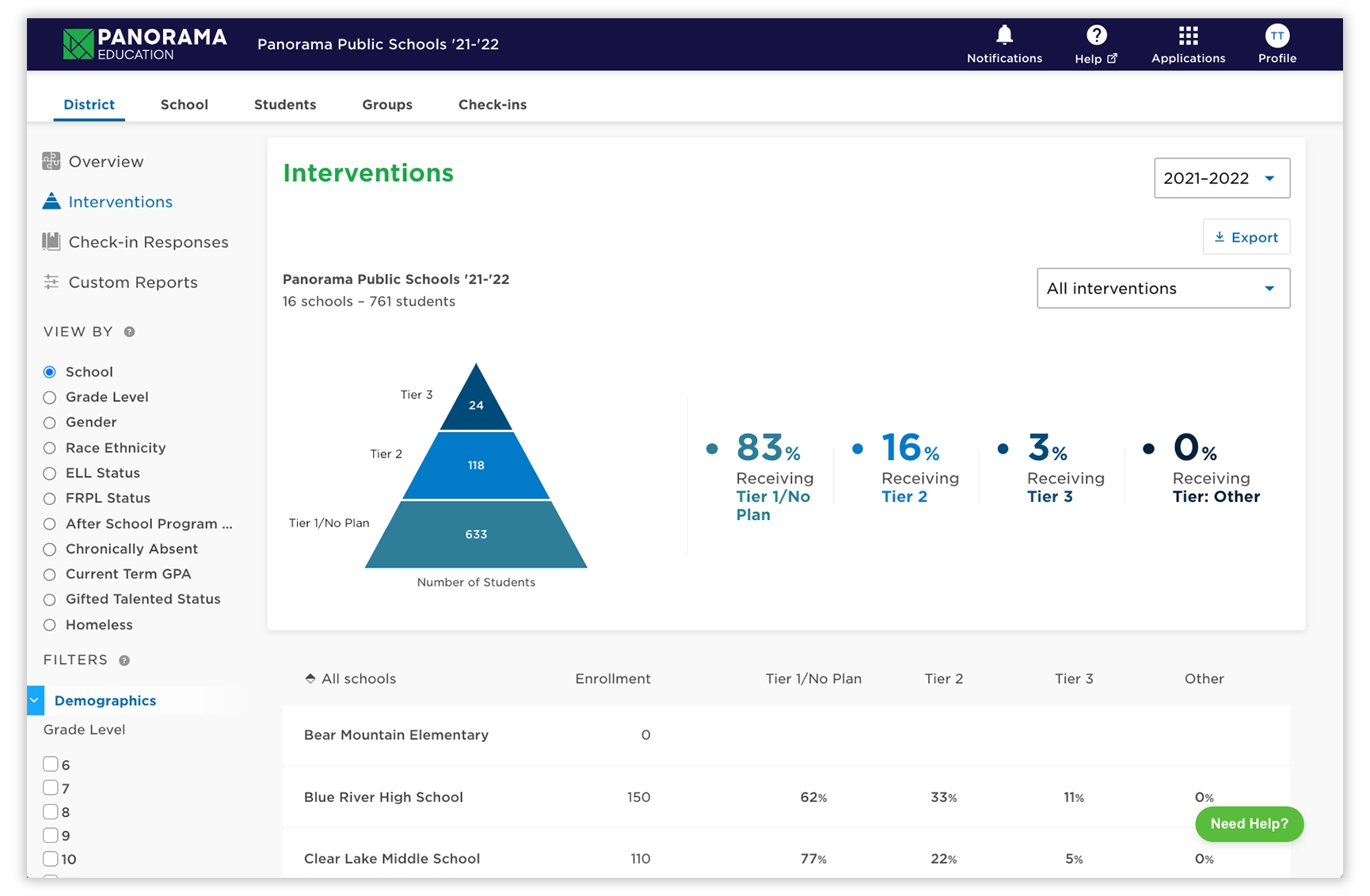 EQUITY-BASED MTSS
A better view into equity
Panorama's MTSS tools can help you explore disparities across student groups by grade level, school, race/ethnicity, gender, LEP or English learner status, FRPL status, Section 504 status, special education placement, and many other variables.

Take action to address these disparities by identifying what each student needs and intervening in response to whole child data. Moving from the needs of all students to "each and every student" can promote an equitable student experience in your district.
See Our Equity Dashboards
Explore Panorama's data dashboards
Powerful reports and insights for MTSS/RTI, SEL, equity, school climate, and more.
UPCOMING WEBINAR
Level Up Your MTSS: A Panorama Virtual Summit for Student Success
This 100% free virtual summit will feature leading MTSS researchers and practitioners who will share evidence-based and research-backed insights on how to "level up" your tiered systems of student support. From those building their systems from scratch to those looking to refine and strengthen their existing ones, the summit is open to all K-12 practitioners.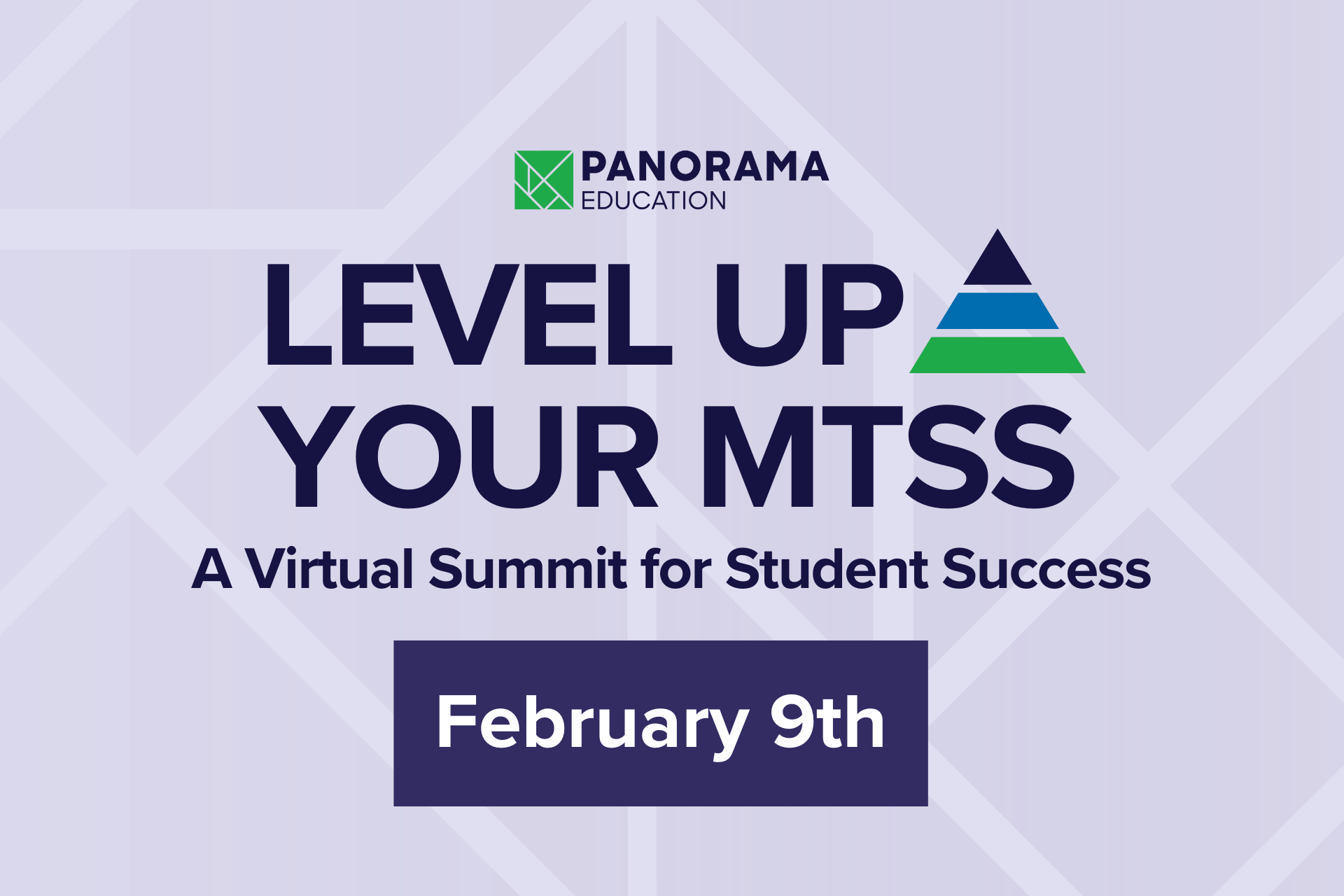 "Before Panorama, we didn't have much in terms of tools to see and act on the whole child. Every single piece of data we wanted on our students was in a different platform. We knew our kids and families needed to be worked with, but we tended to not go after the data because collecting the data was so time consuming. The problem is, that's uninformed. You're out in the dark trying things."

Michael Kalnbach

Principal, San Angelo ISD (TX)