In this Intervention Brief, we explore Check-in/Check-Out (CICO), a popular intervention program that provides students with immediate feedback and promotes positive behavior within a PBIS. This is the first piece in a series that will feature the most popular strategies in the Panorama Student Success intervention library.
***********************
Quick Summary
Intervention Name: Check-In/Check-Out (CICO)
Tier(s): 2 and 3
Grade Levels: K-12
Description: CICO is a strategy that provides students with immediate feedback on behavior and increased positive adult attention daily.
Download intervention planning templates in our Interventions and Progress Monitoring Toolkit.


CICO Intervention Overview
Check-In/Check-Out (CICO) is a Tier 2, group-oriented, and research-backed behavioral intervention that delivers additional support to groups of students with similar behavioral needs.
At its most basic level, CICO is an opportunity for a student and a mentor to work together to improve behavior. The goal of this strategy is to prevent future problem behavior by checking in with students daily to share clear expectations, feedback, and support. Classroom teachers can typically implement CICO in less than five to 10 minutes per day.
Using CICO in your school or classroom (as part of a broader PBIS, MTSS, or behavior education program) can provide structure in a student's day, increase accountability, create internal motivation, improve self-monitoring skills and self-esteem, enhance family engagement efforts, and—ultimately—improve student behavior.


Who Does the Check-In Check-Out Strategy Work For?
CICO works best for students who are struggling with social interactions in the classroom, exhibiting behavioral issues, or are in need of extra motivation. This targeted intervention can be used as a behavior support for individual students or for groups of students in elementary school, middle school, or high school.
Consider the following criteria when identifying students who will benefit from the Check-In/Check-Out behavior intervention:
A student who is struggling with Tier 1 goals and behaviors
Low engagement in class participation and classwork
Students who respond positively to adult attention
Struggles with focus, attentiveness, and emotion regulation
How to Implement Check-In Check-Out
After a student is identified as requiring additional behavioral support, the classroom teacher (along with caregivers and other staff who might serve as a coach or mentor) defines behavioral expectations for the student and documents these expectations on a daily progress report.
In some schools, classroom teachers serve as the CICO intervention coordinator. In others, a counselor or other non-instructional staff member is assigned as the coach/mentor.
On a daily basis, successful implementation of the CICO intervention includes:
Morning Check-In. Students complete a "check-in" with their mentor each morning after arriving at school. The goal of this morning meeting is to review behavioral goals, collaboratively set goals for the day, and provide encouragement.
Monitoring, Evaluation, and Feedback. Throughout the day, the teacher observes the student's behaviors. Using the expectations listed on the student's daily progress report as a reference, the teacher shares regular feedback with the student. In addition to giving regular verbal feedback, the teacher uses a "point card" to assign points when the student meets daily goals.
Check-Out. At the end of the day, students meet with the same adult whom they began the day with. Together, they assess the total on their "point card" and discuss if the daily goals and target behaviors were reached. If students met their goals, the mentor provides verbal praise. If the point goal was not met, the mentor offers supportive encouragement.
If you use Panorama: You can select the "Check-in/Check-out" strategy when creating an intervention plan for a student. Monitor the student's progress over time by logging notes. Everything will be saved to the student's profile and visible to other educators with access to Panorama.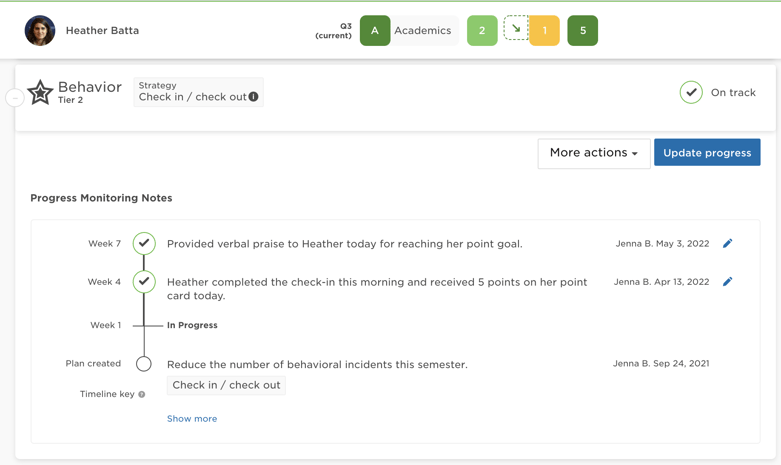 Example of a student intervention plan in Panorama (mock data pictured)
Tips for Effective CICO Implementation in a PBIS
Successful implementation of CICO does not focus on the student's behavioral struggles. Instead, it celebrates the student's efforts to meet positive behavioral goals.
Teacher feedback should occur at the end of each class period or during natural transitions throughout the day.

Standardize

point cards

across your school.

The point card should include school-wide expectations and a scoring system (e.g., a three-point scale) that is similar to a student's report card.
Feedback should be positive, specific, and corrective when appropriate.
Use a data system like Panorama to track and monitor students' progress with this positive behavioral intervention. You can also use the data to determine if a student is ready to "exit" the CICO intervention. Download our Interventions and Progress Monitoring Toolkit to access our free

intervention tracking templates

for MTSS/PBIS teams.

Family participation is a crucial component of the CICO process. Students take their "point card" home with them to share with their caregivers. This allows for an additional opportunity to receive feedback, praise, or support from a parent or guardian. In some schools, teachers ask parents to sign and return the "points card" the next morning.


Additional Resources on CICO and PBIS
Access intervention planning resources in the Interventions and Progress Monitoring Toolkit.