Managing behavior in schools has always been a challenge, but educators have seen a sharp rise in serious behavior incidents since the pandemic. Social-emotional supports and trauma-informed practices can help address the root of the problem. However, educators are still faced with the everyday struggles of responding to these challenging behaviors and replacing them with more positive ones.
That's why many schools have adopted a Positive Behavioral Interventions and Supports (PBIS) model. PBIS is a framework used in schools to improve student outcomes—and school climate and culture—by fostering positive behavior. Schools and districts that use PBIS report that it creates a more positive and productive learning environment for students, teachers, and staff.
In this post, we'll take a deep dive into PBIS and explore:
Access free templates and worksheets in the PBIS Team Toolkit
What is PBIS?



Popularized by the 1997 Individuals with Disabilities Education Act (IDEA), PBIS was initially developed to provide behavioral interventions for individual students. It has since shifted to emphasize school-wide practices and expectations that help all students develop prosocial behavior.
A PBIS model focuses on increasing positive behaviors and preventing unwanted behaviors, rather than solely responding to behavior incidents. PBIS is both proactive (establishing behavior expectations) and reactive (providing supports when behavior challenges escalate).



What Does the Research Say?
When PBIS is implemented with fidelity, school communities thrive:
Students demonstrate fewer negative behaviors and perform better academically, socially, and emotionally.
Teachers report feeling less burnt out and having higher levels of self-efficacy.
Schools that use PBIS tend to have fewer office discipline referrals, leading to a more positive school climate and culture.
In addition to promoting positive behavior practices, PBIS represents a move away from traditional discipline models, such as in- or out-of-school suspension. Research shows that these practices are not only ineffective at changing student behavior, but can have a detrimental effect on student academic achievement.
PBIS: An Important Piece of the MTSS Puzzle
MTSS (multi-tiered system of supports) is an organizational framework used in education settings. MTSS ensures that all students' needs are met through increasingly targeted interventions across three levels of support. MTSS encompasses academics, social-emotional learning, and behavior. needs.
PBIS is a part of an overarching MTSS, providing tiered behavior support for students. Districts often implement PBIS as part of their holistic MTSS approach.


What about RTI?
PBIS can also be used within a Response to Intervention (RTI) model. Originally developed to identify students who may benefit from special education services, RTI has grown to refer to a framework of academic and behavioral supports, encompassing:
universal screening

continual progress monitoring

a multi-level system

data-based decision-making
RTI is often considered a part of the larger MTSS framework. Many educators now use the term RTI interchangeably with MTSS to describe holistic, tiered support systems.
A Tiered Support Model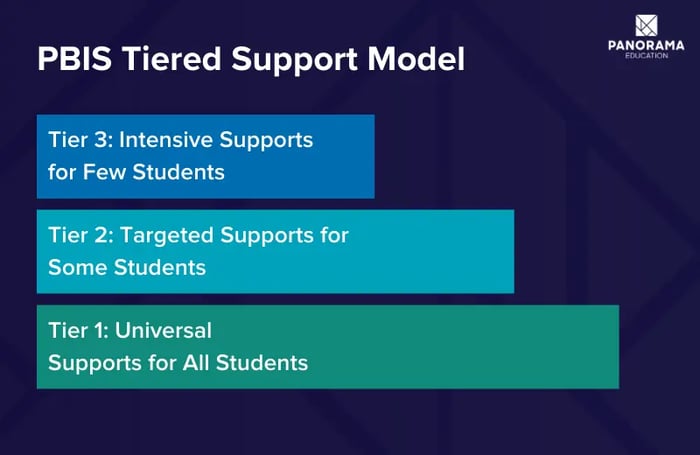 An example of a PBIS Tiered Support model. This model uses three tiers of increasingly intensive interventions.

Similarly to MTSS, the most common form of PBIS uses three tiers of interventions and strategies. Note that students can be receiving supports in any of the three tiers at any given time.
Tier 1 (universal): These interventions include school-wide expectations and supports established for all students and educators across all settings. Schools and districts establish Tier 1 behavior practices for all students, with the goal of decreasing the number of escalating behavioral issues that require additional intervention.
Tier 2: These interventions provide slightly more targeted support to prevent serious behavior challenges before they start. Tier 2 interventions are designed for some students, and are often given individually or in small groups.
Tier 3: Tier 3 is the most intensive, with few students receiving these supports. These individualized supports address severe behavioral challenges and often involve the work of a behavior specialist.
Finding high-quality interventions can be challenging and time-consuming. Download our free toolkit: 20 Evidence-Based High School Interventions for Your MTSS, with strategies across behavior, academics, and SEL.


Data-Based Decision-Making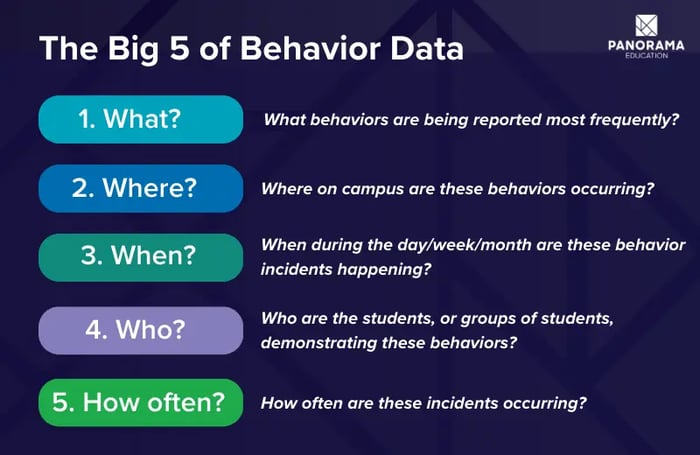 The Big 5 of Behavior Data: What, Where, When, Who, and How often?
Just like in an MTSS, the best PBIS practices are data-informed. Accessing, analyzing, and acting on behavior data can help you make the best decisions to support your students and teachers. This can be overwhelming, which is why it's best to break your data down by the Big 5:
What behaviors are being reported most frequently?
Where on campus are these behaviors occurring?
When during the day/week/month are these behavior incidents happening?
Who are the students, or groups of students, demonstrating these behaviors?
How often are these incidents occurring?
Behavior data is a powerful tool for supporting students, but collecting good data can be a challenge. Work with educators in your schools to develop consistent behavior reporting practices and processes. Good incident reporting must provide value for the educators doing the reporting and result in actionable data for district leadership.
The Key Elements of PBIS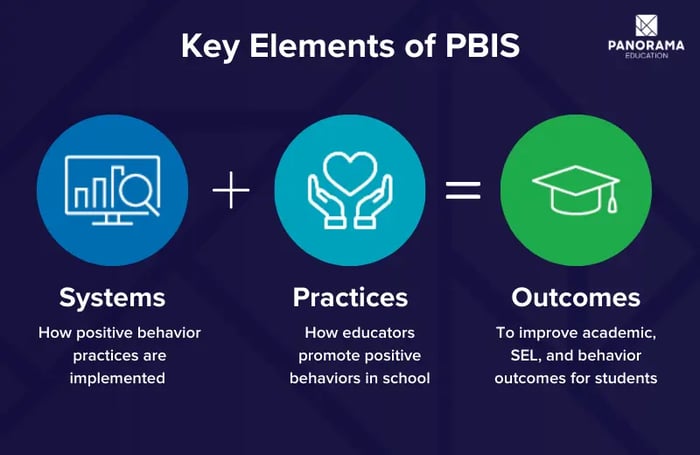 The key elements of PBIS are systems, practices, and outcomes.

Every PBIS looks different, and can be tailored to fit the specific needs of a school or district. However, some common characteristics are foundational to a positive behavior system: systems, practices, and outcomes.

Systems
Schools have strong systems that allow positive behavior practices to be implemented consistently and with fidelity. These systems are informed by actionable data to ensure students and educators are getting the support they need.
What this looks like: Schools have clear processes for how educators should respond to behavior incidents, and who to ask for help should the need arise. Schools collect and use behavior data to choose interventions, monitor outcomes, and evaluate system efficacy.
Practices

PBIS is built on the idea of preventative measures and skill-building, as opposed to reactionary discipline. This involves daily positive behavior practices at the district, school, classroom, and individual levels.
What this looks like: Schools have clear behavior expectations for students with consistent, logical consequences for misbehavior. Educators are trained in positive behavior practices and focus on teaching skills around behavior, as well as positive reinforcement for behaviors. Practices are also rooted in equity, with an understanding of the needs, culture, and context of every student.
Outcomes
The goal of a PBIS is to improve outcomes for students, educators, and families.
What this looks like: Educators set measurable and achievable goals around behavior. For example, a superintendent might set a district-wide goal around improving climate and culture in middle school buildings. A principal might set a goal around fewer incident reports in their elementary school. Classroom teachers may set goals for individual students, including improved academic and social-emotional growth.
How to Get Started With PBIS
Like any system, PBIS works best when everyone is on board. This not only includes administrators, counselors, and classroom teachers, but also families and caregivers, and of course the students themselves.
Take the following steps to create systems that support collaborative work between educators, families, and students:
Key Takeaways and Next Steps for Your PBIS
Using a PBIS framework is an effective way to support behavior within your district's MTSS.
PBIS works! When schools implement PBIS with fidelity, students demonstrate fewer negative behaviors and perform better academically, socially, and emotionally.
Positive behavior interventions are linked to a better learning environment for students and educators. This is especially true when compared to traditional, exclusionary discipline practices.
PBIS puts the focus on teaching clear behavioral expectations and skill-building to prevent behavior challenges before they start. It promotes empathetically supporting students when challenges do arise.
The PBIS model relies on tiered supports, data-based decision-making, and strong collaborative relationships to create positive behavioral outcomes for all students.
Whether you are just getting started with PBIS program or have been using this framework for some time, Panorama's data dashboards can help you understand how best to support every student. With Panorama for Positive Behavior, you'll get access to reliable MTSS data, easy-to-use incident logging tools, and district-wide behavior insights at your fingertips.
Download the full PBIS Team Toolkit for resources, guides, and templates.