Download the Panorama Teacher Survey:
About the Survey
In the spring of 2015, Panorama Education launched the Panorama Teacher Survey to give principals and school and district leaders a tool to collect feedback from teachers. The survey is designed to spark and support productive conversations between teachers and school leaders about professional learning, school communication, school climate, and other key topics.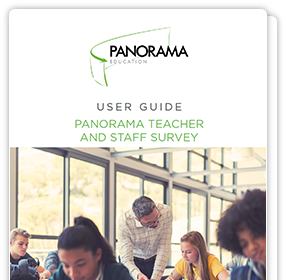 Engaging teachers in the feedback process
The Panorama Teacher Survey gathers feedback from teachers about their perceptions of their professional learning opportunities, their confidence in the classroom, their relationships with colleagues, students' families, and the school leadership, and their feelings about the school's climate.
Similar to Panorama's other survey instruments, you may customize the survey by selecting the scales that you feel matter most to your community.
The survey was developed under the leadership of Dr. Hunter Gehlbach, Associate Professor at the University of California, Santa Barbara, and Director of Research at Panorama Education. Dr. Gehlbach is a leading survey methodologist and education researcher and a former high school social studies teacher.
At Panorama, we believe that all educators deserve the best tools available, which means that we are committed to keeping the survey free and open-source.
School Climate -

Perceptions of the overall social and learning climate of the school. (Teacher and Staff)

Professional Learning -

Perceptions of the amount and quality of professional growth and learning opportunities available to school faculty and staff. (Teacher and Staff)

Teaching Efficacy -

Faculty perceptions of their professional strengths and areas for growth. (Teacher)

Feedback and Coaching -

Perceptions of the amount and quality of feedback faculty and staff receive. (Teacher and Staff)

Staff-Leadership Relationships -

Perceptions of faculty and staff relationships with school leaders. (Teacher and Staff)

Educating All Students -

Faculty perceptions of their readiness to address issues of diversity. (Teacher)

School Leadership -

Perceptions of the school leadership's effectiveness. (Teacher and Staff)
Testing -

Perceptions of the impact of testing on teaching and student learning. (Teacher)

Faculty Growth Mindset -

Perceptions of whether teaching can improve over time. (Teacher)

Staff-Family Relationships -

Perceptions of faculty and staff relationships with the families at their school. (Teacher and Staff)

Evaluation -

Perceptions of the system that is used to evaluate faculty and staff. (Teacher and Staff)

Student Mindset -

Perceptions of whether students have the potential to change those factors that are central to their performance in class. (Teacher)

Resources -

Perceptions of the adequacy of the school's resources. (Teacher and Staff)

Grit -

Perceptions of how well students are able to persevere through setbacks to achieve important long-term goals. (Teacher and Staff)
"Using the Panorama Teacher Survey this spring was easy and extremely user-friendly. We're going to use the feedback data from teachers to create our Continuous School Improvement plan. I can already see how deep our conversations are going to be about the reports to drive school improvement in the fall."
Dr. Brian Fellows
Principal, Holman Middle School - Henrico County Public Schools (VA)