It's never been more important for students to feel engaged at school in a safe learning environment. Yet at a time when we need to accelerate learning, behavior incidents are holding too many students back from making academic and social progress.
Behavior is top of mind for caring adults in school buildings—from administrators, to counselors, to teachers and support staff. But existing systems make it hard to track behavior incidents and identify patterns to productively support each and every student.
That's why, at Panorama Education, we're building Behavior Analytics in Panorama Student Success.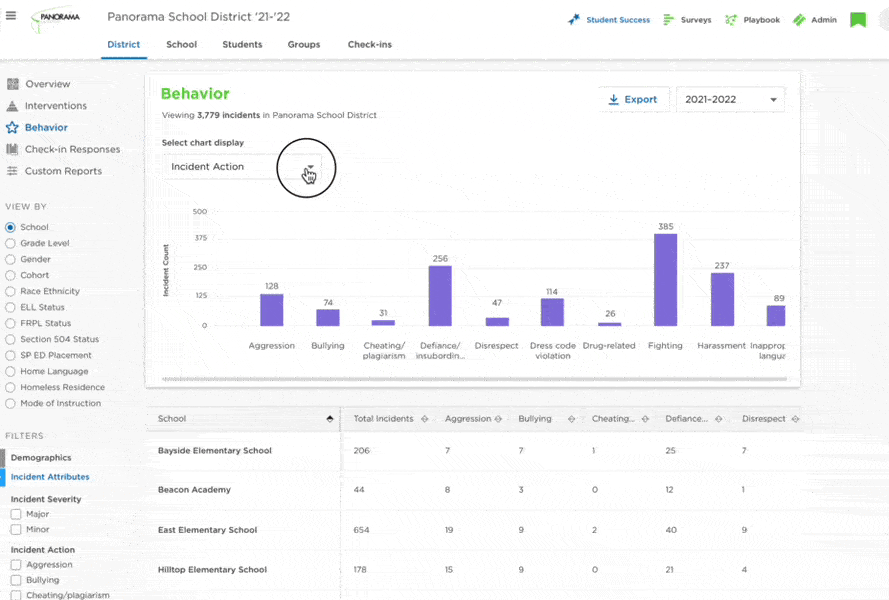 Supporting Positive Behavior: Key to a Whole Child Approach
To support every child academically and socially, many districts are using Multi-Tiered System of Supports (MTSS) or Response to Intervention (RTI) approaches. MTSS and RTI require a deep understanding of how students are doing individually and school-wide—across academics, behavior, attendance, and social-emotional learning.
MTSS and RTI Resources for Educators:
To implement MTSS, school staff need effective systems to deliver interventions that meet students where they are. Panorama Student Success is the go-to MTSS platform for driving measurable progress in students' learning and well-being. Districts that partner with Panorama report increased graduation rates, better grades, and improved SEL supports.

Expanded behavior reporting in Student Success means easy-to-use tools and efficient processes for creating safe schools and providing individualized student support in a MTSS.
Behavior Analytics in Student Success
With in-depth behavior reporting at the district, school, and individual student levels, adults in all roles can spend less time managing behavior data—and more time supporting positive behavior.


For Creating Safe Districts and Schools
Behavior Analytics in Student Success surfaces the what, where, when, who, and how often (The "Big 5") of behavior incidents in a district or school. That way administrators and school staff can instantly know where to focus school improvement resources and programs.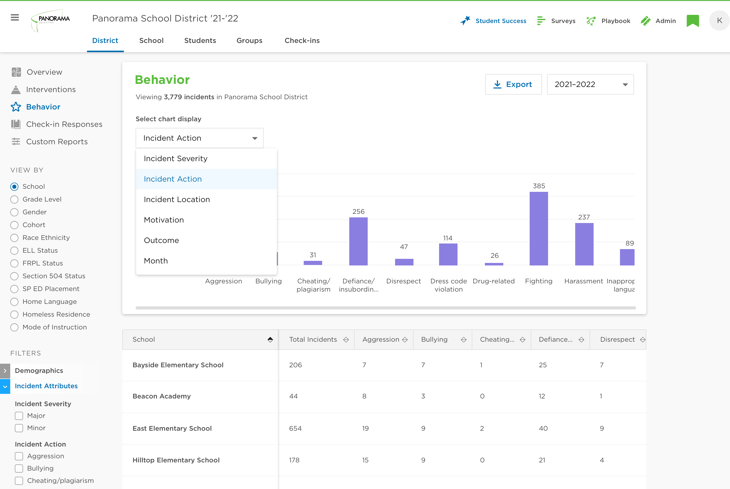 The district-level Behavior Dashboard gives a high-level view of behavior incidents, with the ability to filter by incident severity, location, motivation, month, and more.
For example, a principal might see that the cafeteria is the most common location for behavior incidents in their school. That might prompt a Tier 1 intervention, like assigning additional monitors during lunch or establishing clearer behavior norms for that space.
With visibility into the types, locations, frequency, and month of behavior incidents, school leaders can take data-informed steps to improve safety and equity in their schools.


For Providing Individualized Behavior Supports
Teachers, interventionists, and counselors can use Behavior Analytics in Student Success to understand behavior patterns for each student and make data-informed decisions about student supports. Class rosters and student profiles show enriched behavior information alongside academic, attendance, and SEL data for a whole-child view.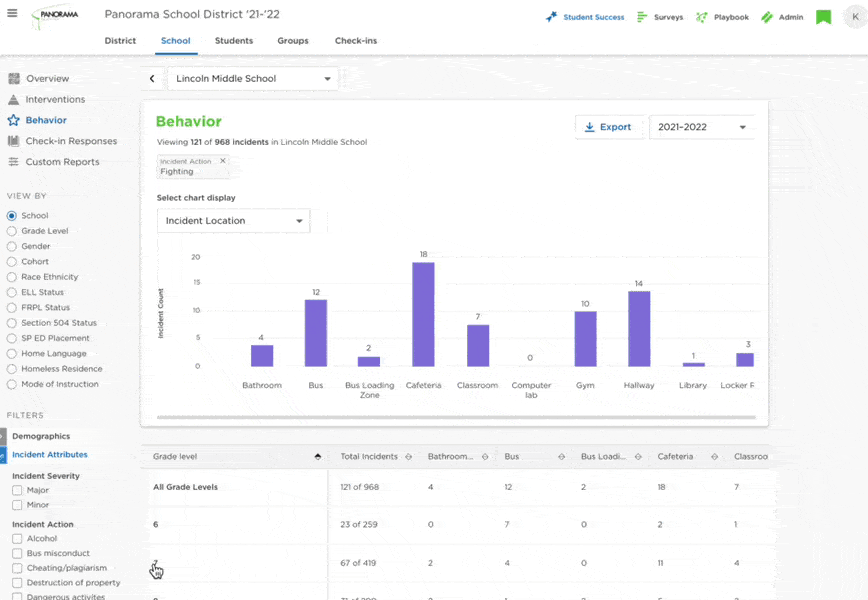 Pictured: Creating a group intervention plan for seventh graders who are exhibiting "fighting" behavior but show strengths in social-emotional learning.

In just a few clicks, an educator can go from identifying a student's needs, to building and tracking a customized behavior intervention plan in Student Success. Educators can also create group intervention plans for students who share specific behavior incident attributes. Student Success comes loaded with 40+ individual and small-group intervention strategies, like a lunch bunch, Check-in/Check-out (CICO), and the two-word check-in.
Get a closer look at how Behavior Analytics in Student Success can support your staff and students by requesting a demo.