As districts and schools seek to support learners virtually during the COVID-19 public health crisis, common obstacles are emerging.
From modifying existing interventions for delivery online, to gaining visibility into students' holistic needs, to providing equity of support for every student, the success of an MTSS or RTI framework in a remote world requires an unprecedented degree of adaptability and intentionality.
So, what are the biggest challenges of effectively administering MTSS or RTI during remote learning—and how are school and district leaders working to adjust existing systems to meet the moment?
Download Guide: Solving the 4 Biggest Challenges of MTSS/RTI During Remote Learning
Throughout a series of webinars this year, administrators from Ogden School District (UT), Oxford School District (MS), San Angelo Independent School District (TX), and Oxnard School District (CA) shared their strategies for adapting MTSS and RTI frameworks to a remote or hybrid learning model.
Here is a breakdown of common obstacles and key takeaways from those conversations.
Challenge #1: Adapting universal and tiered interventions for virtual delivery
Universal and targeted supports are at the heart of every MTSS or RTI program. Many districts utilize intervention menus with recommended strategies across math, literacy, behavior, attendance, and social-emotional learning.
With the shift to remote learning, however, interventions that worked well in person may not translate to a remote environment.
Here's how leadership teams at several districts have been adapting tiered supports for a remote setting:
Provide explicit guidance for educators to ensure effective virtual delivery. For example, San Bernardino City Unified School District (CA) is redefining their

Counselor Essential and Optional Tasks

during COVID-19 to provide clarity for staff.
Consider whether certain Tier 2 interventions may need to become Tier 1 supports.
This school year, educators are using creative techniques to foster belonging and strengthen Tier 1—from Bitmoji Classrooms, to Virtual Culture Boxes, to Virtual Check-Ins.
Develop universal, consistent routines that can create predictability, increase students' psychological safety, and rebuild a sense of belonging.
Create a central distance learning intervention menu with evidence-based strategies across literacy, math, attendance, behavior, and SEL.
"We ended up looking at every support within our MTSS that was already in place, and altered them to be conducive to virtual use. We turned our home visit program into a socially distanced one. We continued providing interventions over video conference. The process we have gone through is to evaluate the systems we have in place; alter the implementation of those systems to meet present needs; and adjust as needed."

Aspen Henderson, Supervisor of Student Advocacy Services, Ogden School District (UT)
Challenge #2: Visibility into students' academic, social, and emotional needs
Understanding students' experiences and needs can be challenging in a traditional classroom environment.
Now, from a distance, it's even harder to dig below the surface and learn about each child. Caring adults who are responsible for children can no longer rely on physical cues and face-to-face time to get to know their students and identify when a student is struggling.
With this in mind, Student Support Teams (SST) need be more proactive and intentional than ever before about collecting, reviewing, and acting on data to bring visibility to student needs during remote learning.
Download Resource: 3 Questions Every Data-Driven MTSS Student Support Team Must Ask
Challenge #3: Collaborating remotely around student supports
MTSS is a team sport. Every adult who's involved with a child (from teachers, to counselors, to interventionists) must be able to collaborate, share information, and work together to do what's best for the child.
However, with some staff working remotely and others back on campus, many districts have had to rethink how Student Support Teams (SST) or Student Intervention Teams (SIT) collaborate. For many, this has accelerated the adoption of technology to streamline data and connect the dots for MTSS/RTI teams.
As Michael Kalnbach, Principal at Glenn Middle School in San Angelo (TX), put it:
"This year is all about organizing ourselves and streamlining communication about students and learner data. We need everyone who's involved with each child to be able to see everything that's been done over time, look at the data together in one place, and collaborate on interventions and supports."

Michael Kalnbach, Principal at Glenn Middle School, San Angelo ISD (TX)
Fortunately, today there are tools available that can act as central data platforms—putting your intervention data into one place so that administrators, teachers, and staff can asynchronously and remotely engage in progress monitoring and continuous improvement to understand what is and isn't working for students.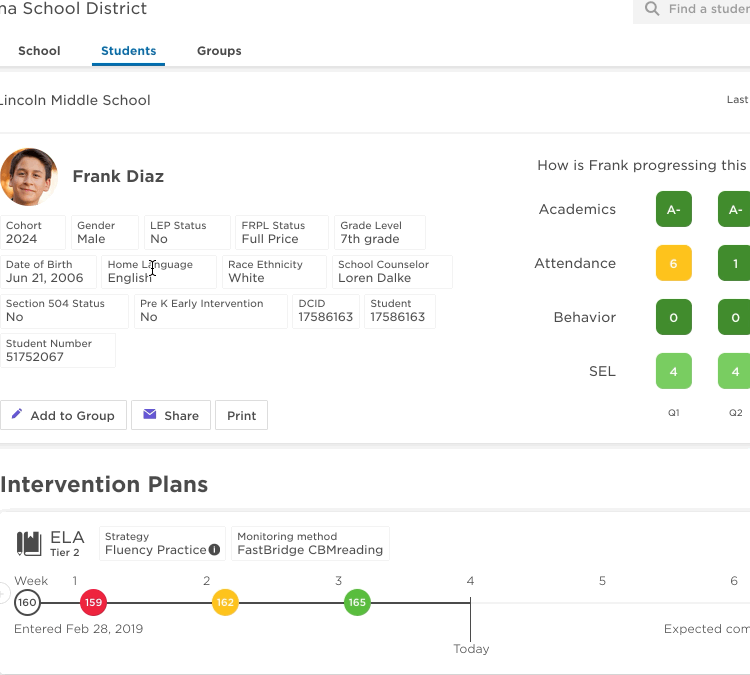 Challenge #4: Providing equity of support for every student
Regardless of whether students are learning from school or from home, excellence for all students and growth for students from historically marginalized groups remain a priority for many MTSS/RTI teams.
The unfortunate reality is that existing inequities have been brought into sharper focus during the pandemic. In some cases, these inequities have been exacerbated.
An MTSS that advances equity gives all students access to a great education in the most inclusive environment possible. To fulfill this promise right now, district and school leaders must bring a critical eye to the systems currently in place to understand which practices may be helping or harming groups of students.
Here are a few strategies that your team can use to do ground your MTSS in equity:
Review performance data across all groups of students to understand which practices in your MTSS might be revised. Which students are thriving, and which students are not? Are there groups of students who do not appear to be supported at the Tier 1 level? What does your intervention enrollment look like by race/ethnicity, and are you providing Tier 2 or 3 interventions for some groups of students at a disproportionate rate?
Leverage trauma-responsive practices at the Tier 1 level to strengthen relationships and provide students with safe spaces to handle trauma related to the public health crisis and incidents of racial violence.
For more insights, download our full guide: "Solving the 4 Biggest Challenges of MTSS/RTI During Remote Learning"