An intervention menu—a library of evidence-based interventions—is a must-have for any Multi-Tiered System of Supports (MTSS) or Response to Intervention (RTI) team to deliver consistent, targeted supports to students.
In this episode of Panorama Q&A, we share three steps to follow when creating an intervention menu for your school or district. Watch and learn how to align your Student Support Team around a set of intervention strategies that everyone can be invested in.

Access evidence-based strategies for your intervention menu in this free MTSS/RTI toolkit.


Liked this episode? Check out this video for more tips on getting started with MTSS.
Q: How can we build an intervention menu for our school or district?
First, let's quickly review the tiers of a student support system. Tier 1 includes supports for all students, such as PBIS or your core academic curriculum. Tier 2 consists of adaptations made in the classroom for struggling students, and Tier 3 includes more intensive supports for students who are not responding to Tier 2.
Keep in mind that we want our menu to be organized by tier, and we want to be thinking across multiple domains. Our interventions should cover not only academics, but also behavior, attendance, and social-emotional learning (SEL).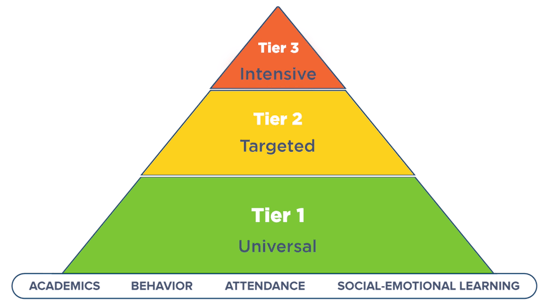 1. Take stock of the support practices already in place at your school.
It can be helpful to visualize the MTSS pyramid and jot down the support practices that come to mind next to each tier. Don't worry if you don't have any formal interventions at your school right now; just get your thoughts and ideas down.
2. Narrow down that list and get clear on the highest priority interventions.
Once you've taken stock of your strategies, the next step is to refine that list. Even if your team has a huge set of intervention strategies, we recommend having fewer, higher quality interventions—perhaps three to four strategies for each domain. Put a star next to the must-have interventions that will definitely make the cut. For example, popular intervention strategies include Check-in Check-out (CICO), attendance incentive plans, behavior-specific praise, fluency practice, or differentiated writing graphic organizers.
3. Consider new intervention ideas.
Step three is to think beyond the list you've made! For example, maybe your list is heavy on academic interventions, but you are less familiar with social-emotional learning interventions or PBIS interventions. Do some research into strategies that other schools are using to balance out your menu.
Make sure that your final intervention strategies are well documented and that you have a plan for training staff on the interventions. Your menu can and should continue to evolve to meet student needs, but starting with a common toolkit of strategies and shared language for staff is essential.
If you use Panorama's MTSS tools, you can customize your school or district's intervention menu in our platform so that staff can select and log interventions for students from a central library. You can also keep track of how those interventions are working with real-time progress monitoring dashboards. That way you can quickly adapt your strategies based on how students are responding.
Good luck with building your intervention menu!