If you're an educator working within a multi-tiered system of supports (MTSS) framework, you've probably come across the term "progress monitoring."
Progress monitoring is an essential part of a school's MTSS or Response to Intervention (RTI) framework. This process ensures the success of tiered interventions across academics, social-emotional learning (SEL), and behavior.
You might be wondering: Isn't progress monitoring just another way of saying "monitor progress"?
Well, yes and no.
Fundamentally speaking, student progress monitoring is a way for educators to monitor progress in interventions. But what makes progress monitoring special is the focus on data-based decision-making. Determining whether an intervention is working for a student isn't always straightforward. By collecting and acting on data, educators can make informed decisions on what's best for their students.

Download Panorama's Interventions and Progress Monitoring Toolkit
If you're a school or district leader, consider sharing this blog—our our free Interventions and Progress Monitoring Toolkit—with teachers and student support teams. In this post, we'll cover:
the fundamentals of progress monitoring
how it works within an MTSS
how you can get started with progress monitoring for your students
Click here to watch and share on YouTube.
Intervention Planning and Progress Monitoring in an MTSS
Many students will need targeted, individualized support at some time during their academic careers. In an MTSS, this is usually done by developing an intervention plan. This is an action plan for getting the student additional support in a certain area. Interventions are usually at Tier 2 or Tier 3.
Intervention plans include information about the challenge, the strategies that will be used, and how long the plan will be administered. Make sure you choose high-quality, research-based interventions to support students, whether in academics, SEL, or behavior.
To better understand student needs, try using check-in questions to gather student feedback throughout the school year. Immediate feedback allows you to take quick action on challenging areas for students.
Pro Tip: Intervention planning and progress monitoring are usually used for small groups or individual students. But educators can use them to aid in planning and monitoring the success of universal Tier 1 supports as well. These can be for an entire class, grade level, school building, or district.



Pro Tip: While intervention planning and progress monitoring are usually used for small groups or individual students, educators can use them to aid in planning and monitoring the success of universal Tier 1 supports as well. These can be for an entire class, grade level, school building, or district.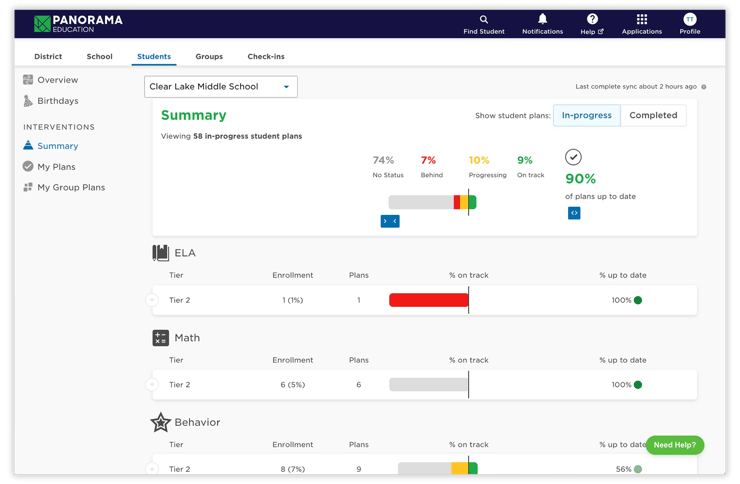 Panorama's intervention planning tools allow educators to easily monitor student progress
(Demo data shown)
Once the student support team has developed an intervention plan for the student, it's time to progress monitor to ensure the intervention is having the desired outcome. Progress monitoring helps educators ensure that the student is receiving the intervention consistently and with fidelity, and determine whether or not the intervention is working. You don't want to waste precious time and resources on interventions that aren't helping. With progress monitoring, you have data to show whether a student is progressing or if you need to try another intervention.
How to Progress Monitor in Education


1. Set SMART Goals
Strong progress monitoring is dependent on strong goals. You'll want to create a SMART goal: specific, measurable, attainable, relevant, and timely. For example, if we're working to build a student's self-efficacy in math, we might set the following goal:
"Alice will be able to complete 80% of her independent activities at the beginning of each math lesson, with the support of manipulatives."
2.
Plan Your Intervention Strategy
Make sure that your interventions are being executed with fidelity. Select an adult champion and a develop a clear prescription for how often and how long the intervention will take place.
For instance, you wouldn't say that a medicine isn't effective if the patient didn't take it at the right time. The same goes for interventions. It's important to commit to the systems and resources to make sure interventions are delivered in their most effective way.
Need help creating a system for progress monitoring? Access free tools, templates, and guides in our Interventions and Progress Monitoring Toolkit.
3. Gather Data
Once the intervention plan is underway, you'll want to gather and record qualitative and/or quantitative progress monitoring data. This data will help you track student achievement in the target areas.
Most academic goals are best tracked quantitatively to see if the student is headed in the right direction numerically. Reading level growth and computational fluency are both examples of academic goals.
Behavioral or SEL goals can be tracked using qualitative measures. For example, you could make note of how a student is interacting with peers in class. You can also look at quantitative data points, like the number of behavior incidents or change in SEL survey responses.
Some of the strongest progress monitoring combines both types of data. You can measure a student's class participation by counting how often they speak up and the quality of their contributions.
You will also need a method of data collection and a safe place to record student data. This can be in a spreadsheet, a document, a paper file, or a software platform.

Did you know? Districts that partner with Panorama can track academic and SEL interventions. They can also make qualitative progress notes and collect vital student voice data directly inside the platform.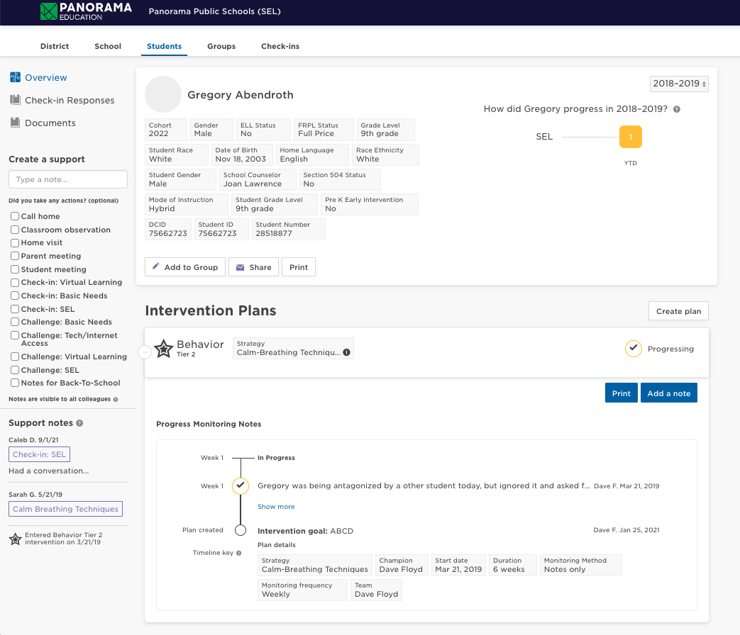 Demo intervention and progress monitoring data pictured

Next Steps for Progress Monitoring
After the intervention cycle is complete and you've synthesized the appropriate data, you will reach a decision point. The student is either:
Meeting their goal and can be exited from the intervention cycle
Making progress, but the intervention should continue
Not on track, and it's time to rethink the strategies within the intervention plan
Depending on what you choose, you will either exit, continue, or start a new progress monitoring cycle with this student.
Now that you understand the basics of progress monitoring, you're ready to start putting it into practice. Connect students with meaningful support by using consistent intervention planning and progress monitoring methods across your district.
Access free progress monitoring tools and templates in the Interventions and Progress Monitoring Toolkit