Intervention management is critical to any Multi-Tiered System of Supports (MTSS) or Response to Intervention (RTI) program—but it can also be a headache. From aligning staff on intervention strategies, to ensuring the proper delivery of interventions, there are many pieces to making MTSS or RTI work.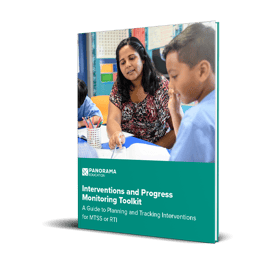 That's why we're thrilled to introduce the Panorama Interventions and Progress Monitoring Toolkit—a resource designed specifically for MTSS/RTI teams. Inside, you'll find simple templates and worksheets to help you build an intervention menu, create student intervention plans, and progress monitor.
What's Inside:
Building an Intervention Menu
Creating an Intervention Plan
Progress Monitoring Interventions
Additional Resources for Your MTSS/RTI Journey
Read the introduction below, and click here to download the toolkit as a PDF.


Introduction: Interventions and Progress Monitoring
Welcome to the Interventions and Progress Monitoring Toolkit! You're here because you want to apply best practices for intervention planning and tracking to your school or district's Multi-Tiered System of Supports (MTSS) or Response to Intervention (RTI) framework.
To start, what is a Multi-Tiered System of Supports, and how do interventions fit into MTSS?
MTSS provides a guiding framework for educators to identify students in need of additional supports, use evidence-based intervention strategies, and progress monitor with data. Today, many schools are turning to tiered support frameworks, like MTSS, to support the needs of every student across academics, behavior, and social-emotional learning (SEL).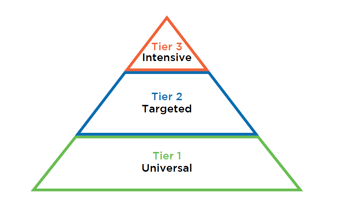 The MTSS tiers are often visualized in a pyramid. Tier 1 includes universal supports for all students. Tier 2 consists of individualized interventions for struggling students, and Tier 3 includes more intensive interventions for students whose needs are not addressed at Tiers 1 or 2.
Interventions are part of a system to quickly and proactively deliver supports to students, rather than waiting until the end of the year or a summative assessment.
What You'll Learn in This Toolkit
The templates and worksheets in this toolkit will help you build processes around two critical components of MTSS: intervention planning and progress monitoring with data.
Each section is based on learnings from Panorama's work with hundreds of districts, and reflects the MTSS tools educators can use in the Panorama platform. Whether you're starting from scratch or you're looking to fine-tune your student support practices, you'll find actionable resources that you can bring back to your Student Support Team tomorrow.