As districts weigh their options for reopening in the 2020-21 academic year, many state and district leaders are proposing a hybrid learning model for when students return to school this fall.
This approach would blend the intimacy and immediacy of traditional face-to-face instruction with the flexibility of asynchronous and synchronous online learning—in hopes of curbing the spread of the coronavirus disease (COVID-19).
Below, we rounded up the latest examples of hybrid learning plans from districts and states across the country.
Many of these plans are subject to change based on community feedback and public health guidelines. We'll continue to update this article as new information is available.


[Download] Survey content to understand family and staff needs for the return to school.

What Is Hybrid Learning?
Hybrid learning combines face-to-face instruction with online learning. In the context of coronavirus school re-openings, a hybrid model would reduce the number of students in the building by moving some of the course delivery online.
Sometimes referred to as blending learning, hybrid learning lends itself to individualized learning, collaboration via online discussions, and several modes of interacting with course content for different learning styles. However, it does present challenges when it comes to ensuring positive and equitable learning outcomes.

A Look Inside Hybrid Learning Reopening Plans


1. Ann Arbor Public Schools (MI)
Ann Arbor Public Schools, slated to begin the new school year on August 31, has released a document that proposes "shared learning time." This instruction model would blend an in-person and virtual learning environment when the state enters Phase 5 of the Michigan Safe Start Plan.
Depending on public health guidance, 25 percent to 50 percent of students could have an in-person learning experience one to two days per week. On the other days of the week, students would participate in online learning. The document states that, at a 25 percent setting, up to nine students may be present for face-to-face learning in Phase 5 blended learning. At a 50 percent setting, up to 16 students may be in the classroom.
"Whether students are attending at 25 percent or 50 percent, or at some other level, is dependent on whether small or medium-size gatherings are permitted to fulfill public health guidance," said Ann Arbor Superintendent Jeanice Kerr Swift in The Detroit News.


2. Dallas Independent School District (TX)
Dallas ISD's latest COVID-19 briefing from Superintendent Michael Hinojosa outlines three possible scenarios for school reopening and student learning in August.
According to Hinojosa, Options A and B (to open under normal conditions and to continue with remote learning, respectively) are unlikely. Option C—to open with a blended learning model—is the most likely scenario.
Blended learning will involve students being on campus on certain days of the week. On other days, they will learn at-home with online components.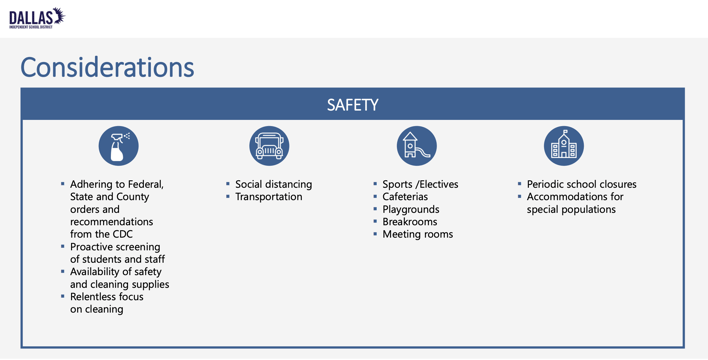 While Dallas ISD's official plans for August are contingent on public health developments, summer course delivery will not include any face-to-face instruction. Summer school, dual credit, and credit recovery coursework will be conducted online, not via hybrid courses.


3. California Department of Education
The California Department Education recently released a Guidebook for the Safe Reopening of California's Public Schools that includes checklists, questions for consideration, and best practices for California districts as they develop reopening plans.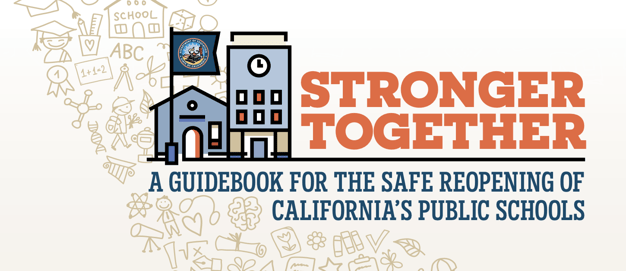 Tony Thurmond, state superintendent of public instruction, outlines several models that schools and districts may explore. Examples include:
"Two-day rotation blended learning:" Students would receive in-person classroom instruction on two days a week based on their grade level. For instance, Monday and Wednesday would be for kindergarten through third grade, and Tuesday and Thursday for grades four through six. On the other days, students would work on "enrichment" learning activities that can be online, in-person, or with small groups. On Fridays, all students would participate in distance learning.
"A/B blended learning model:" Half of the student population would attend class in-person four full days per week, while the other half would engage in distance learning. The students would alternate each week.
"Looping structure:" This structure would allow for stronger teacher-student relationships and student engagement. For K-8 schools, students could stay with the same teacher for multiple grade levels to create "more targeted and efficient instruction," and "a better understanding of health and safety, decreasing risks to students and staff."
"Early/late staggered schedules:" Grade level cohorts would have staggered start and dismissal class times. There would also be multiple recesses and lunch periods.


4. Jeffco Public Schools (CO)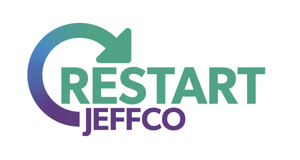 Like other districts, Jeffco's "Restart Model" plan considers three models: a traditional return to school, a remote return, or a hybrid of the two.
According to Jeffco Superintendent Jason Glass in The Denver Post: "One side says... to keep everyone home. But there are costs to remote learning—academic costs, social, emotional, and economic costs. It's not risk-free to remain doing only remote learning. Then we hear a lot from this other extreme that says it's a hoax—that you should... restore all in-person learning. We reject the extreme and polar opposites. We have to find a middle ground that restores in-person learning to the greatest extent we can, but we want to do so in a way that takes every prudent step to keep our staff and students safe."
Glass says that a hybrid model is most likely. New in-school precautions would include coronavirus symptom screening, one-way paths in buildings, keeping windows and doors open for air circulation, and limiting school supply sharing. There would be 'A' and 'B' days or weeks where students would alternate between online learning and classroom instruction with limited students and staff.
In addition, there would be a remote-only option for families who do not want their children to participate in face-to-face courses.


5. Massachusetts Department of Elementary and Secondary Education
New guidance from the Massachusetts Department of Elementary and Secondary Education (DESE) proposes a likely hybrid model of in-class and remote learning.
The documentation recommends new protocols and routines for return to school, including: staying home if sick; face coverings and masks; frequent hand washing and hand sanitizing; maintaining six feet of separation at all times; isolation and discharge protocols for students who become ill during the day; and regular cleaning, sanitizing, disinfecting, and disposal protocols.
In addition, smaller groups of students would be assigned to one teacher to reduce class sizes. When possible, schools should isolate individual groups of students with one assigned teacher, and groups should not intermingle with other students or staff. At this time, group sizes are limited to 10 students, with a maximum of 12 individuals, including students and staff, in each classroom.


6. East Penn School District (PA)
Pennsylvania's East Penn School District is exploring a hybrid learning schedule in which students would attend school on different days of the week based on last name. Students not in the building for face-to-face classes would be remote learning.
For high school students, those with last names starting with A-E would be in-person on Mondays, F-K on Tuesdays, L-R on Thursdays, and S-Z on Fridays. On Wednesdays, everyone would engage in online learning.
For middle schoolers, those with last names starting with A-K would be on campus on Mondays and Tuesdays, and L-Z on Thursdays and Fridays.
Elementary schoolers would have abbreviated class times from 9 a.m. to 1:15 p.m. They would be on campus on the same days as middle schoolers, except that they'd alternate Wednesdays instead of everyone staying home.


7. Decorah School District (IA)
The Decorah School District's hybrid model would partially open school buildings but divide the student population in half—with a red group and a blue group in each grade level. Family members in the same household would be in the same color group. A hybrid learning calendar would indicate which days are on-site or remote for the color groups.
Within this plan, the district proposes two options for community feedback: a week on-site/week remote continuous learning model and a day on-site/day remote continuous learning model.
According to Superintendent Mark Lane in The Decorah News: "First, the Iowa Department (of Education) uses the word "may" in the guidance. It is not required that we have a plan for hybrid learning, and it would not be required that we deploy a hybrid model. Second, this would not be our preferred model of learning, and we would only use a hybrid plan if it is viable, and if circumstances dictate we should. While our strong desire is to be able to engage in on-site learning, we also want to be fully prepared for any type of learning model."


8. DeKalb County School District (GA)
DeKalb County's plan for reopening depends on the level of coronavirus community spread. In a "low/no spread" level, a green designation, learning will resume in a face-to-face classroom setting. In a "minimal/moderate spread" scenario, a yellow designation, schools could engage in remote learning, traditional learning, or a hybrid learning model. In a "substantial spread," a red designation, schools would shift to a full virtual learning plan.
This plan is informed by guidance from the Georgia State Department of Education in "Georgia's Path to Recovery for K-12 Schools."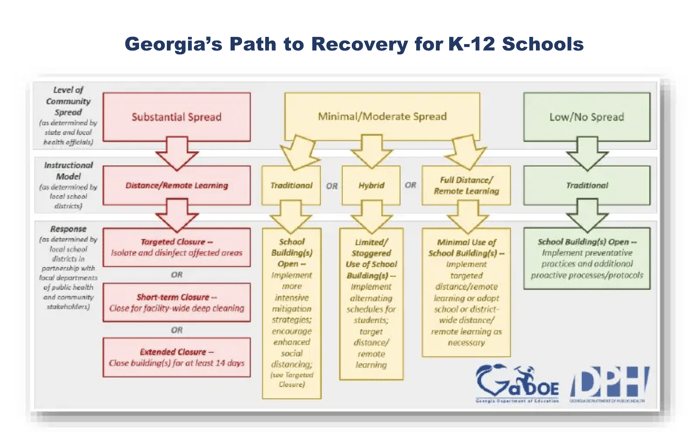 In DeKalb, work is also underway to address building capacity and the spacing out of classroom furniture for hybrid teaching, provide masks and cleaning supplies, and improve technology access for students.


9. Virginia Department of Education
Recover, Redesign, Restart 2020 offers Virginia's comprehensive guidelines for student and staff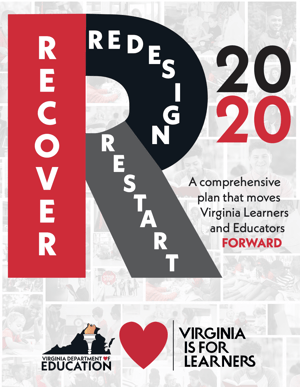 safety upon return to school. The new document includes sample schedules for the gradual return to in-person classes as each school moves through the three-phase reopening plan.
"School will be open for all students next year, but instruction will look different," said Virginia Superintendent of Public Instruction Dr. James Lane. "The phased, hybrid approach allows PreK-12 students to have valuable class time and face-to-face interaction with their peers, while prioritizing health and safety by ensuring physical distancing measures are maintained. This plan keeps equity at the forefront by giving divisions the opportunity to deliver in-person instruction to those who need it the most."
As one recommendation, groups of students would attend classes in-person on alternating days or weeks. This would allow adherence to social distancing requirements and building capacity limits. When not attending class on campus, students would participate in distance learning.
Schools and districts in Virginia will have flexibility to adjust the guidelines based on local conditions and the needs of their school or district communities.


Hybrid Learning Resources
Explore additional resources to support hybrid learning in your district: