As school districts look to renew their strategic plans in 2020, "college-career readiness" is more than just a buzzphrase. At the District of Columbia Public Schools, since 2017 they've been working to double the percent of students who are college and career ready. At Racine Unified School District (WI), a North Star Vision promises that all students will graduate college and career ready, with clear benchmarks to measure student progress along the way.
On a recent webinar with Education Week, we heard from superintendents and district leaders at DC Public Schools, Racine Unified, and Gresham-Barlow School District (OR). They shared how their districts are building college-career readiness goals into strategic plans—as well as how they're tracking progress towards those goals.
Here are their top pieces of advice on creating structures to support students' college, career, and life readiness.
Download the Panorama Social-Emotional Learning Survey to get started measuring students' life skills.
1. Focus on measuring and developing students' life skills
Most districts agree that preparing students for college, career, and life includes both academic and non-academic skills. But defining and measuring those 21-century, "life-ready" skills can be a challenge.
Andrea Rittgers, director of student services at Racine Unified School District (WI), explains what "life readiness" means in Racine and how they measure it:
"To us, the 'life' indicators are social-emotional learning skills. We didn't have a way to measure this work—at least nothing more than anecdotes—until we found the Panorama SEL Survey. We've been using it for three years to track our students' progress towards meeting our college, career, and life readiness benchmarks."
At DC Public Schools, they've taken on this work with a "Loved, Challenged, and Prepared Index." The district's Capital Commitment includes a goal that 100 percent of students feel loved, challenged, and prepared.
"We aligned our Capital Commitment to the topics on the Panorama survey, which allows us to effectively measure if 100 percent of our students are feeling loved, challenged, and prepared," says Dr. William Blake, director of social-emotional learning at DC Public Schools. "Schools are able to identify their lowest indicators and pull out strategies to improve."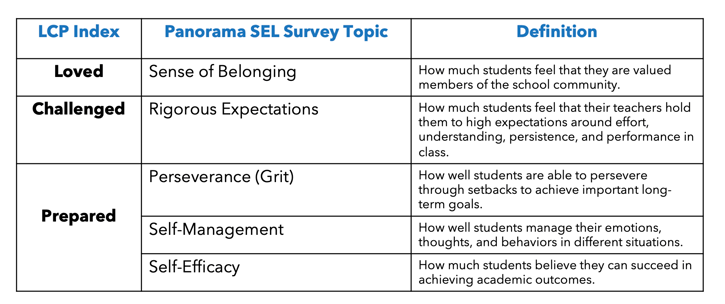 2. Create college-career readiness indicators in lockstep with your community
When building your vision for college-career readiness, it's essential to engage the community.
At Gresham-Barlow School District, for example, district leaders worked on a "portrait of a graduate" in close collaboration with the district board, community partners, families, and students. As Lisa Riggs, assistant superintendent of curriculum, instruction, and assessment at Gresham-Barlow, put it:
"When you solicit real dialogue and community input, your portrait of a graduate will look unique and authentic to your district. Our portrait relied on many interactions with our community—with partners, parents, students—to create the language in which we wanted to see the outcomes of our students."
This process resulted in six learner profiles for students at Gresham-Barlow: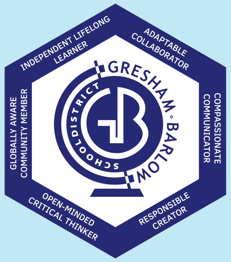 Independent Lifelong Learner
Adaptable Collaborator
Compassionate Communicator
Responsible Creator
Open-Minded Critical Thinker
Globally Aware Community Member
A strong vision and strategic plan also creates a sense of accountability towards college and career readiness goals. According to Dr. Blake of DC Public Schools:
"With a strategic plan and measurable goals, you can communicate to the community the strategies that you are implementing to meet your goals. It creates a sense of accountability for the stakeholders who are doing the work. The community can also hold us accountable to the benchmarks we want to meet."

3. Equip schools with a cohesive way to monitor college-career readiness
How do your school leaders know when students are off track to meet graduation or college-career readiness standards? Do educators have the data they need to understand root causes and intervene effectively?
Carla Gay, executive director of innovations and partnerships at Gresham-Barlow School District, focuses on building data literacy across her district to ensure career and life success for students. The district has rolled out an early warning system that combines indicators across academics, course performance, attendance, and behavior. According to Gay:
"To know if we're making progress on our college-career readiness goals, we can't operate on anecdotal evidence or beliefs. We needed a tool that represented multiple data points—across academics, attendance, behavior, school climate—to tell us what might be happening with our students. We use those data points to spur preventative actions."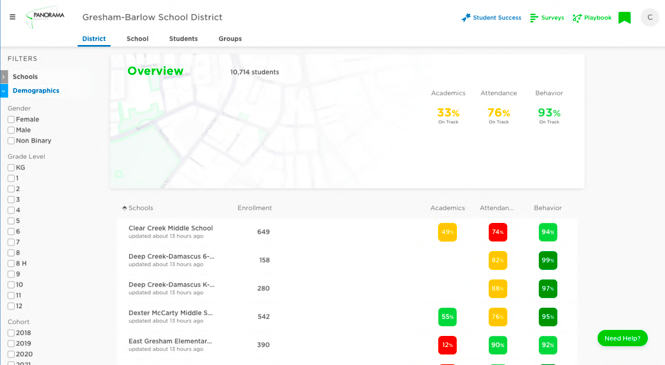 Gresham-Barlow's early warning system provides a holistic picture of students' readiness across multiple domains.
With the data system, school and district teams can sort students by race, gender, and other demographic attributes to investigate gaps in access, opportunity, or outcomes. This helps them proactively hone in on individual students who may need extra support.
"Our end game is not high school graduation. Our end game is career, adult, and life success," says Gay. "We're starting to look at how to use that data to predict which students are on track for adult success... and to help them build pathways based on their own interests and skills."