The ways that educators use early warning indicators to support students have evolved over the last few decades.
Early warning systems (EWS) were originally developed for dropout prevention using the "ABCs" of student data: attendance, behavior, and coursework. With these strong indicators, schools and districts could identify students who were at risk of not graduating high school.
But the early warning system of today has expanded beyond the "ABCs." New early warning indicators, like assessment results and social-emotional learning (SEL) data, have emerged as key pieces of the student "profile" to help educators ensure that every student thrives.
And as the national graduation rate continues to climb, educators are using this complete set of indicators to address not just dropout prevention, but also core challenges such as:
Chronic absenteeism
Disproportionate discipline
On-time graduation and college persistence
Course completion and mastery of standards
Support planning and tiered interventions
Mental health and wellness
So how are districts and schools using next-generation early warning systems to support the whole student? In Panorama Education's work with districts across the country, we've seen early warning indicators used in five main ways:
To increase on-time graduation by identifying off-track students earlier
To boost course completion rates and academic achievement
To improve attendance and reduce chronic absenteeism with daily analytics
To address trends in student behavior before more intensive interventions are necessary
To measure and promote students' social-emotional learning skills
To give you more insight into how districts are improving student outcomes with early warning tools, we're thrilled to introduce our new guide, "Early Warning System Toolkit: How to Promote Success for Every Student in a Multi-Tiered System of Supports."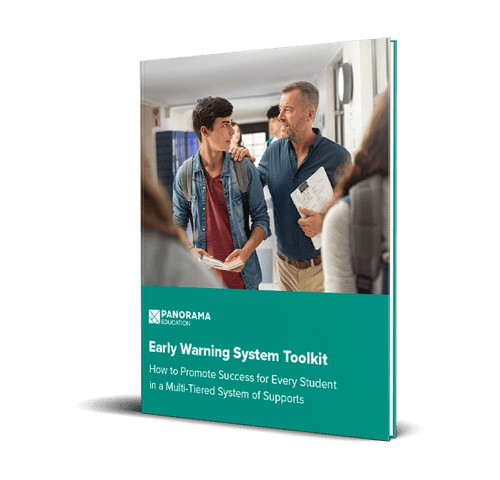 In the guide, you'll find best practices and strategies for using early warning indicators, plus a collection of district spotlights including Chicago Public Schools (IL), Tacoma Public Schools (WA), and Washoe County School District (NV).
Download a copy of the guide to learn how to apply early warning strategies at your own district or school!