This is a guest blog post by Eric Born, a school psychologist at Lakes Community High School in Lake Villa, Illinois. Eric received his degree as a specialist in school psychology from Western Illinois University.
As a school psychologist, I'm always looking for better ways to proactively support students. We serve over 1,400 students at Lakes Community High School (Lake Villa, Illinois), driven by a district-wide mission to "ignite passion and discovery in every student."
While our team has made great progress since LCHS opened in 2004, over the past two years we've embarked on an especially exciting journey to rethink student success. Our efforts have centered on an important question:
How can we use data to recognize and support the needs of the whole student?
Here's how we revamped the way we support students to provide LCHS educators and staff with rich, actionable information on every student.
The Challenge
At Lakes, we know that data plays an essential role in helping us prepare students for life beyond high school. We initially relied on a manual process to track student growth—every week, I would pull data from our student information system (SIS), Infinite Campus, into Excel and manipulate the data to identify trends over time. Our spreadsheets tracked progress with color-coded indicators for GPA, attendance, and behavioral referrals.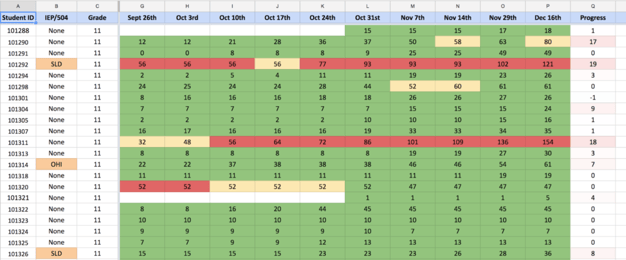 We took this approach for almost a school year (and even tried building reports in advanced tools like Tableau), but found that we were spending more time creating dashboards than using them to support students.
Most importantly, not everyone in the building had access to the information in time to plan a lesson or change an interaction with a student—let alone an understanding of how to interpret the data.
It was clear that we needed a better way to track student progress and identify early warning indicators for when students may slip through the cracks at our school.
Our Solution: Panorama Student Success
To improve our student support strategy, we partnered with Panorama Education and began using Panorama Student Success—an early warning system built with the whole student in mind.
For the first time, we're now able to access everything from our school-wide dashboards to individual student profiles with academic, attendance, behavior, intervention, and SEL data. Not only that, but the Panorama team has worked hand-in-hand with our staff through on-campus training sessions to help us implement our data-driven approach and make the most of the platform.
While we still have progress to make in using data to support each student, I've identified three keys to our success so far.
1. Measuring Social Emotional Learning
A few years ago, I tried to develop my own social emotional learning (SEL) screener to better understand these critical skills. We wanted to be able to assess students' SEL skills and competencies—which are proven to contribute to well-being and lifelong success—to provide more "whole child" supports and to help students grow.
If you've ever tried to create your own survey, though, you know that there are often validity and reliability obstacles when writing the questions and analyzing the data. How do we know that we're actually measuring the SEL domains we want students to grow in?
That's when I heard about Panorama, which had already developed and validated a research-backed social emotional learning assessment. With buy-in from our community, we now administer student SEL surveys with Panorama twice a school year. We're transparent with our students about why we collect this information and how we'll use it to understand their perspectives, plan better programs, and provide the supports they may need to thrive.
The results have been tremendously valuable to all of us at LCHS. After our first SEL survey, for example, we benchmarked our results against Panorama's national dataset and saw a need for improvement in areas like Teacher-Student Relationships and Sense of Belonging.
2. Using Data in a Multi-Tiered System of Support
Because our SEL data is now connected to academic, attendance, and behavior data in Panorama Student Success, we're able to understand students' growth more deeply and across more areas than ever before.
This has been a key resource for monitoring the effectiveness of our multi-tiered system of support (MTSS). Instead of looking at our Tier 1, 2, and 3 numbers in Excel sheets, we can jump into Panorama to see how we've been tracking over time or drill down at the individual student level.
Our administrators are constantly checking on our Tier 1 and Tier 2 numbers, using Panorama data to make decisions around our universal supports and more targeted services. Teachers can create class rosters or breakdowns so they can see trends across student groups that they interact with daily.
And because we have this information at our fingertips, we can start expanding our Tier 1 programs—which will ultimately reduce the need for our Tier 2 and Tier 3 services. We're excited about the possibilities for improving our Multi-Tiered System of Supports (MTSS) model.
3. Taking Action with Early Warning Indicators
With all of our data in one place, we can monitor early warning indicators that refresh on a daily basis. We can see which students are at risk based on their absences from school or their assessment scores.
Recently, for example, we had a student who was placed into a math intervention based on results from our STAR assessment. At around the same time, we happened to administer an SEL survey that gave us insight into how this same student was feeling about her experiences at school.
As it turns out, this student's areas for growth in SEL were likely contributing more to her academic obstacles than her actual ability in math. We were able to expedite a case study and help her a lot more quickly than we would have in the past. And that's just one example of how we've been able to support students earlier and faster.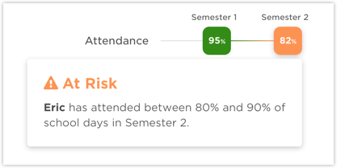 Panorama is now our go-to tool for student support team meetings. Our counselors use the data to proactively identify at-risk students, or those who may need a support group to cope with things like anxiety and frustration. Rather than waiting until the students start failing classes or receive a referral for counseling services, we can step in right away and support them to stay on track for graduation and college.
Looking Ahead
We're really just at the beginning of this journey. Moving forward, we hope to use Panorama data to form advisories for small groups of students, design interventions that are directly tailored to students' needs, and start dialogues with students about their progress and goals.
After all, our goal is to spend more time interacting with students and demonstrating positive behaviors that will ensure our students leave LCHS ready for the next stage of their lives.
---
To learn more about how Lakes Community High School uses social-emotional learning measures and early warning indicators, watch our webinar Supporting the Whole Student: Key Indicators for Success.