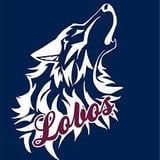 When Jessica Lindley stepped into the role of Dean of Students at Spanish Fork Junior High School, she had a big goal in mind: using data to better understand student progress, and leveraging that information to further support students who were struggling.
The school is part of Nebo School District in the southern part of Utah County, serving 42,000 students today. And while Spanish Fork had an existing support network of Success Coaches and counselors, it had no standard tools for understanding students' emotional and academic progress. With 1,100 students in the building, Lindley realized the need for a comprehensive student support platform.
That's where Panorama Student Success entered the picture. Nebo School District rolled out Student Success to all its secondary schools, including Spanish Fork, in 2021. With Student Success, educators can instantly access and act on information across grades, attendance, behavior, and social-emotional learning. The school has used this data to develop a relationship-first approach to supporting students' emotional and academic progress.
Lindley shared with us how Spanish Fork educators are using Panorama to drive instruction and interventions—leading to sustained student support and ensuring no student slips through the cracks. She also shared advice on introducing teachers and staff to Student Success in a manageable, digestible way, so that all educators felt comfortable—and excited about—using the platform.
Unifying Relationship-Building and Academic Success
Lindley's first priority for Panorama Student Success was to identify students who needed extra support, including students who had poor attendance or failing grades. Then, educators developed a relationship-first approach to boosting their academic performance.
"Our Success Coaches and counselors already knew these students. They already had relationships with them. So we were just trying to dig a little deeper," Lindley said, noting how the school used Student Success to drive interventions. "I set the initial interventions up for six weeks. The main priority was to continue to build relationships with these students while trying to increase their academic performance." Success Coaches and counselors currently work with students to develop critical SEL skills, such as:
Organization strategies
Relationship-building
Self-advocacy
These social-emotional skills—sometimes referred to as "interpersonal skills" or "21st century skills"—are critical for helping students succeed in school, career, and life. Today, social-emotional learning is widely recognized as foundational to K-12 education, and Success Coaches at Spanish Fork are empowering students to use these skills to work toward academic success.
"The main priority was to continue to build relationships with students while increasing their academic performance."

Jessica Lindley, Dean of Students at Spanish Fork Jr. High
Lindley wanted the entire school community to support students' emotional and academic progress—and Spanish Fork's Teaching Assistant program provided a great opportunity for this. The school has 29 office TAs throughout the day. At Spanish Fork, TAs are generally students in need of extra support. This support comes from all members of the school community, including school secretaries.
"I taught our secretaries Panorama. I showed them how to check and see what our student TAs' grades are, so now secretaries are using Student Success, too," Lindley said. "Our amazing school secretaries care about students so much, and they've taken the initiative to use Student Success without me having to be there. And now, instead of TAs running notes or doing special jobs for us, it's more of a study hall for them—which is awesome."
Using Panorama Student Success to Drive Instruction and Interventions
Panorama Student Success is helping educators form more meaningful relationships with students—and empowering students to develop important SEL skills. But it's also performing another critical function at Spanish Fork: providing staff with a unified approach toward note taking and collaborating around student support.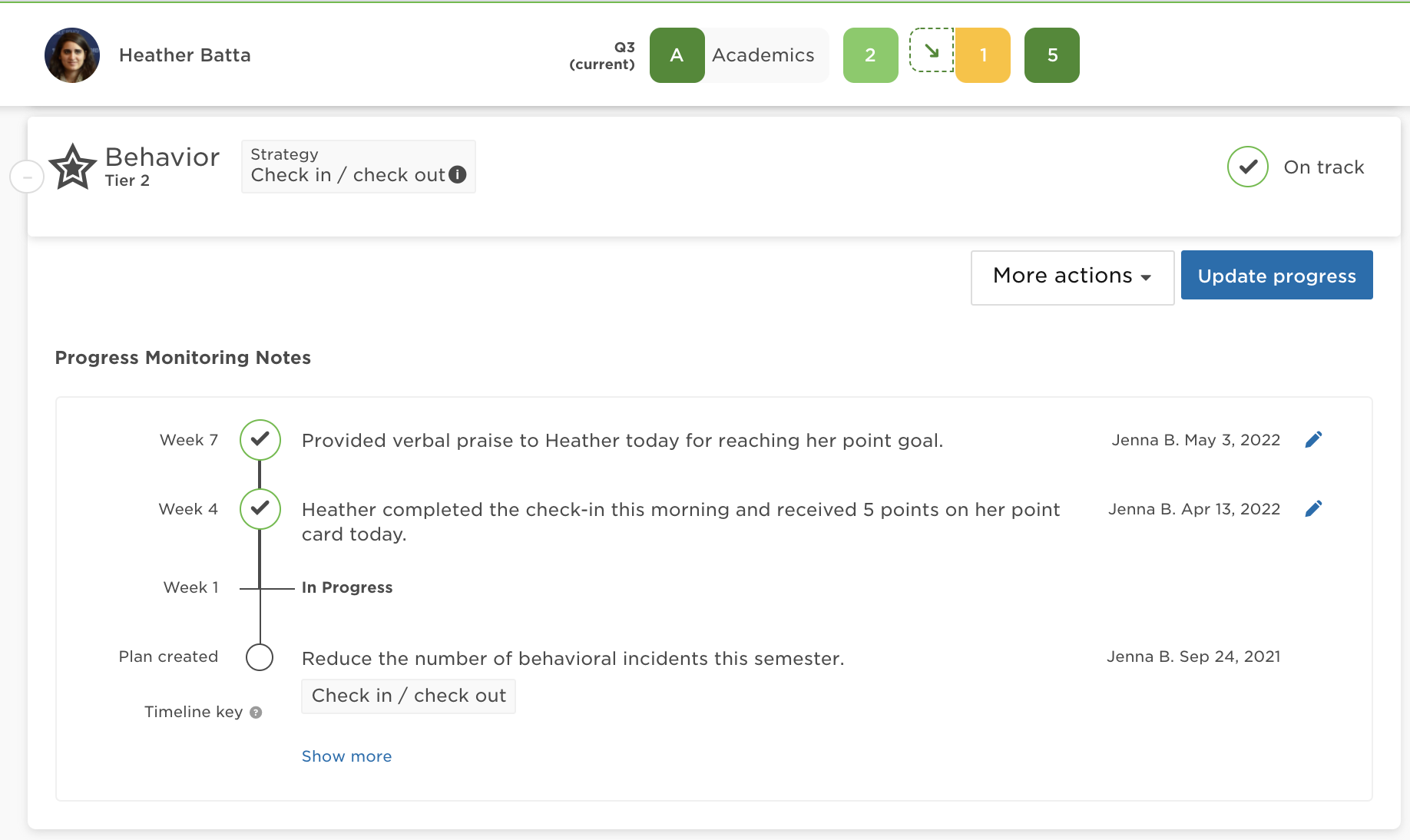 Educators at Spanish Fork can collaborate around student supports in Student Success. Please note that demo data is pictured.
Prior to implementing Student Success, the school lacked a standardized method of documenting student progress in a way that led to better interventions. Now, educators can easily see student SEL and academic progress in one place. That's making a big difference for Success Coaches and staff.
"I have a Success Coach who's been in the system for 30 years, and change is hard," Lindley said. "But just last week, she told me how amazing Panorama has been for her. Before Panorama, she was trying to look at all the ninth graders. Now, she focuses on 10 that are at the highest risk. She feels like a big weight has been lifted off her shoulders now that she has the ability to document progress a lot more clearly and easily."
"I have a Success Coach who's been in the system for 30 years. She feels like a big weight has been lifted off her shoulders now that she has the ability to document progress a lot more clearly and easily."

Jessica Lindley, Dean of Students at Spanish Fork Jr. High
Using Student Success to drive instruction and interventions also ensures no students slip through the cracks. Lindley described how the school is supporting students in new ways by creating distinct groups in the Student Success dashboard. And with the ability to create groups of students—including students with 504 status, ELL status, and students experiencing homelessness—educators can more efficiently document their progress. Lindley notes that the school is seeing great progress with these groups of students.
"Creating specific groups of students in Student Success has been really powerful. For example, we could see that most of our failing grades were coming from students in the ESL class. So, I was able to reach out to the ESL teacher and work together to determine which interventions would be best," Lindley said.
She's excited for the potential that Student Success has to supercharge collaboration among educators, staff, and students. "When we started using Panorama, I thought it was just a database. But what we're seeing is more participation and an increased ability to help students through collaboration with teachers. And that's been exciting."
Learning Together: Introducing Teachers and Staff to Panorama Student Success
Implementing a new system takes time, teamwork, and a little creativity—and Lindley made sure the educators at Spanish Fork had all the resources they needed to feel comfortable using Panorama Student Success. She notes that change takes patience and trust. Creating a safe environment for staff to learn about Student Success was a crucial part of the process.
"We just went slowly so they felt comfortable. We wanted to implement the platform in a way that was manageable and digestible for staff," she said. "I explained how you can't really make a mistake. We're learning, and that's okay. That's the most important thing."
While the learning process can be challenging, Lindley noticed a huge boost in staff buy-in by celebrating each win—big and small. Based on data from Student Success, she created and shared a graph showing a gradual decrease in the number of students receiving an academic intervention.
"There were about 90 students receiving an intervention in ninth grade, and about 60 in eighth grade. And then the next week, there were about 10 less students. The next week, there were 20 less—and that number just kept decreasing. When our teachers actually saw this progress, they realized we really were making a difference."
Ultimately, Lindley is thrilled about the progress Spanish Fork students and staff have already made using Panorama Student Success.
"It's exciting to see where students are—and where they're going—and to have so much information at a glance," Lindley says of the Student Success dashboard. "The reality is when you're working with 1,100 students, it's challenging to follow every student's individual journey—but here is a tool that can track attendance, academics, and behavior. It gives us a comprehensive understanding of how we can better support our students, and they deserve that. Our students need us to do this to help them succeed."
Interested in measuring your students' SEL skills? Download the open-source Panorama Social-Emotional Learning Survey.