Last updated on March 31, 2021

---
After nearly a year of remote instruction and hybrid learning due to the coronavirus (COVID-19) pandemic, many public schools and districts across the country are starting to reintegrate students to in-person learning per CDC and state board of education guidelines.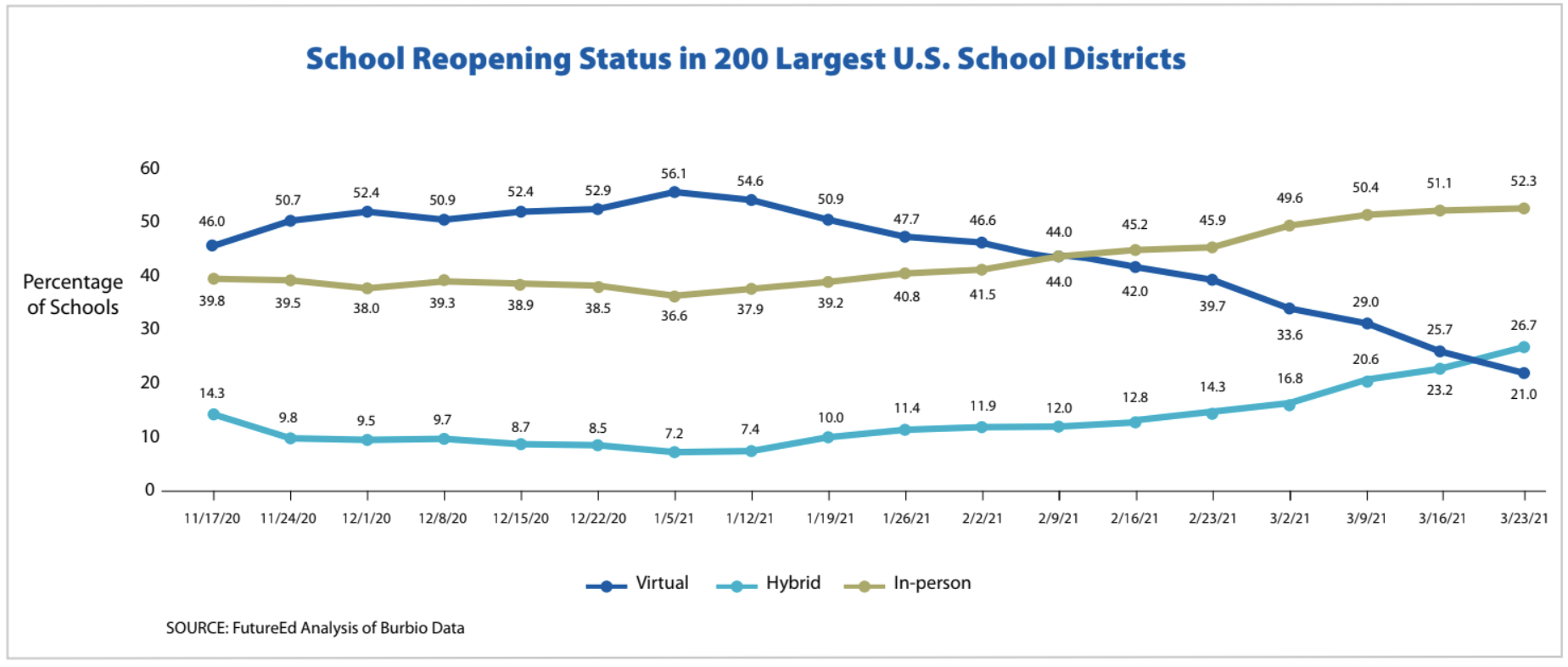 The pandemic and the sudden shift to remote learning has taken a toll on the well-being and mental health of students and adults. The hope is that moving back to an in-person learning model before the end of the 2020-21 school year can help heal school communities and support learning recovery.
Below, we rounded up examples of reopening/re-entry plans as school districts and states welcome students back into school buildings for in-person instruction. The reopening plans vary significantly, but the majority continue to enforce safety measures and other mitigation strategies for educators, school staff, families, and students (e.g., face coverings, hand washing, social distancing).
Many of these plans are subject to change based on public health and safety guidelines and COVID-19 case counts. We will continue to update this article as new information is available.
Download our toolkit of SEL resources for supporting student and adult well-being.

A Look Inside In-Person Learning Reopening Plans Across the Country


1. Jefferson County Public Schools (KY)
Jefferson County Public Schools will reopen schools and welcome students back for in-person instruction at the end of March. Students will continue with online learning until just the third week of March.
The district's safety precautions for reopening include:
Placing decals on hallway floors and on chairs to ensure students have enough space when sitting down and moving to-and-from classrooms.
Creating hand sanitizer stations throughout school buildings.
Ensuring appropriate spacing between classroom tables and chairs.
Making masks available for pick up for students who do not have their own.
Requiring students to sign-in using an iPad stationed at entrances and have their temperatures taken.
Dividing students who choose to return to the classroom by their last names. Students with last names A through K will have in-person instruction on Monday and Tuesday, and students with last names L through Z will come to school on Thursday and Friday. The two days when students are at home are to be asynchronous learning time.
2. Massachusetts Department of Elementary and Secondary Education (MA)
Governor Charlie Baker's administration—in conjunction with Education Commissioner Jeff Riley—is moving ahead with plans to resume in-person learning five days a week in all Massachusetts K-8 public schools by April.
According to Boston.com, all school districts are required to resume full-time in-person learning for elementary school students by April 5. The reintegration of PreK-5 students will be followed by middle schools (grades 6-8) in late April. A specific date has not been set for the return to in-person instruction for high school students.
For the majority of the 2020-21 school year, special education students in Massachusetts on IEPs have been learning in person and engaging in small-group instruction with classroom teachers, school counselors, and social workers.
Guidance from the state does not yet include information on providing Personal Protective Equipment (PPE), COVID-19 testing, or vaccinations for educators.
3. San Francisco Unified School District (CA)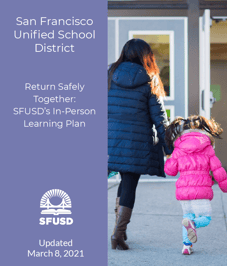 At this time, SFUSD is on track to resume in-person learning at some schools beginning on April 12, 2021. Younger students (PK-2) and students with moderate/severe disabilities will return first in Phase 2A, as noted in the district's "Return Safely Together Plan."
After that, Phase 2B will bring back additional priority populations, including students experiencing homelessness, new students, and students who have shown the lowest online engagement.
Families will have a choice about whether to return to in-person learning or stay in remote learning. The district has also stated that it will not reopen any schools until it implements all health and safety measures recommended by the SF Department of Public Health.
4. Seattle Public Schools (WA)
Seattle Public Schools (SPS) has proposed a phased re-entry plan to in-person learning beginning in March. The plan follows guidance from the Washington State Department of Health on how to phase-in small groups of students.
In Stage 2 from March through June 2021, the youngest students (PreK-1st grade) and students receiving special education services will return to classrooms.
Stage 3 will see an increase of in-person learning for students in grades 2-12, followed by a 100% return to in-person learning in Stage 4. The timelines for Stages 3 and 4 are to be determined.

Source: Seattle Public Schools
SPS has also released a "Top 10 Things SPS Families Need to Know" infographic, which includes information on required daily health screenings and the number of students per class (15 students or less).


5. Chicago Public Schools (IL)
In a Reopening Letter from Chief Executive Officer Janice Jackson and Chief Education Officer LaTanya McDade, it was announced that students in grades K-8 would have the option to resume in-person learning in March 2021.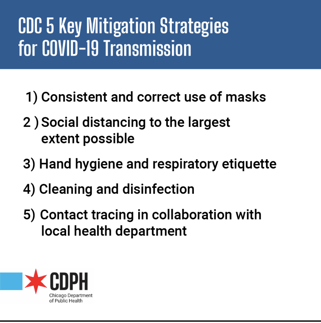 CPS reopened their doors to students in grades K-5 on March 1, with in-person learning beginning for students in grades 6-8 on March 8. Students in grades 9-12 have continued to participate in a remote learning model and their timeline for returning is still to be determined.
Students who do choose to return to in-person learning will do so through a hybrid learning model. Students will split their time learning at home and at school, allowing schools to limit class sizes and ensure social distancing.
Students are assigned to one of three hybrid models:
2 Day In-Person Model:

Students are assigned to pods that learn in-person two days per week and remotely three days per week.

4 Day In-Person Model:

Students are assigned to pods that will learn in-person on Monday, Tuesday, Thursday, and Friday and remotely on Wednesday.

5 Day In-Person Model: Students in pre-K and cluster programs learn in-person five days per week. In some instances, pre-K and cluster programs can adopt a hybrid model to allow for social distancing.


6. The School District of Philadelphia (PA)
After completing readiness reviews with the Philadelphia Teachers Union, the School District of Philadelphia is reopening 35 schools for in-person learning on March 22, 2021, for PreK-2 students whose families chose hybrid learning in the fall.
The district plans to continue school readiness reviews in the coming weeks, with the goal of announcing the return dates for the remaining PreK-2 students by March 22, 2021. Once readiness reviews for all PreK-2 schools are done, the Philadelphia Teachers Union will begin reviews for schools serving students in third through twelfth grade.


7. Broward County Public Schools (FL)
n October 2020, the School Board of Broward County agreed to give parents the option to have their students continue "eLearning" at home or return to campus for face-to-face instruction with new safety rules and protocols in place. This is part of Broward County's "Back to School 2020-21" plan, with three phases: eLearning Phase 1, eLearning Phase 2, and Learning Phase 3.
Superintendent Robert Runcie recently announced that the plan is to re-open campuses for all students for in-person learning in the fall of 2021.
"My expectation and our planning… is to open up full time," Runcie said. "The remaining question is are we going to provide any flexibility, but we're going to plan to open up for the next school year."


8. Denver Public Schools (CO)
According to the Denver Post, Denver Public Schools plans to expand in-person learning for middle and high school students after spring break on April 5, 2021. To this point, in-person learning has included just early childhood education and elementary schools.
Michael Ramirez, deputy superintendent of schools, said in a board of education meeting that the goal is to operate secondary schools "as close to full strength as possible" after students return from spring break.
After reviewing recent health guidelines that highlight the effectiveness of masks and physical distancing in schools, the district will be increasing the cap on class sizes from 17 to 35 students, removing the limit on how many cohorts a teacher can interact with during the school day, and only requiring a minimum of three feet between students and adults.
District leadership is also working with Children's Hospital Colorado and Denver Health, two local hospital systems, to coordinate vaccinations for school-based staff and central office employees.


9. Charlotte County Public Schools (VA)
A statement from Superintendent Robbie Mason on March 10, 2021 said that the Charlotte County School Board had approved a four-day, in-person schedule for all students beginning on March 15, 2021. Fridays will continue to be remote instruction days for all students.
Families who wish for their children to remain remote will still have that option.
Superintendent Mason also outlined several guidelines for the return to school buildings, including:
Six-foot distancing in classrooms whenever possible.
Masks must continue to be worn by students at all times except when they are eating.
Students on school buses will be assigned seats less than six-feet apart, but students will be seated one per seat except for students in the same household who will be able to sit together.


10. Indianapolis Public Schools (IN)
IPS began the transition back to in-person learning in January 2021, bringing back students in pre-kindergarten through sixth grade (except for sixth graders on a middle school schedule) for full, in-person schedules.
Based on data from the Marion County Health Department, the district plans to bring middle and high school students back to campuses five days a week starting on April 5, 2021.
IPS's "Back to School" website lists several "non-negotiables" for the return to in-person learning:
Social distancing prioritized
COVID-specific safety protocols must be in place at all schools
A full-time e-learning option must be available to all students who must opt-out of in-person school
E-learning must be quickly implementable for 100% of students if rolling closures occur
Extended time options must be available for our neediest students
Social-emotional learning will be prioritized but will need to evolve

11. Kansas City Public Schools (MO)
KCPS's re-entry plan will begin to transition students from distance learning to in-person learning on March 15, 2021. The district will take a hybrid approach and phase in by grade levels. Families will still have the option to enroll students in the Kansas City Virtual Academy.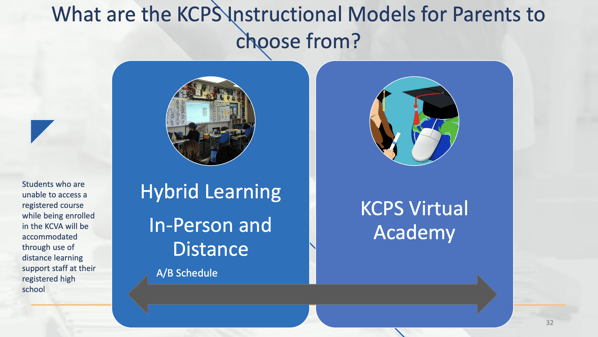 Source: KCPS
The dates for the return to in-person learning by grade level are:
March 15: Grades PreK-3, High Minute Special Education students, ELL students
March 22: Grades 4-6, Grade 7, Grade 9
April 5: Grades 8, Grades 10-12
For the hybrid model, students will be placed into Group A and Group B cohorts. Group A students will come in-person on Mondays and Tuesdays. Group B students will come in-person on Thursdays and Fridays. Wednesdays will continue to be distance learning days.
Additional In-Person Learning and School Reopening Resources