Elevating student voice this year—whether through a social-emotional learning assessment or a general student survey—is more important than ever.
At the same time, the unique circumstances of distance or hybrid learning mean we must rethink how we administer these surveys. Where should students take the survey? Who should be present? What are the ideal circumstances?
First, the goal is still to get a representative sample. We recommend encouraging as many students as possible and, more importantly, as many different types of students as possible to complete the survey. The best solution is to remain flexible about how and when students take the survey. If guidelines are too stringent, then the survey results may do a poor job representing students who are unable to physically be in the classroom or students who have trouble joining live virtual classroom sessions.
Below, we go into more detail on our guidelines for administering student surveys in a distance or hybrid learning environment.
Download Panorama's survey content for distance and hybrid learning.

What is the ideal setting for students to take a school survey during distance or hybrid learning?
For most schools, the three options for taking a survey are:
Synchronously, with students physically in the classroom with an educator
Synchronously, with students attending a live virtual classroom session
Asynchronously, with students completing the survey on their own time
We recommend mimicking the psychological circumstances of administering a survey when students are physically in school. Why? An in-person survey with a captive audience typically produces the best response rates and a sense of accountability to ensure that students take the survey seriously.
This means that students should be in a quiet, but shared, setting with minimal distraction and ample time to complete the survey. This will allow them to meaningfully reflect on themselves, their learning, and/or their school environment.
Options #1 and #2 (the two synchronous survey-taking options) better fit these circumstances. However, it's important to remain flexible about how and when students take the survey. This can ensure that every student has a chance to complete it, regardless of their ability to join live classroom sessions.
Ideally, students would have a synchronous setting in which to take the survey, as well as an asynchronous way to take the survey if they miss out on the synchronous survey administration.


How should we administer "teacher perception of student" surveys during remote learning?
Teacher perception of student surveys are a way to understand the social-emotional learning of younger students (K-2). These surveys are based on teacher observations of student behavior in a typical in-person classroom.
Now that most schools do not have full-day in-person instruction, however, the circumstances and timing for administering these surveys must be revisited.
We recommend satisfying the following circumstances:
Wait six to eight weeks after the start of the school year before administering teacher perception of student surveys. This ensures that teachers have adequate opportunity to observe student behavior and SEL.
Substantial synchronous learning time: Students spend approximately 10 hours a week or more with the teacher in learning sessions. The synchronous learning sessions would ideally include:

Students using their cameras so that teachers can observe how they act during the session.
Teachers having at least some portion of the session with all students unmuted.
Students regularly attending the synchronous learning sessions.

Direct interactions between students: During the synchronous learning sessions, students have considerable opportunity to engage with each other. If classes consist primarily of the teacher asking students questions individually, with students responding to the teacher and not to each other, then this condition is not met.
Assigned coursework for students: Teachers assign weekly coursework to students that they are expected to turn in, and teachers review the work they receive. This condition would not be met if teachers are only checking that assignments were turned in but not reviewing assignments for their quality.
Insight into how students approach academic work: During class, one-on-one meetings, or in assignments, the teacher is able to gain insights into how the student approaches school work. For example, the teacher could gain insights by asking students how they solved a problem or by giving and grading assignments that ask students to show their work.


Partner with Panorama to administer student surveys this year
Since the shift to distance learning, our team has already worked with hundreds of districts to administer surveys and gather feedback from tens of thousands of students, families, and staff. Our survey administration and analytics platform is the easiest way to quickly view and disaggregate results by topic, question, demographic group, grade level, school, and more to inform priority areas and action plans.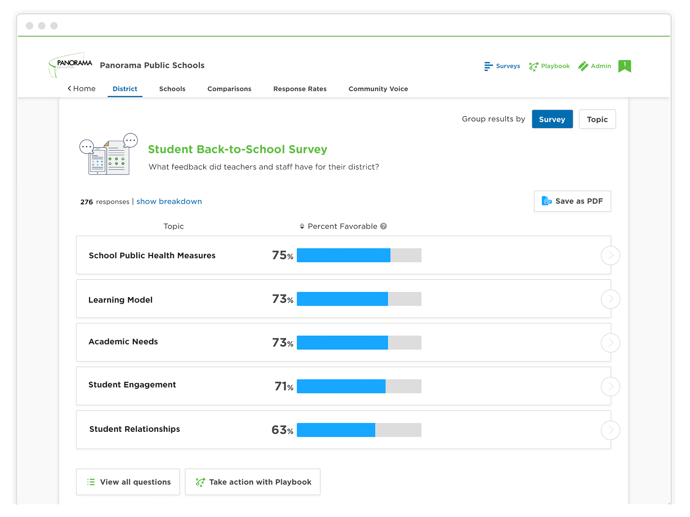 With expert guidance and top-notch support, our team will be with you every step of the way to optimize your survey program during distance learning.
Get in touch to learn how Panorama can support your survey program.