The shift to distance learning and hybrid learning has required innovation, adaptation, and more coordination than ever to support students within a Multi-Tiered System of Supports (MTSS) or Response to Intervention (RTI) framework.
Implementing MTSS/RTI this year will mean adjusting intervention strategies to meet students' present needs—as well as providing guidance to educators around effective virtual delivery.
To help out, we've curated 10 evidence-based intervention strategies that can be easily adapted for virtual use. Below the list, we've broken down three of these interventions—including a description, how the intervention works, and how you can implement it in a virtual setting.
*Bonus* Unlock 30 more intervention strategies in our full Distance Learning Intervention Menu.


Pro tip for Panorama users: If you use Panorama Student Success, 41 new, evidence-based interventions are now available in your Intervention Library across a variety of content areas (e.g., ELA, mathematics, behavior, SEL). District administrators can customize the Intervention Library to provide staff with a central repository of intervention options, ensuring consistency across schools and allowing for better tracking to see which interventions are getting used.


10 Intervention Strategies to Adapt for Distance Learning
Bear Belly Breathing (via Breathe For Change)
Challenge the Challenging (via CharacterStrong)
Virtual Temperature Check (via CharacterStrong/Panorama Education)
The Positive Pivot (via Move This World)
---
Deep Dive on Three Strategies
Home Visit
Description: Research points to numerous benefits when teachers visit the homes of their students, including increased connection between teachers and parents, more parental engagement in a child's academics, increased trust and communication, and better student behavior. Many districts already utilize a parent-teacher home visit program as a Tier 1 intervention. Continuing the program in a virtual manner allows teachers, caregivers, and students to thrive as a team.
Goal: Increase student success and family engagement by building trust and authentic relationships between families, educators, and students.
How to Implement This Intervention Virtually:
"When we shifted to distance learning back in the spring, understanding how to implement SEL and maintain a sense of connectedness was really difficult for us. Some students didn't have access to technology; others did not have parents at home; almost all had increased stress.
We ended up looking at every support within our MTSS that was already in place, and altered them to be conducive to virtual use. We turned our home visit program into a socially distanced and virtual visit program. We continued providing the intervention over video conference primarily. We started surveying students at home to understand how they were coping. The survey data helped us readjust our systems to better meet students' well-being needs."
–Aspen Florence, Director of Student Advocacy at Ogden School District (UT)
Virtual Temperature Check
Description: Temperature Checks are the intentional practice of proactively checking in with students at least once per week. This activity gives students space to share how they are doing, what they are thinking about, and how they are experiencing school. Temperature Checks help to build student-teacher relationships by helping students recognize that teachers care about what they have to say and how they are feeling.
Goal: Provide teachers insight into students' lives so that teachers can act on the information that students share in an intentional manner.
How to Implement This Intervention Virtually:
Choose a day of the week to conduct a Temperature Check with students. This could be something they do at the beginning of a meeting/class, towards the end of a class, or asynchronously.
Send out a Google Form as a quick way for students to tell you how they are feeling and what supports they need. (Download and customize our free Google Forms template for facilitating virtual temperature checks.) Consider asking students to rate how they are feeling on a scale of 1-5, check off specific feelings that they're experiencing (e.g., happy, hungry, anxious, overwhelmed, bored, etc.), and share additional details about why they think they're feeling this way.
Have students complete these Temperature Checks on a regular basis (once per week or once per month, if not more frequently) in an agreed-on period so you have a regular pulse of what is happening within your school or classroom and in your students' lives.
If you identify a student who needs extra support, be sure to find time to check in with them individually and help connect them with any additional resources they may need.
Pro tip for Panorama users: If you use Panorama Student Success, you can add content to a "How does it work?" intervention tooltip. These tooltips can help staff quickly evaluate and implement effective interventions.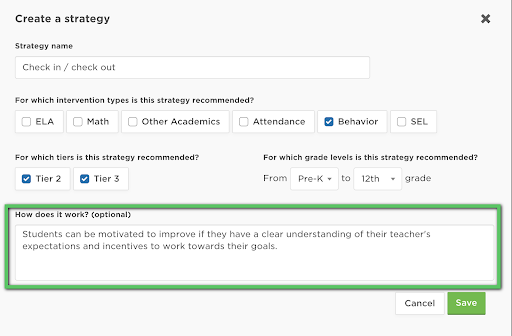 Two Word Check-In
Description: Two Word Check-In is simple, yet powerful, exercise that enhances emotional awareness, promotes authenticity, and builds community. This intervention focuses on helping students articulate how they are feeling.
Goal: Take a pulse of where everyone in your school or classroom community is at during the start (or end) of a meeting or lesson.
How to Implement This Intervention Virtually:
Connect with a student (or a group of students) via Zoom, Google Hangouts, or another video conferencing tool.
Brainstorm a list of feelings with student(s) and, if age appropriate, draw or label the feelings with facial expressions to help develop their emotional awareness and emotion-labeling skills. (On Zoom, you can use the "whiteboard" feature to draw these, or you can share your screen and use another program.)
Ask students to find a comfortable place to sit with their device, and instruct them to start to take some deep breaths in and out.
As they continue to breathe, guide them to notice how they are feeling right now. Ask: "What emotions are you experiencing inside of you?"
Explain that every emotion is welcome and that students can give themselves permission to be and feel exactly as they are.
Ask students to choose two words to describe how they are feeling.
Take turns sharing these two words. You (as the educator) can model the exercise by sharing your two word check-in first.
End with some reflection questions, such as:

How did it feel to connect to your feelings?
What was it like to describe your feelings in two words?
What was it like to hear everyone else share their two words?
Download and customize Panorama's full Distance Learning Intervention Menu for your MTSS/RTI team.