Bitmojis are taking over the eduction world.
While the COVID-19 pandemic (and the subsequent shift to remote learning) this past spring brought heightened stress for educators, students and caregivers, one silver lining that emerged was the use of the customizable, mini-me avatars affectionately known as Bitmojis to help drive student engagement in online learning.
Although many teachers are still unable to return to face-to-face settings in traditional classrooms with students this fall, some have turned to Bitmojis to design intentional and effective learning experiences that foster active learning – from interactive classrooms to virtual field trips.
As teachers continue to navigate a new world of limited physical student interactions and blended learning environments, many are grappling with how to best make time for both synchronous and asynchronous coursework while keeping students engaged. Bitmojis can provide educators with a fun and communal way to enhance student learning and improve the climate in their online environments.
In this post, we'll explore how to get started with Bitmojis and share five ideas for using Bitmojis to build student engagement in online learning. Keep reading to get a description of each idea or download our toolkit of high-quality, easy-to-implement activities designed for use in remote learning.
Download Toolkit: 9 Virtual Learning Resources to Build Belonging with Students and Families


How to Get Started with Bitmojis
Idea #2: Bitmoji Class Norms Poster
Idea #3: Design a Bitmoji Virtual Field Trip
Idea #4: Setup a Bitmoji Library
Idea #5: Create a Bitmoji Makerspace
How to Get Started with Bitmojis
To create your personal Bitmoji, you need to download the app (on either the Apple or Android store) and customize your avatar.
During the creation process, you will be able to select features such as your hair style and color, eye color, and outfit.
Once you've assembled your virtual mini-me, download this Google Chrome extension, which enables you to browse a small group of images that cast your Bitmoji in a variety of activities – from reading to dancing to eating. You can copy and paste any version of your Bitmoji into Google Slides or any other tool that you typically use.
Idea #1: Create a Bitmoji Classroom
Creating a sense of familiarity and connection with online students is a challenge for many educators. Interactive virtual classrooms featuring a Bitmoji are a great way to recreate a unique version of their physical classroom.
Start by selecting a colorful background that simulates your classroom or a space that will be familiar to students. You can design your own or download free templates on Google Slides.
With a background in place, you can add in objects and text to bring the classroom to life. Include pictures of desks, a pet, chalkboards, posters, and games to your virtual classroom (along with your Bitmoji!) to add personalized and fun elements for students to interact with.
You can also add hyperlinks to images or text so that they become clickable icons that redirect online learners to helpful resources such as assignments, office hours, short online courses, audio-guided mindfulness recordings, discussion boards, or other course materials.
One important consideration when creating your Bitmoji classroom is how to intentionally foster a sense of community by including items that represent both your background as well as your students' identities. A thoughtfully designed Bitmoji classroom can utilize culturally responsive pedagogy by featuring:
Links to community resources, such as libraries, food banks, and cultural centers
Objects that represent your values, background and culture as an educator
Imagery and content that resonates with (and honors) Black, Latinx, and Indigenous students
In addition to increasing excitement about online learning, bolstering student engagement, and cultivating an inclusive and diverse community, Bitmoji classrooms are also a great way to distribute professional development resources, host discussion forums, and share course content among staff and educators.
Download this toolkit to access customizable Bitmoji classroom templates.
Idea #2: Design a Bitmoji Class Norms Poster
Building an inclusive and collaborative culture in our classrooms is important under normal circumstances.
Amidst a pandemic in which distance learning, online classes and breakout rooms are the norm, it is even more of an imperative for educators to work collaboratively with students to define norms that serve as the foundation for respectful behavior.
Norms are agreements among members of a classroom community about how individuals will treat one another. As opposed to rules (which are typically dictated by adults and inflexible), class norms are co-created guidelines that pertain to collective safety, ways of being, and engagement.
With many interactions with students currently occurring via Zoom or other video conferencing services, a set of virtual classroom norms (featuring Bitmojis!) can be particularly helpful to outline expected and accepted behaviors for students, such as:
Turning on webcam videos during online discussions

Using the "un-mute" function to ask questions or when sharing

student responses to prompts shared by teachers during synchronous

remote learning

Being respectful to classmates when sharing questions or feedback in discussion posts or group work
Using the "raise my hand" button to signal that support is needed during online courses
Download this toolkit to make a copy of our customizable Bitmoji class norms slide.
Idea #3: Design a Virtual Bitmoji Field Trip
Many museums, zoos and cultural centers are offering digital tours for free. You and your students can go together (or asynchronously) to museums in Sao Paulo and Paris, watch live footage of animals at a zoo, explore popular aquariums, or walk through Yellowstone National Park.
To supplement these digital tours, consider constructing a Google Slide that uses text and icons to link to various websites to create a virtual field trip! You can add a list of specific facts or information that students need to find to add a scavenger-hunt element as well.
Download this toolkit to make a copy of our Bitmoji virtual field trip to an aquarium.

Idea #4: Setup a Bitmoji Library
We know from research that embedding social-emotional learning within interactive pedagogy can optimize students' learning processes by actively involving them in meaning-making while practicing SEL skills.
Storytelling is a great method for integrating SEL into academics. Reading and engaging with literary content builds students' literacy skills while also fostering their social-emotional learning skills.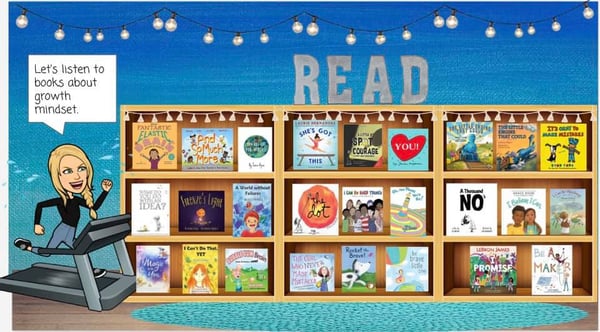 Source: WeAreTeachers.com
Many educators are adapting their Bitmoji classrooms to serve as virtual libraries or bookshelves for their online teaching efforts. These classrooms can link to read-alouds, PDFs, and digital books. Bitmoji libraries can be themed to include books related to specific academic topics or SEL-related themes, such as: growth mindset, equity and excellence, resilience, perseverance, or emotions.
Explore Panorama's Story Time Video Library for 'read alouds' to use in your Bitmoji library!

Idea #5: Create a Bitmoji Makerspace
Offering multiple options and levels of engagement for students is key to optimizing engagement in online education. A makerspace virtual classroom is one way to do just that.
Under normal circumstances, a makerspace is a (physical) collaborative work space inside a school, library, or public facility designed for making, learning, exploring and sharing.
By providing students with free online tools such as Tinkercad, 3DSlash, Design Squad, or KidsThinkDesign, educators can encourage experimentation and free expression via a Bitmoji markerspace.
Download this toolkit to make a copy of our Bitmoji makerspace template.