Literacy Resource for Caring Adults Supporting Kids
Resource available in the following langauges:
As the education community adapts to distance learning and supporting students outside of school buildings, we know that building literacy skills for students while also maintaining social-emotional learning is critically important. Social-emotional learning (SEL) is defined as the process through which children and adults understand and manage emotions, set and achieve positive goals, feel and show empathy for others, establish and maintain positive relationships, and make responsible decisions.
What better way to support the development of SEL and literacy skills than to focus on both at the same time through reading and storytelling? Reading aloud to children is more than just reading. It is taking them on an adventure. It is sharing what you are wondering, and it is learning how to think like a reader. Research has proven the importance and value of reading to children, and with reading comes meaningful conversation about the emotions of characters, themes of the book, relatable challenges. It also invites a reader's curiosity about something new.
In order to support educators and caretakers develop "master readers," our team wanted to share a few of our favorite children's books with you and the children you support. You'll notice that the stories we chose will also highlight characters' thoughts, challenges, and emotions. Talking through these with your child will help develop those SEL skills.
Explore our accompanying guide outlining best practices in building literacy to support you as you use the videos. We hope that this supports you as you embrace the joys of reading and storytelling with students and children.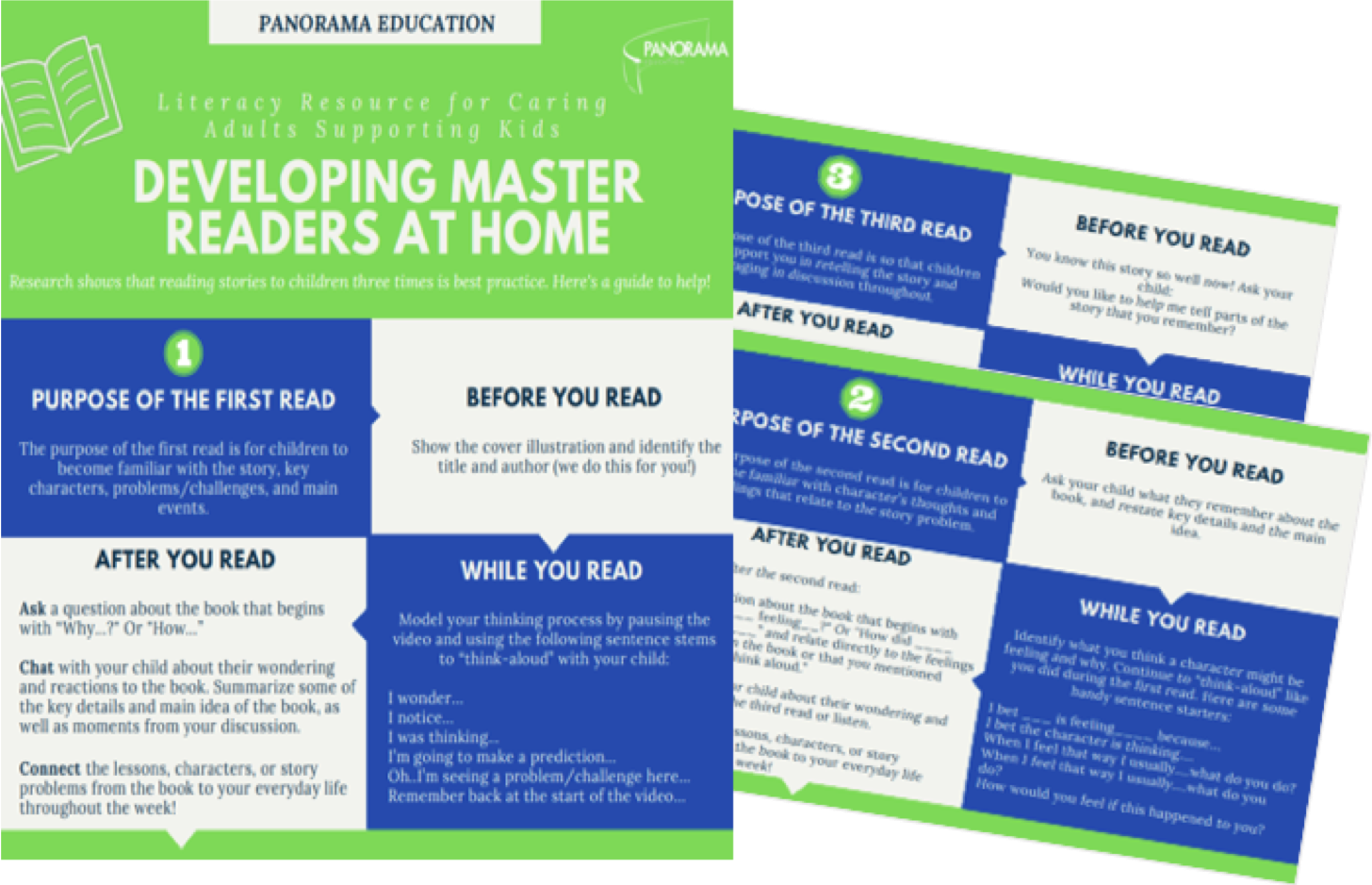 Explore our Library of Read Aloud Stories
Jack El Pequeño Conejo es una historia sobre el respeto, la amistad y el aprendizaje de que todos podemos ser útiles sin importar lo pequeños que seamos. (Spanish) *Translation: Little Jack rabbit is a story about respect, friendship, and learning that we can all be helpful no matter how small we are!
[Bilingual] Ixchel quiere tejer como su mamá y encuentra una manera creativa para practicar y apoyar a su comunidad. (Spanish) Ixchel wants to weave like her mother, and finds a unique way to practice and support her community. (English)
The day Julian sees three mesmerizing women dressed up as mermaids, everything changes. All he can think of is becoming a mermaid himself. But what will his Nana think? (English)
Stellaluna is a story about a baby bat that learns to live among baby birds.
Lola, es una historia sobre una niña que no recuerda el país (la isla) donde nació desde que emigró a los Estados Unidos a una edad muy temprana. Un proyecto escolar la lleva a hablar con su familia y vecinos sobre la "Isla" y logra aprender mucho sobre su lugar de origen y apreciar la magia de ese lugar distante. (Spanish) *Translation: Lola is about a little girl who does not remember the country (the Island/ La Isla) where she was born because she emigrated to the United States at a very young age. A school project brings Lola to rely on her family and neighbors to learn more about "the Island" and she learns to appreciate the magic of that far away place.
Bilal is excited to help his dad make the best food of all time: daal! The slow-cooked lentil dish from South Asia requires lots of ingredients and a whole lot of waiting. Bilal wants to share daal with his friends - they've never tried it! (English)
Join Mariko-Chan as she gets ready for school with her family. (English)
A boy empathizes with a new classmate and becomes friends! (English)
This story features a little girl, Sal, and her mother as they go and pick blueberries for winter—and a bear cub and his mother as they go and eat berries for winter from the other side of the same hill. (English)
When Wangari sees the trees cut down in her village and the harm it causes her community, she fights for what is right and replants a million new trees. (English)
Rainbow Fish is about a beautiful fish who finds friendship and happiness when he learns to share. (English)
A book that makes grownups say silly things. (English)
On a broomstick adventure, a witch and her cat travel in stormy weather where a few belongings are lost but new friends are found. (English)
This is a story about Kelp who is on a journey to figure out who he is and where he belongs. (English)
When Aidan's parents tell him he is going to be a big brother, Aidan must help them create a welcoming environment for his new sibling, while also discovering what it means to love and support a new baby. (English)
Oh the Places You'll Go is a story about life's ups and downs and how to find the success that lies within each of us! (English)
Gluey: A Snail Tale is a story about a bunny who moves into an empty house and doesn't realize a snail is already living there. (English)
The children at Napville School always ignore Officer Buckle's safety tips, until a police dog named Gloria accompanies him when he gives his safety speeches. (English)
This book is about a teddy bear named Corduroy and his search for a lost button. Along the way, he discovers something else he didn't even know he was missing. (English)
Lady Pancake and Sir French Toast is a story about a not so friendly competition to reach the last drop of syrup. Will competing against each other instead of working together be the best way to solve the problem? (English)
This book is about how Rodney the Rat is made fun of for his lisp, but then uses it to confuse the school bully and become the class hero. (English)