Each year, thousands of educators trust FuelEd to equip them with the tools and strategies for adult social-emotional learning to help educators create relationship-driven schools.
Now, practitioners can explore a set of research-backed, CASEL-aligned lessons for building SEL skills from FuelEd on Playbook, Panorama Education's online professional learning library of strategies for creating a positive school climate and implementing SEL in K-12 classrooms. These new resources from FuelEd provide educators with activities, guides, and resources to facilitate conversations, learn more about relationship building, and develop their own social-emotional learning skills.
FuelEd was founded to empower educators to build healthy, purposeful, and trusting relationships that heal trauma and ultimately lead to student emotional wellness, mental health, and academic learning outcomes. FuelEd accomplishes this through the delivery of original workshops and trainings in adult social-emotional competencies.

From fueledschools.org
The activities from FuelEd on Playbook align directly with topics for teachers and staff from the Panorama Social-Emotional Learning Survey, including:
Well-Being
Belonging
Teacher Self-Reflection
Faculty Growth Mindset
School Climate
Cultural Awareness
Download the Panorama Social-Emotional Learning Survey for Adults and Students.
For example, the activity "Unpacking Educator Identity" teaches educators about the four styles of building relationships, also known as "attachment styles," so they may better navigate the relationships within their communities, strengthen the way they build relationships, and ultimately create a change in the culture of their classrooms and schools.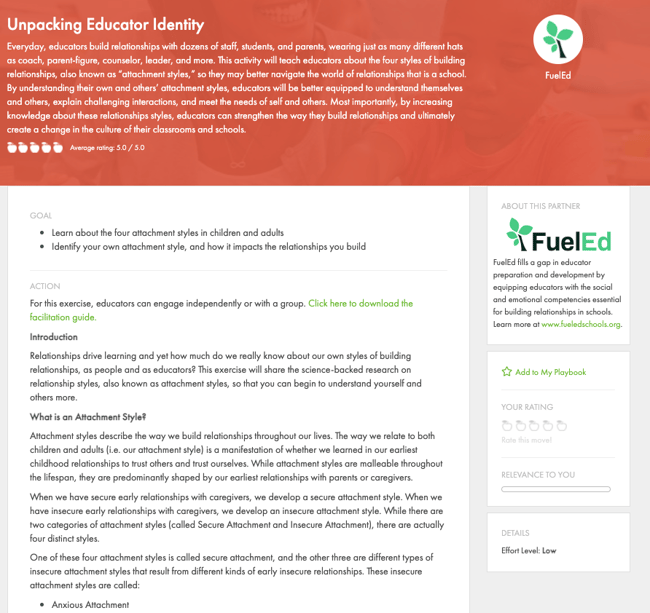 For educators looking to build their social-emotional skills, "The Power of Empathic Listening" is an exercise in empathy and perspective-taking. The activity introduces participants to a new way of listening that they can use to strengthen relationships with colleagues, parents, and students, as well as improve their own ability to implement restorative practices.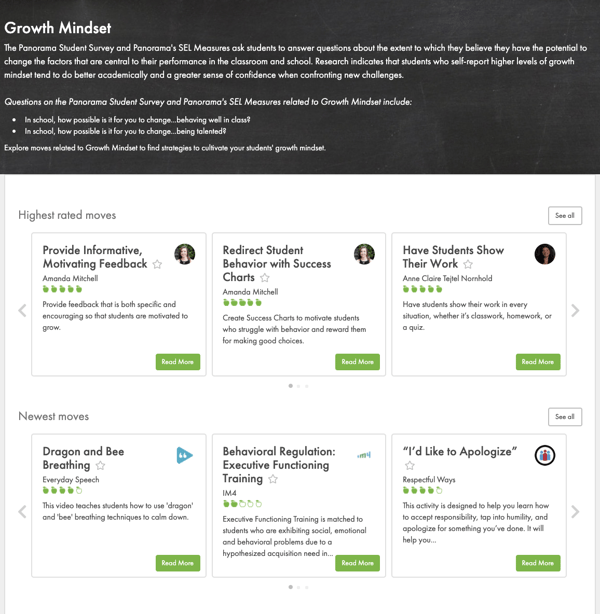 Panorama's Playbook connects teachers, counselors, and school leaders with easy-to-implement resources, activities, and research related to empathy, sense of belonging, teacher-student relationships, adult SEL, family engagement, and more. Teachers explore Panorama's Playbook when they are looking to take action on their Panorama student survey data on school climate and social-emotional learning.
As schools and districts across the country continue to support adult and student social, emotional, cultural and cognitive competencies, we are thrilled to share innovative strategies from expert organizations such as FuelEd! Find them at @FuelEdSchools on Twitter and share how you're implementing these activities in your school community with us @PanoramaEd.