Each year, thousands of educators trust Everyday Speech to equip them with the tools and strategies they need to nurture the fundamental social-emotional skills that help guide every student towards a healthier, happier, and more fulfilling future.
Now, practitioners can explore a set of research-backed, CASEL-aligned lessons for building SEL skills from Everyday Speech on Playbook, Panorama Education's online professional learning library of strategies for creating a positive school climate and implementing SEL in K-12 classrooms. These new resources from Everyday Speech provide educators with video modeling, interactive activities, and engaging games to help students build skills like self-awareness, self-regulation, and emotional recognition.
Everyday Speech is a leading provider of social skills materials for speech therapists, special educators, and diverse learning professionals. The social skills videos, games, and worksheets from Everyday Speech provide educators with everything they need to teach social-emotional skills one-on-one, in small groups, or across an entire school or district.
The activities from Everyday Speech on Playbook align directly with topics from the Panorama Social-Emotional Learning Survey, including:
Emotion Regulation
Growth Mindset
School and Classroom Climate
Self-Awareness
Self-Efficacy
Self-Management
Social Awareness
Teacher-Student Relationships
Download the Panorama Social-Emotional Learning Survey.
For example, the activity "Developing Positive Self-Esteem" provides students with tools and techniques that they can apply in their own lives to help them develop confidence, practice positive self-talk, and adopt a growth mindset.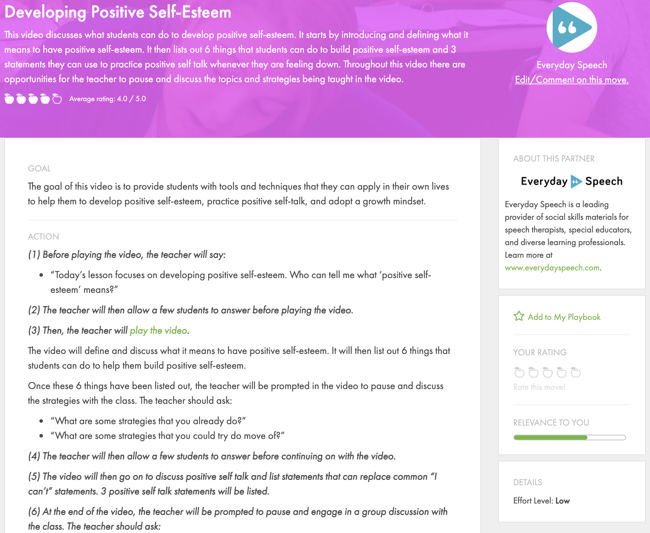 For educators thinking about how to best nurture a growth mindset with their younger learners, "Setting Goals" is an activity that helps students both self-assess areas for improvement as well as set goals to strengthen those areas. Teachers guide the discussion and assist using within-video exercises, using their keen knowledge of each student's unique needs and skills to facilitate an engaging learning experience.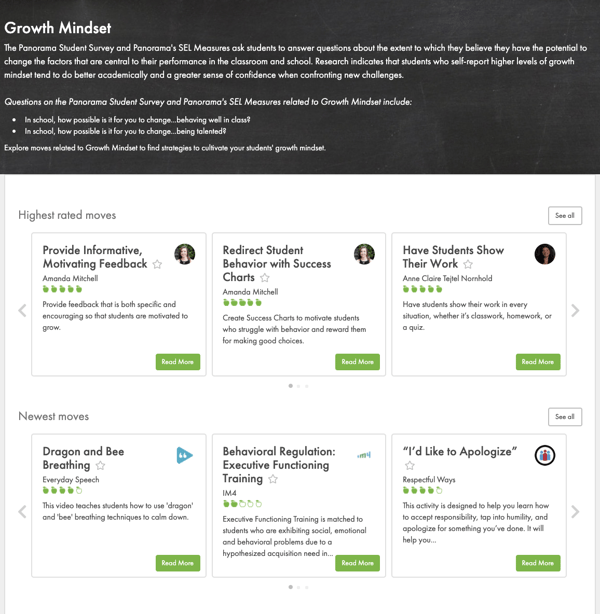 Panorama's Playbook connects teachers, counselors, and school leaders with easy-to-implement resources, activities, and research related to empathy, sense of belonging, teacher-student relationships, adult SEL, family engagement, and more. Teachers explore Panorama's Playbook when they are looking to take action on their Panorama student survey data on school climate and social-emotional learning.
As schools and districts across the country continue to support students' social, emotional, cultural and cognitive competencies, we are thrilled to share innovative strategies from expert organizations such as Everyday Speech! Find them at @EverydaySpeech on Instagram and share how you're implementing these activities in your school or classroom with us @PanoramaEd!