Student voice is more important than ever as we transition back to school for 2020-21.
This summer and into the fall, a strategic priority for many districts will be to collect and analyze feedback from students on their experiences in school. Our students' perspectives have never been more critical to ensuring equitable and supportive learning environments.
However, sending out a student survey and understanding the responses is not enough. Caring adults must model the practice of moving from understanding to action. Students must know that their voices are changing mindsets and shifting practices.
At Panorama, we've guided hundreds of districts through the process of gathering, reviewing, and taking action on student voice data. This article outlines the four key stages of the data exploration process and shares the discussion questions that your school or district team can ask at each stage.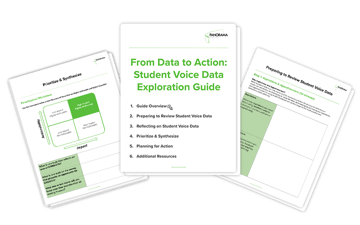 I. Preparing to Review Student Voice Data

II. Reflecting on Student Voice Data

III. Prioritizing and Synthesizing the Data

IV. Planning Your Path Towards Improvement
To access all of our discussion prompts in printable worksheets, download our Student Voice Data Exploration Guide. The guide, used by district and state partners such as D.C. Public Schools, Portland Public Schools, and the Kentucky Department of Education includes templates and worksheets that you customize for your own data planning meetings.

Download: Student Voice Data Exploration Guide
Discussion Prompts for Your Next Student Voice Data Planning Meeting

I. Preparing to Review Student Voice Data
The process of reflecting on student voice data can oftentimes be challenging or uncomfortable. Before diving into the data, set the stage for a productive discussion by sharing your aspirations and apprehensions for using student feedback. In addition, take a moment to anticipate what you expect to see in the data.
What aspirations do you have about using student data?
What apprehensions do you have about examining student data?

What areas of strength do you expect students will identify?
What areas of improvement do you expect students will identify?
What are you most curious to know from the feedback?
If you have feedback from previous surveys, what changes do you expect to see?
As you prepare to review the data, take a moment to familiarize yourself with the ladder of inference. Popularized by Peter Senge's The Fifth Discipline, the ladder of inference is a mental model for reducing bias while understanding and analyzing data. The key is to walk slowly up the ladder of inference, spending more time observing the data and considering alternative explanations in the data before deciding what it means and choosing a course of action.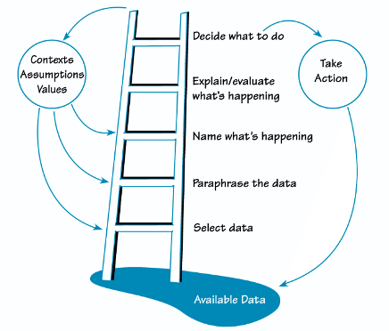 II. Reflecting on Student Voice Data
Now it's time to review the survey results. Consider the data points that most jump out at you, and listen for the narrative behind the numbers. As you take your first pass through the results, remember to stay low on the ladder of inference.
What did students identify as your district's biggest strengths?
What did students identify as your biggest areas for growth in the district?
What notable differences did you see in student experience based on student background?
What made you most proud?
What connections can you make between the data from this survey and other data you have related to your practice?
What biases may exist as I interpret the data?
We also need to center conversations about student voice data in equity. For example: if we start with the question:"What are the key challenges that we want to prioritize as a district?" we need to follow that by asking: "Which students are impacted by this challenge?"
As you disaggregate your data by race, gender, FRPL status, ELL status, and grade level, structure your data inquiry protocols to emphasize that crucial question.

III. Prioritizing and Synthesizing the Data
When dealing with a rich data set, prioritization is key. Select one topic (or two, at most) to prioritize. Consider focus areas that are high impact and highly actionable, as pictured in the matrix below.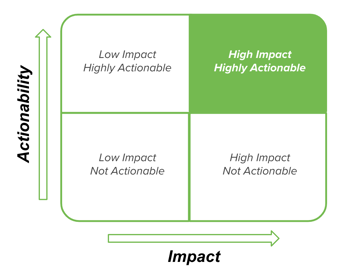 Based on the data, what focus area would yield the greatest impact for students?
Is this focus area aligned to school priorities?
Who is impacted by the decision to focus on this priority?
How will we ensure that students who are most impacted by this priority area are included in the design of next steps?
How does the prioritized topic fit within the streams of work already happening in your district or school?
IV. Planning Your Path Towards Improvement
Finish out the data exploration process by creating a rollout plan for your district or school. This is your chance to think through logistics and to consider the steps you'll take to implement your focus area.
What will you prioritize or focus on for this or next year?
Why will this be the most impactful thing to focus on?
When is the ideal time to introduce this work to your team? Where is the appropriate setting?
What are some challenges you may face in the process?
How will you break down your goal into steps?
How will you hold yourself and your team accountable to action? (What calendar invites do you need to send; what PLCs need to be set up, etc.)


Access these prompts as printable worksheets in our Student Voice Data Exploration Guide.