If your district is like many others in the US, you are probably using a multi-tiered system of supports (MTSS) framework to deliver services to your students. You have a tiered intervention menu, you are looking at data semi-regularly, and you have teams to help implement interventions. So what comes next?

MTSS implementation is a continuous cycle that requires districts to grow and change as they notice new needs arise. This can be especially challenging in small districts because many MTSS leaders have other important roles in their schools, putting constraints on their time and energy. We heard from three district leaders working in small districts about how they are building their MTSS frameworks:
We sat down with AJ, LaTonya, and Janie to hear more about their key takeaways for leading MTSS work, developing strong teams, and using data to take action for students.
Learn more about how Panorama for Student Success can support your district's MTSS.

1. The Best Teams Work Together, Not Apart
Panorama: MTSS is a complicated framework that involves all adults working together closely to ensure students are getting what they need. What are some lessons you have learned for working with MTSS teams?
LaTonya Robinson: Anytime you have a small school, you want to make sure that your central office and your administrative team are on the same page. Everybody needs to understand the importance of this work. Everyone needs to understand that all means all, and that MTSS is a critical component of teaching and learning. MTSS needs to be embedded in the culture of your school with an understanding that MTSS is what we do.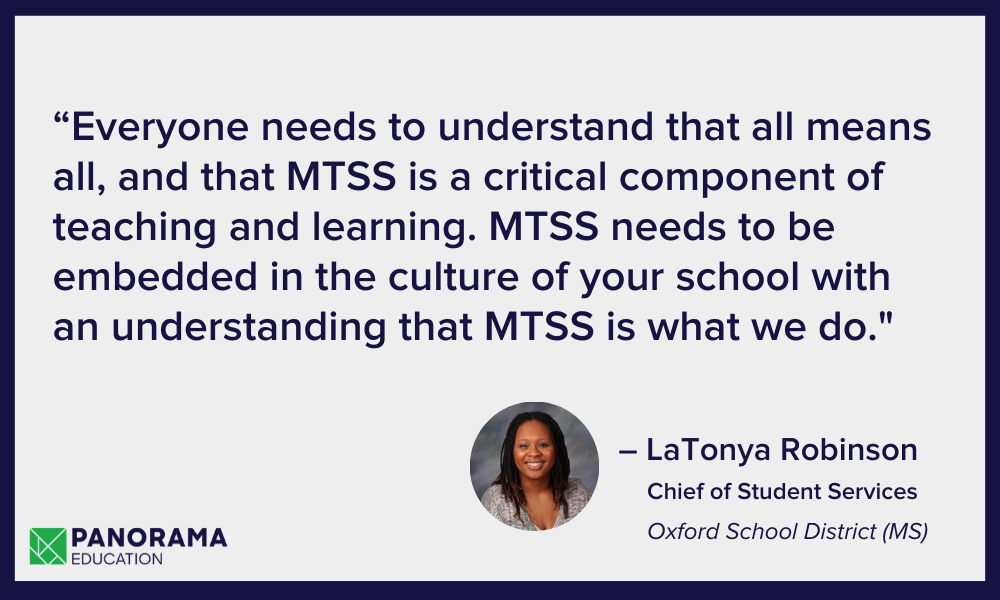 Janie Moseley: I use the image of interconnected cogs or gears to conceptualize team structures in our schools. Each team has unique roles and responsibilities, but teams also overlap and work with other groups in their schools.
During my first year as MTSS director, it was a priority to focus on solid universal screening systems. A large part of that work was getting team structures in place. I didn't want to build the capacity of individuals at buildings—I wanted to build the capacity of the school and the school teams to move forward with those processes.
AJ Swentosky: Our teams can't live in silos. We don't want a situation where Tier 1 instruction is these people over here, and Tiers 2 and 3 are these other specialists over here. Instead, we're working hard on making this one continuous system of support. We hope this will create a more effective experience and better outcomes for our teachers and for our students.
2. Data Is Invaluable
Panorama: Data-based decision-making is considered a key component of a strong MTSS. How are you using data to take action for your students?
Moseley: In each of our schools, we have what I call a core MTSS team that includes the principal, administrators, lead counselors, and the lead interventionist. This team's role is to assess the health of the overall MTSS process and make decisions about integrated data. The problem was that, even though we could create this team, they had nothing to talk about without reliable, accessible, integrated data. They couldn't identify and take actionable steps.

We're now using the Panorama platform to bring all of that information together. Those core teams can easily access and discuss data and now have the ability to make data-based decisions for students.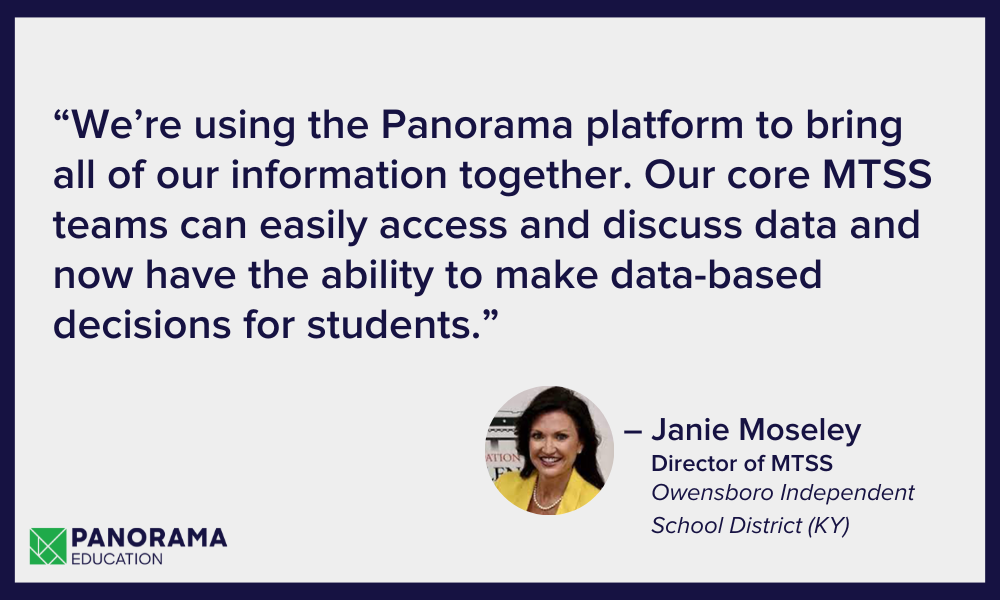 Robinson: In our district, we have a team of intervention coordinators. Their job is to seek and see if anything is missing or if any students are falling through the cracks. When we see a red flag, the intervention coordinators will point them out, and we immediately start to have meetings with that student's teachers and interventionists to get the student the support they need.
What Panorama allows us to do is tie together real-time data in academics and social-emotional learning across our district. For example, we noticed that our students moving from fourth to fifth grade were experiencing some big lags because they were going from having two teachers to five. That is not something I think we would have noticed before, but because of Panorama, that data was very obviously right in front of us.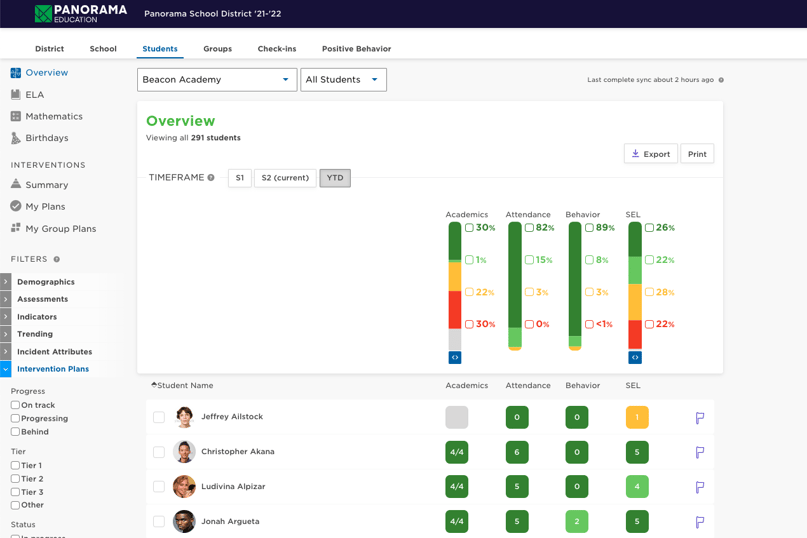 Panorama's data dashboards allow educators to track student growth and identify areas in need of intervention. (Please note that demo data is pictured.)
3. A Strong MTSS Must Have a Solid Tier 1
Panorama: The three-tiered model of supports is part of the traditional model of an MTSS framework. Is there anything you've learned about implementing tiered supports and interventions in your MTSS work?
Swentosky: No matter how strong your most intensive supports are, they all have to rest on a very strong Tier 1 instructional foundation that makes it clear what you want your students to know and be able to do.
In order to strengthen our Tier 1 expectations and core curriculum, we are shifting to more curriculum work being done at the building level. The district still provides the broad parameters, and then throughout the year, school teams of educators are looking at the curriculum, standards, and state assessments in order to collectively define what we want our students to know and be able to do, and how we are going to assess that. If we can answer both of those questions, then that really helps integrate the MTSS work.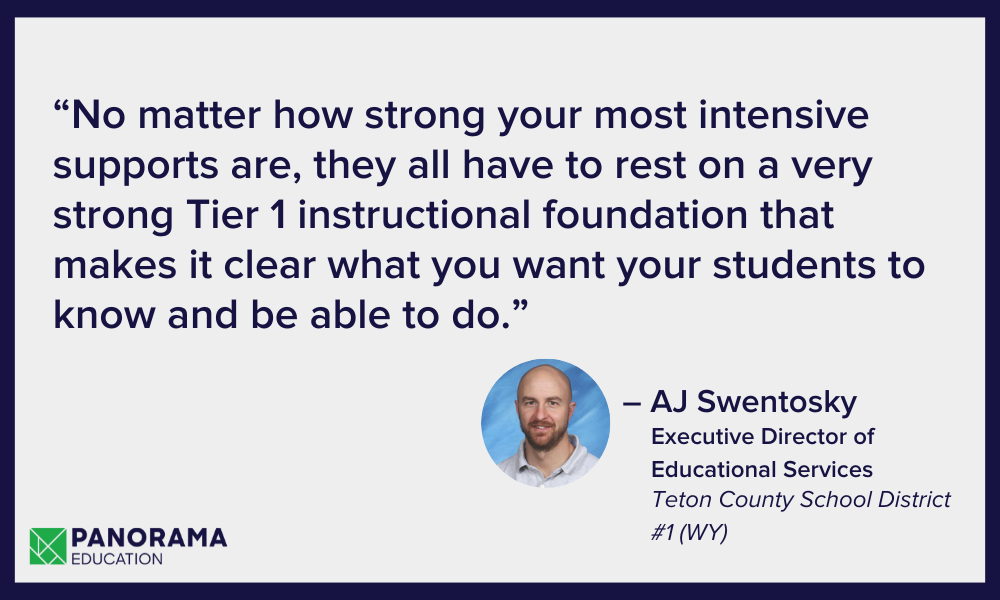 Robinson: Tier 1 instruction is absolutely first and foremost for our MTSS. In Oxford, the first thing we had to do was prioritize the foundational curriculum standards that we were getting from the state. After we were able to pinpoint those, we had to make sure that we were holding feasible expectations for our students. I don't think you can really do any kind of MTSS system when your teaching standards are all over the place, or even teaching from a program. You have to have an aligned set of standards that the student must master by the end of a grade level in order to implement an MTSS with fidelity.
Taking Your MTSS From Good to Great: Next Steps for Your District
Building an MTSS that serves every student is an ongoing process. Here's how you can take your district's MTSS to the next level:
Help your teams work together: An MTSS only works when everyone is working together. Ensure district and school leadership is clear on your MTSS goals, and build opportunities for collaboration and communication between teachers, interventionists, and leadership.


Invest in a centralized data platform: A key component of MTSS is data-based decision-making, but that only works if teams have access to actionable data. Investing in a

holistic data platform

ensures that your teams have all the information they need to see and support each and every student.


Align Tier 1 supports with curriculum standards

: Look at your state standards for learning, and build your Tier 1 around those expectations. Make sure your Tier 1 interventions are designed to help students meet those curriculum standards and address academic, social-emotional, and behavioral needs.
Schedule a demo with our team to see how Panorama for Student Success can level up your district's MTSS.