At Panorama, we're always seeking to build something better. We listen carefully to feedback from our community of educators who understand best how our platform can suit their needs. This spring, we're using that feedback to evolve our intervention tools so Panorama's MTSS platform empowers the full cycle of data-driven decision making for districts like yours.
We're thrilled to announce enhancements that will fast-track your team to boost student success by delivering effective supports where they're most needed. Close achievement gaps with these time-saving interventions and progress monitoring tools to accelerate your MTSS.
New Time-Saving Intervention Tool

s
Recommendations for research-based interventions when creating intervention plans
A dedicated workflow for Check-In/Check-Out (CICO), one of the most popular evidence-based Tier 2 behavior interventions
Improved intervention management to save educators time and make it easier to monitor, find, and keep intervention plans up to date

A comprehensive Interventions Dashboard

to help you understand what's working (or not) across your district
Want to see how Panorama's intervention tools can support your MTSS? Schedule a demo of our platform.
Intervention Recommendations
It's always been easy to set up an intervention in our platform. But now, we're automatically recommending interventions whenever you create an intervention plan in Panorama. These recommended moves are pulled from our Playbook, featuring 700+ research- and evidence-based interventions to improve students' academic, behavior, and SEL outcomes.
Panorama will recommend intervention strategies based on the information you provide. Let's say you're creating a Tier 2 SEL intervention plan. You create it for three students with a focus area of growth mindset. Panorama will show a list of suitable interventions for this group, like WOOP, with links to corresponding implementation guides in Playbook.
Now educators can stop spending hours searching for the perfect intervention. They'll know the interventions recommended in Panorama are high-quality and relevant for the selected students.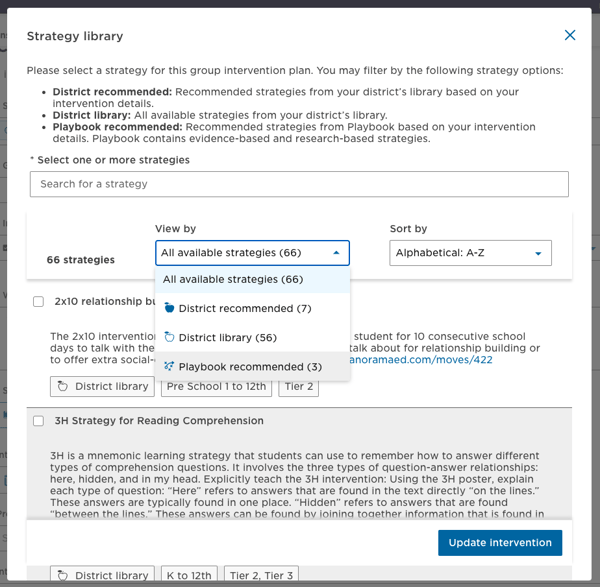 Panorama will now automatically recommend high-quality interventions based on the intervention information you provide.
Check-In/Check-Out
Check-In/Check-Out (CICO) is one of the most popular and effective interventions to encourage positive behavior with students. That's why we're providing a dedicated tool to support CICO implementation, giving champions and student support teams even more ways to ensure their students are on track.
Our new CICO intervention management tool now provides improved reporting and progress monitoring so teachers, champions, and students can quickly see the progress students are making over the course of the intervention.
Champions can now set the intervention goal as a target percentage of times the student meets behavioral goals. They can also choose to input progress daily or weekly. View progress as a graph to quickly visualize how well the intervention is working.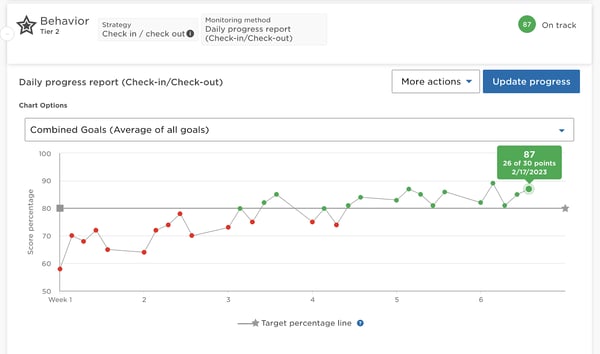 Use Panorama's new dedicated CICO intervention tool to visualize a student's progress.
Intervention Management
Staying on top of your assigned intervention plans is critical to ensure that strategies are carried out with fidelity and have the intended impact. Monitoring, searching, and updating plans can add time and effort to educators' already packed workload. So we're streamlining intervention management in Student Success.
Educators can log in to Student Success to view all their assigned plans and filter by attributes such as student progress, intervention type, tier, champion, and more to locate the plans that they need. From the same screen, they can add notes, attach documents, update progress, and complete plans. Using the new interface, educators can quickly and easily find, track, and update plans to provide effective student supports.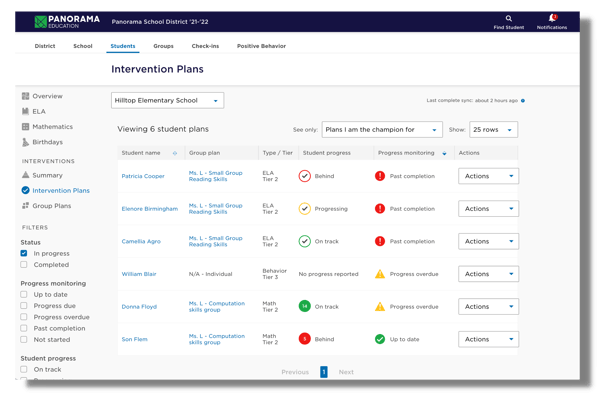 Panorama's improved intervention management tools make it easy to update intervention plans all in one place.
Interventions Dashboard
While educators will appreciate those improvements to keep MTSS data up to date, we know district leaders need to see progress from a birds' eye view.
Starting this summer, district and school leaders can visualize the big picture of how their MTSS program is doing using our new Interventions Dashboard. View district-level data at a glance, zoom in to understand how individual schools and classes are performing, or check on individual interventions.
This brand-new report gives leadership insight into the fidelity, consistency, and efficacy of their MTSS program as a whole. District leaders can see the most and least effective interventions so they can work with their teams to deliver more impactful student supports.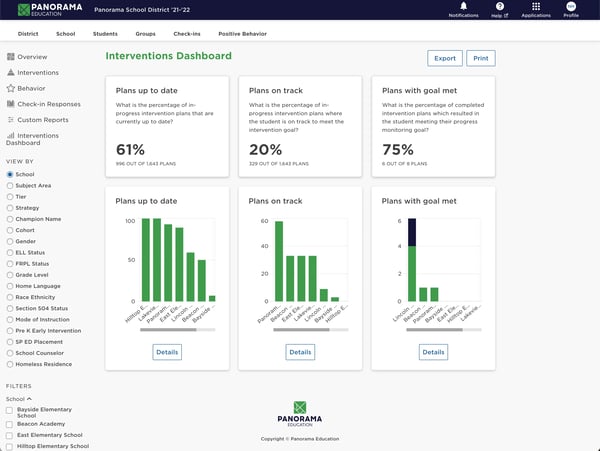 Panorama's new Interventions Dashboard provides a district-level view of intervention progress.
Get Your Time Back
Our tools help districts invest their time and resources in student interventions that work. Using these new tools, teachers, school administrators, and district leaders can improve the effectiveness of their individual student interventions and their MTSS program as a whole.
Panorama's new tools help educators work efficiently and effectively—freeing up time and resources to focus attention on building student success.
See how Panorama's intervention tools can help you focus your time and resources. Schedule a demo today.