We all read quite a bit in 2022. Some of us were excited to learn new positive behavior management strategies. Others discovered ways to strengthen their social-emotional learning skills. And many of us at Panorama enjoyed Susan David's Emotional Agility as part of our Virtual Summit Book Study.
Here's another reading-related fun fact: educators loved our articles—a lot. In fact, our blog had over 1.6 million views in 2022, with readers using our library of resources on social-emotional learning, behavior, MTSS, and family engagement to support every student.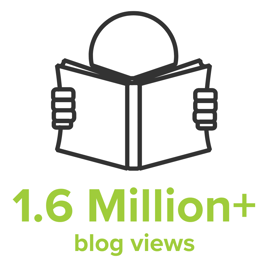 So, what were you reading this year? Well, MTSS blogs topped the list—in fact, MTSS was our most-read topic in 2022. Other popular subject areas were school climate, SEL, family engagement, and PBIS.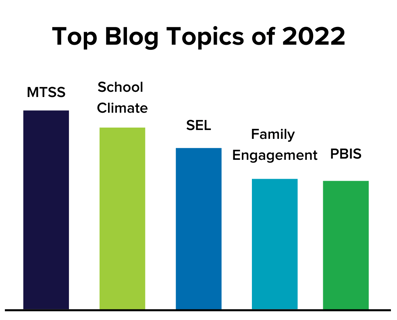 And it wasn't just our blogs educators loved—webinars were a big hit, too! Here are the webinars you loved most in 2022:
We're grateful to have so many educators as part of our community. And we're especially excited to welcome over 47,000 educators to our blog subscription newsletter this year! As our New Year's gift to you, here's a list of some of our most popular blogs from 2022 in case you missed them. Plus, read on for a sneak peek at some of the great resources coming your way in 2023.


Top 10 Panorama Blogs of 2022
MTSS
A Comprehensive Guide to MTSS
Published: September 14, 2022
Have you been searching for a go-to resource on MTSS? Want to learn more about the relationship between PBIS and MTSS?
The Comprehensive Guide to MTSS is here for all your MTSS-related questions and curiosities. This blog is a veritable smorgasbord of information on MTSS: what it is, how it works, and examples of how districts are using the framework to support students and educators.
An example of the MTSS pyramid
A District Leader's Guide to Integrating SEL Into MTSS
Published: September 8, 2022
Strengthening MTSS was top of mind for educators in 2022—and it showed!
Readers found this District Leader's Guide to Integrating SEL Into MTSS a valuable resource for incorporating SEL into an MTSS framework, supporting the academic, behavioral, and social-emotional learning needs of the whole child.


How to Build a Tiered MTSS Intervention Menu
Published: December 7, 2022
Whether you're working within an MTSS or RTI framework, access to quality, research-based strategies is crucial to student success. In this post, we share five steps to follow when creating an intervention menu for your school and district.


Family Engagement
Your Parent-Teacher Conference Agenda
Published: October 24, 2022
The parent-teacher conference is a critical strategy for elevating parent voice in their child's educational journey. Sometimes, though, it can feel challenging to have a meaningful conversation that leads to sustained collaboration.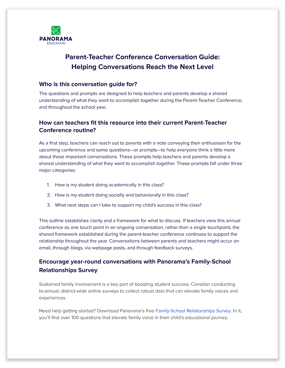 This Parent-Teacher Conference Agenda can help teachers and parents develop a shared understanding of what they want to accomplish during the conference and throughout the school year.
Focused on building family-school partnerships in 2023? Download Panorama's Family Engagement Toolkit to develop meaningful engagement initiatives.
Why Your District Needs to Administer a Family Engagement Survey—and 21 Questions You Can Ask
Published: August 19, 2022
Building strong family partnerships was definitely a priority for our readers this year. Part of building those relationships is elevating parent voice—and family engagement surveys are a great way to collect that data.
This blog provides 21 survey questions—taken directly from Panorama's Family-School Relationship Survey—that your school or district can ask parents and caregivers.


PBIS
5 PBIS Interventions for Tier 1 to Use in Your District Today
Published: April 26, 2022
As behavior incidents increased in 2022, many districts began rolling out PBIS frameworks to implement positive behavior strategies.
This post outlines what Tier 1 interventions are, the vital role they play in a successful PBIS, and five examples of easy-to-implement, high-quality intervention strategies, including behavior-specific praise.
And speaking of which…
Behavior-Specific Praise in the Classroom: The Complete Guide
Published: April 19, 2022
You loved our comprehensive guides this year, including this guide to behavior-specific praise. It includes step-by-step instructions for using behavior-specific praise and examples of praise statements for all grade levels.


Social-Emotional Learning
Get to Know SEL: A Simple Guide to Self-Awareness
Published: January 21, 2022
Self-awareness is a core competency of social-emotional learning. It's the ability to understand your own emotions, thoughts, and values and how they influence behaviors in different contexts, such as home or school.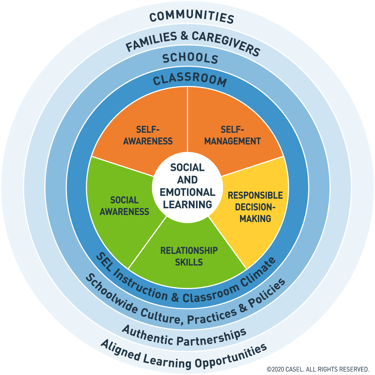 CASEL's Core SEL Competencies
Ready to learn more? Find the answers to your questions and curiosities about self-awareness in this blog, which provides examples of how it shows up in the classroom, and take a look at our favorite self-awareness SEL strategy (spoiler alert: it's Rose, Bud, Thorn).
Why Students Need to Feel a Sense of Belonging and How to Create It: A Comprehensive Guide
Published: February 28, 2022
Students who feel a sense of belonging at school are more likely to have higher academic engagement and well-being. That's why educators came to our blog to find tools and resources to help cultivate a school climate where students can feel they belong.


Focused on building a stronger sense of belonging in your classrooms this year? Download our guide 5 Strategies to Build Student Belonging with templates and examples for building positive relationships with students.
Grab Bag
Introducing Panorama's New Visual Identity: Same Mission, New Look and Feel
Published: August 23, 2022
In 2022, we introduced Panorama's fresh new visual identity. We launched our new logo—inspired by a tangram, it represents a comprehensive picture of the whole child. We improved visual accessibility, and we announced several product updates that went hand-in-hand with our new visual identity.
And our journey includes you! We know many of our partners use our logo in materials, so we invite you to access the Panorama brand kit to download and use the new Panorama Education logo. We look forward to continuing this journey with you.
New Year, New Resources
That's a wrap! We're excited to see how you use our blogs, guides, and toolkits to continue building thriving classrooms. And we've got some exciting content lined up for 2023, including:
A Complete Guide to PBIS (and How it Fits Into Your MTSS)

Learning Recovery Toolkit

2023 State of MTSS Report
And we're thrilled to invite you to our upcoming virtual summit: Level Up Your MTSS: A Virtual Summit for Student Success.



The full-day free summit will take place Thursday, February 9 and features leading MTSS researchers and practitioners who will share evidence-based and research-backed insights on how to "level up" your tiered systems of student support (e.g. MTSS, PBIS, EWI, RTI). From those building their systems from scratch to those looking to refine and strengthen existing ones, the summit is open to all K-12 leaders and practitioners.
Want to be the first to know about our latest and greatest resources? Join 100,000+ educators on the Panorama newsletter!
Each week, we share new blog posts, guides, videos, research, and webinars about topics including MTSS, social-emotional learning, school climate, family engagement, student voice, and more.