With the back-to-school season upon us, your school or district team might be thinking about ways to hone your Multi-Tiered System of Supports (MTSS) or Response to Intervention (RTI) program for the new academic year.
Maybe your team's intervention planning currently happens in paper forms, spreadsheets, and multiple systems. Maybe it's been difficult to measure the effectiveness of interventions. Or maybe coordinating information across teams is a headache. These are all challenges we've heard when we meet with school and district leaders, so we set out to create a solution that would bring efficiency and ease to intervention management.
Available now in Student Success, Panorama's new tools for MTSS and RTI streamline intervention planning and progress monitoring so educators can spend less time on administrative tasks and more time supporting students.
→ For educators and interventionists: Identify students in need of tiered support, create goal-based intervention plans, and track student progress all in one place.
→ For school and district leaders: Equip support teams with data visibility, tools, and protocols to collaborate. Gain insight into the overall performance of interventions to guide planning and investment of resources.


Let's take a look at how you can apply these features to your daily work supporting students.
"Panorama's MTSS features are fantastic additions to the Student Success platform that our administrators and child study teams are excited to take advantage of in the new school year."

– Deborah Engelfried, Supervisor of SEL & Information
Management, Morris School District
All of your intervention data in one place
Panorama combines your students' assessment, coursework, behavior, attendance, and social-emotional learning (SEL) data—synced on a daily basis so you always know you're working with the most up-to-date data. Easily filter across your data to identify students who may need tiered interventions in ELA, math, behavior, and other critical areas.
For example, let's say you have a Student Support Team (SST) meeting with the seventh grade team next week. You want to proactively pull a list of students who are "at risk" for Tier 3 based on their scores on a recent i-Ready math assessment. In Panorama, you can filter the seventh-grade roster by their math assessment scores to identify those at-risk students. Save them as a group, and bring that list to the meeting to check if the students need additional support.


Create goal-based intervention plans — without paper forms or spreadsheets
When you've identified a student who needs support at Tier 2 or 3, the next step is to create a plan to help the student develop a skill or reach a goal. Panorama helps you do exactly that, giving you and your team one central place to build intervention plans.
From a student profile, simply click on "Create Plan." A form will pop up, where you can populate all of the intervention details. Enter the intervention type (such as Math, Behavior, or SEL); set a goal and timeline for the intervention; select intervention strategies from a customizable menu; assign an adult "champion"; and choose your progress monitoring method. Once saved, the intervention will be visible to anyone at the school who visits the student's profile.
Here's what it looks like to create an intervention plan: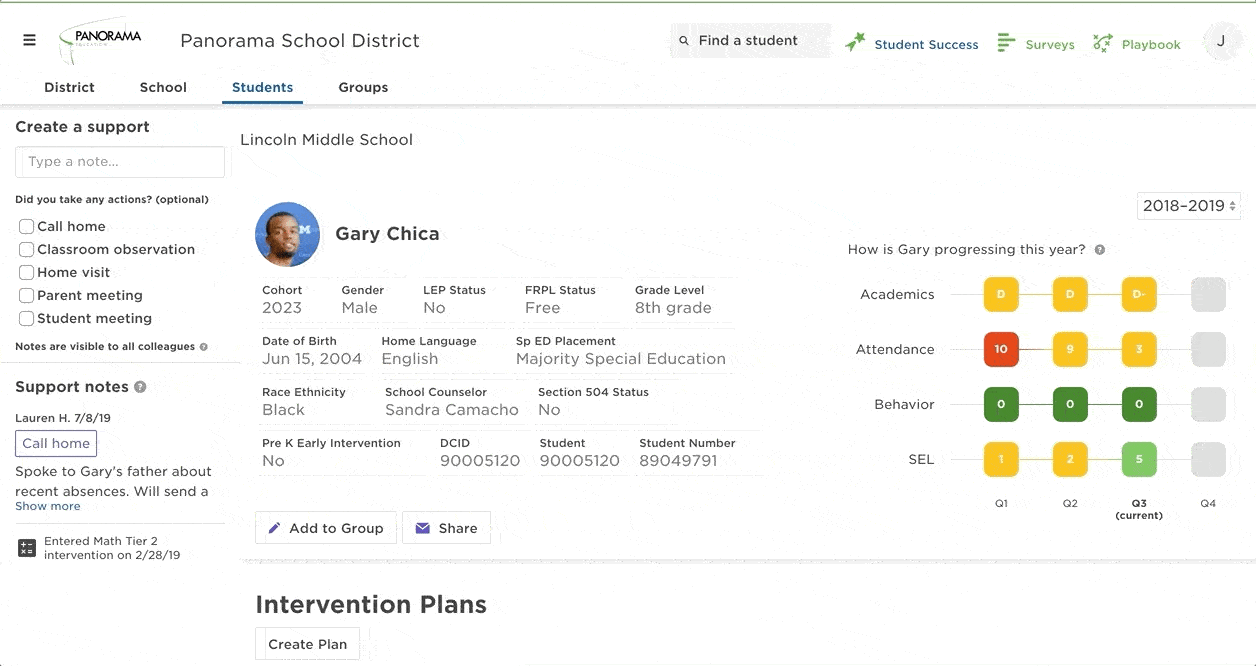 Progress monitor to understand if interventions are working
Once your intervention plan is underway, it's critical to progress monitor with data. Progress monitoring, when done early and often, can help you tell if you're on the right track or if you need to pivot your strategy. That's why Panorama makes it easy to add progress updates and chart your students' growth over time.
When you log a progress update on a student's intervention plan (via observational notes, a new assessment score, or both), Panorama will automatically display the progress data on a timeline or goal graph. That way you can see at a glance if the student is "On Track," "Progressing," or "Behind."
Here's what it looks like to enter a progress update: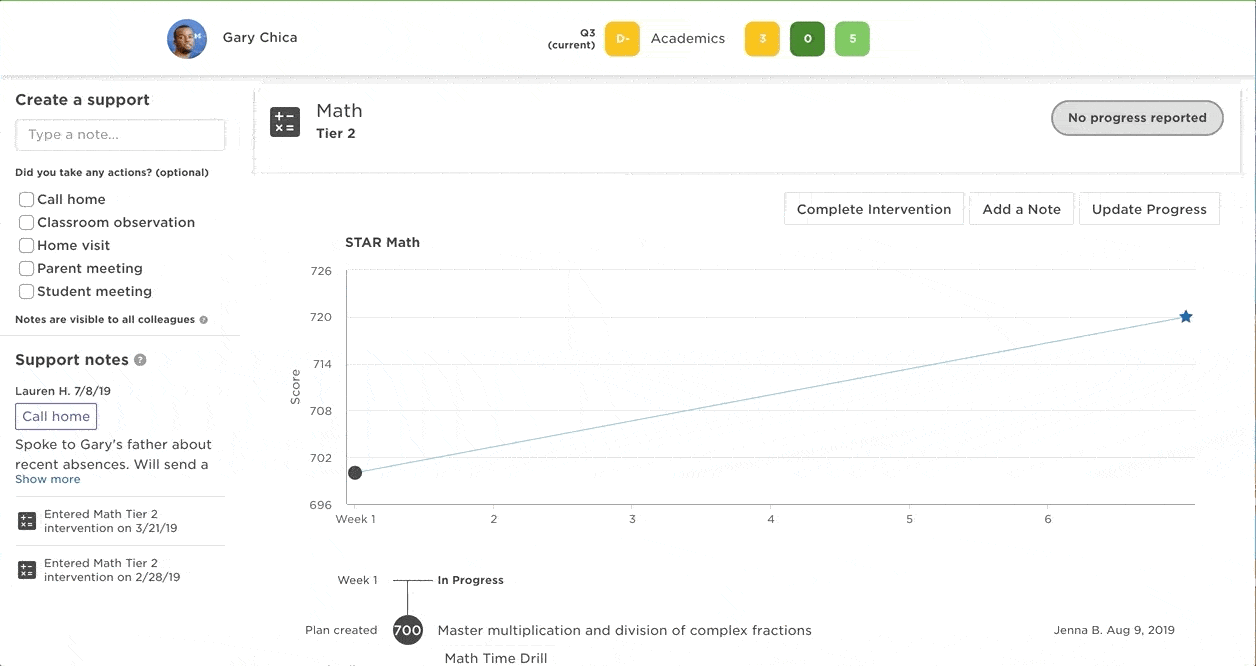 Assess the overall health of your school's MTSS/RTI program
As a member of the leadership team, you may be more interested in progress monitoring interventions from a bird's-eye view. How effective are our interventions at each tier? Do resources need to be re-allocated to ensure the sustainability of our system? Panorama's Interventions Overview dashboard is your one-stop shop to understand how interventions are performing across the school.
Here are some examples of insights you can gather from the dashboard:
Percentage of interventions plans that are "On Track" in each domain (academics, behavior, attendance, SEL) and tier
Percentage of students who are receiving Tier 2 and 3 interventions
Percentage of students who met their goals and exited plans
Percentage of intervention plans that are up to date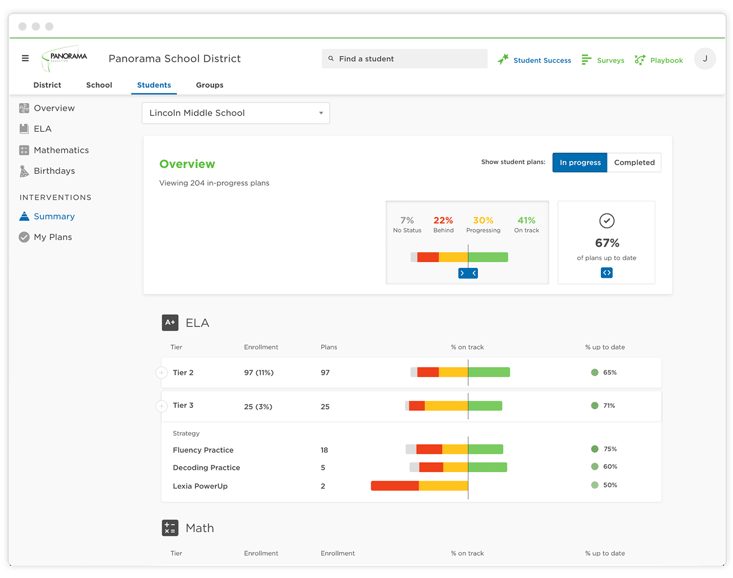 Collaborate in one system of record, as a team
MTSS is a team sport. Every educator (from interventionists, to counselors, to school nurses, to teachers) plays a role in bringing student supports to life. Which means that every educator should be collaborating in the same system, with the same data, to deliver interventions. Panorama can serve as that system of record. Any educator with access to Panorama can view student data and intervention plans, add notes, and share updates. Your school or district can also build a customized library of intervention strategies in Panorama so that everyone is on the same page and speaking the same language.
"Panorama's tools for MTSS will be powerful and easy to use in our daily work supporting students."

– Erin D'Antonio, Literacy Coach, Groton Central School District

Ready to take your tiered interventions to the next level?
With Panorama, it's never been easier for educators to identify student needs and take action with the right plan, at the right time. If your school or district uses Panorama Student Success, you can get started with these features today by contacting your account director. If you want to learn more about bringing Panorama's MTSS/RTI tools to your team, visit this page or get in touch with us for a free demo.