Each year, hundreds of educators work with ThinkGive to help foster caring and inclusive classrooms through a social-emotional learning program that inspires students to be thinkers, upstanders, and changemakers.
Now, practitioners can explore a set of research-backed, standards-aligned social-emotional learning lessons from ThinkGive on Playbook, Panorama Education's online professional learning library that equips practitioners and school leaders with strategies for creating a positive school climate and implementing SEL in K-12 classrooms. These new resources from ThinkGive provide teachers in grades 4-8 with a framework through which to engage young people in conversations about social justice, inclusion, identity, and empathy.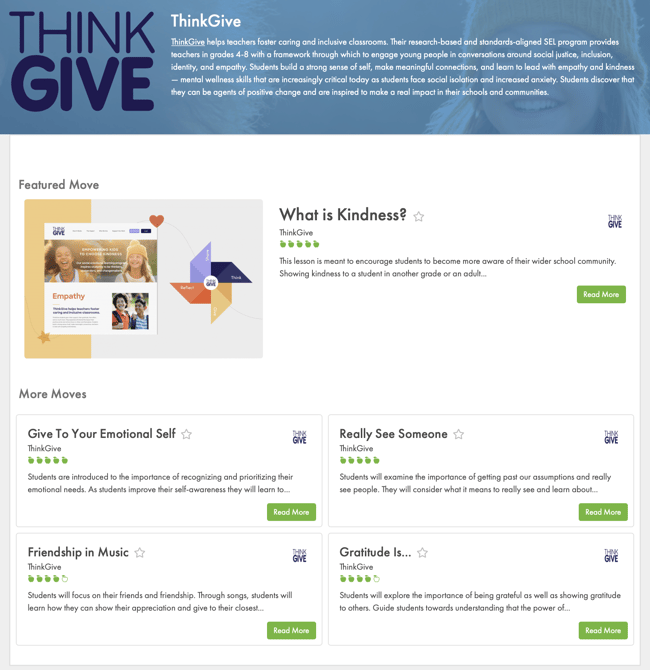 ThinkGive is a volunteer-driven organization with people passionate about making kindness actionable and meaningful to young people. Their mission is to inspire young people to use kindness to engage with their world.
Through ThinkGive's social-emotional learning program, students build a strong sense of self, make meaningful connections, and learn to lead with empathy and kindness—mental wellness skills that are increasingly critical today as students face social isolation and increased anxiety. Students discover that they can be agents of positive change and are inspired to make a real impact in their schools and communities. The program can run in single grades or in consecutive years (grades 4-8), each grade building on the one before to explore themes of identity, social justice, social courage, and empathy.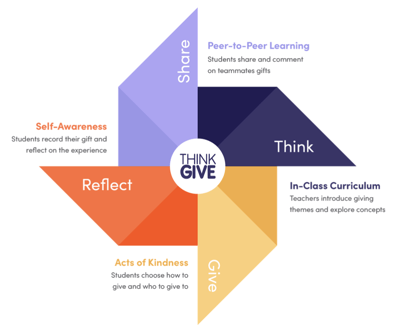 The activities from ThinkGive on Playbook align directly with topics from the Panorama Social-Emotional Learning Survey, including:
Sense of Belonging
Social Awareness
School and Classroom Climate
Teacher-Student Relationships
Growth Mindset
Engagement
Pedagogical Effectiveness
Self-Efficacy
Download the Panorama Social-Emotional Learning Survey.
For example, the activity "Really See Someone" guides students through the process of examining the importance of getting past their assumptions and considering what it means to really see and learn about someone.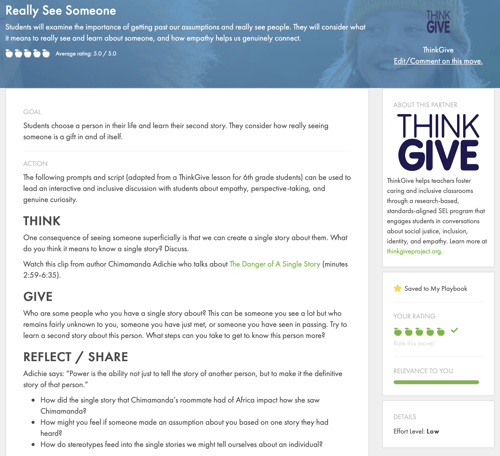 For educators thinking about how to best integrate SEL within other content areas, "Friendship in Music'' is an activity that helps students explore friendship and appreciation through song. Students are challenged to think about the qualities of a good friend as well as reflect on whether they are personally acting like a good friend to others.
Panorama's Playbook connects teachers, counselors, and school leaders with easy-to-implement resources, activities, and research related to emotion regulation, sense of belonging, teacher-student relationships, adult SEL, and more. Teachers explore Panorama's Playbook when they are looking to take action on their Panorama student survey data on school climate and social-emotional learning.
As schools and districts across the country continue to support students' social, emotional, cultural and cognitive competencies, we are thrilled to share innovative strategies from expert organizations such as ThinkGive! Find them at @ThinkGive on Twitter and share how you're implementing these activities in your school or classroom with us @PanoramaEd!