If there's one thing we've learned from the pandemic, it's this: We need to consistently and frequently check in on students' well-being and academic needs.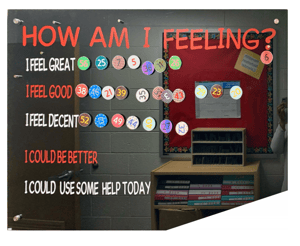 Regular check-ins are an emerging practice that schools and districts use to gather quick student feedback, get to know students, and deliver in-the-moment supports. An essential supplement to student surveys, student check-ins are perfect to include during morning meetings, small group interventions, lunch bunches, or general class time.
Weekly or daily check-ins not only elevate student voice—they can also help students build reflective skills and work on core CASEL competencies like self-awareness, social awareness, and responsible decision-making.
If you're designing a student check-in strategy for your classroom, school, or district, this article contains guidelines and free resources to help you get started.


Download our Student Check-Ins Question Bank [includes 90+ questions across well-being and academic needs]


What to Consider Before Doing Check-In With Students
Before you set up your first student check-in, we recommend reflecting on the following questions. This will ensure that your overall check-in strategy matches student needs and aligns to school and district goals.
→ What are you hoping to learn from students? Knowing your ideal outcome will help you determine which questions to ask students. Are you hoping to focus on student well-being? Safety at school? Relationships? Once you've decided on a theme, use a similar set of questions on a repeated basis so you can measure students' perceptions and attitudes over time.
Access Panorama's check-ins question bank.
→ How often will you conduct check-ins? Frequency will vary based on your school or district's context. At Panorama, we recommend that our partner districts stick to a bi-weekly or monthly check-in schedule. This ensures that educators have fresh data and can take action to support students in the moment.
→ How will you coordinate check-ins across your school or district? We recommend aligning on who is sending SEL check-ins to students—and on what cadence—so that students receive a consistent experience. For example, maybe you assign a point person (a classroom teacher or a counselor) to send the check-in to students.
→ How will you take action if students share that they need help? Is there a qualified person or caring adult available to talk to students who raise their hand for support? Make a plan for following up on the check-in data. Students need to know that their voices are being heard and that their feedback is being taken seriously.
Download our Student Voice Data Exploration Guide with prompts and workbooks for taking action on your data.
Student Check-In Templates
[Template] Virtual "Temperature Check" for Students
A "temperature check" is a great way to check-in with students asynchronously. Get quick feedback on how they are feeling, how learning is going, what they are planning to do during the day, and who they may need support from. Send out the Google Form below during a morning meeting, before class, or during class.


Download the full Google Form template to send your own temperature check!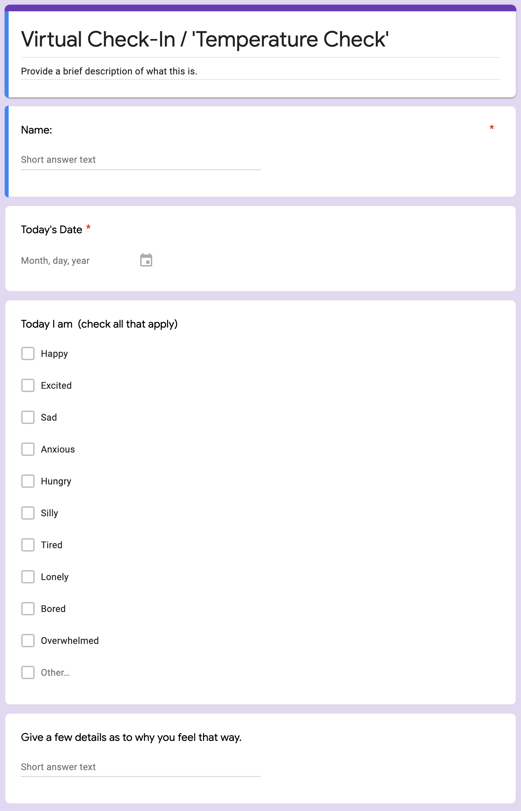 [Bonus Template] Virtual Check-In Form for Teachers and Staff
As we develop new systems for meaningfully engaging with students, remember that adult SEL and teacher wellness can have a direct impact on culture, climate, and the learning environment for students. Don't forget to check in with your caring adults! Send out the below Google form to teachers and staff as an asynchronous way to check in. You could also share it before staff meetings or PLCs to get a quick pulse on how they are feeling.
Download the full Google Form template to send your own staff check-in.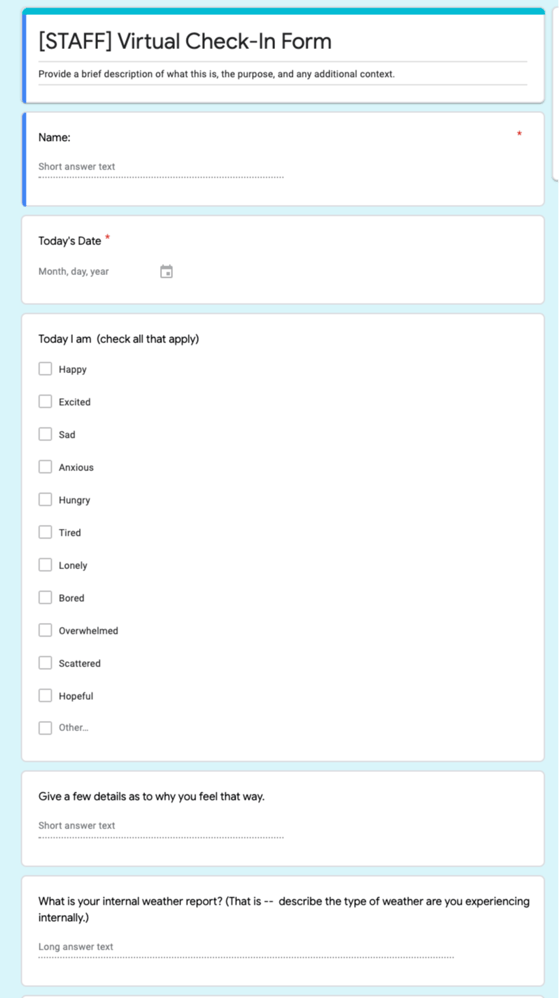 How to Create a Check-In with Panorama
Using Panorama's check-ins tool, administrators and educators can quickly ask students about how they're feeling right now and what they may need help with. Check-Ins are a quick, versatile companion to student feedback surveys and can be administered right inside the Panorama platform.


Example Panorama Check-In:
How are you feeling today?

What emotion are you feeling most today?

What was the best part of the week for you?

What was the hardest part of the past week for you?

Would you like to talk privately with an adult from school about how you're feeling or something on your mind?

Here are the steps to creating a Panorama check-in:
Determine the questions to ask your students.

We recommend selecting four to five questions per check-in.

In Panorama, you can either create your own check-in questions for students or choose from a bank of 80+ question bank

to get started. The questions span many themes including: well-being, supportive relationships, safety, support and inclusion, classroom feedback, and SEL skills and competencies.
Decide which students you'd like to hear from.

Panorama syncs up with your roster automatically. You can create a check-in for all of the students on the roster, or all of the students you have access to in Panorama.

Send the check-in to students via a unique URL. You can send the link via email, paste it onto a Google Slides or PowerPoint presentation, or chat it out to your students on Google Hangouts or Zoom.
Review your responses in Panorama!

Once you launch a check-in, student responses will appear in real-time on your Panorama dashboard

. You can quickly follow up with individual students, plan interventions for individual students or small groups, or plan to strengthen school-wide or district-wide Tier 1 practices and programs in response.

Interested in partnering with Panorama for student surveys and
check-ins? Schedule a demo of our platform.