"How are our students doing?"
If you're an administrator, teacher, or counselor, this has likely been on your mind—more than ever—this school year.
Checking in with students has always been important. But when routines are disrupted and we may not be in the same physical location as students, it's even more critical to keep a regular pulse on how students are doing.
Bi-weekly or monthly student "check-ins" are a great way to gather quick feedback and find the students who need extra help right now—academically, socially, and emotionally. They can also be an effective relationship-building tool to get to know students, especially in a virtual environment.
Below, explore a question bank and guidelines for designing your own check-in for students. The questions cover areas such as student well-being, the learning environment, and what students may need immediate help with. Feel free to take and modify the questions as you see fit! If you'd like to learn about administering these questions through the Panorama platform, please contact us.
Download our full Check-ins Question Bank (includes 80 questions!)
Guidelines: How to Use These Questions
What and Who

A teacher, counselor, or administrator creates and administers a check-in survey (maximum of five questions) asking students about their well-being.
Teachers and counselors individually review the answers and follow up with specific students.

Frequency

Taking Action on Responses

Strengthen Tier 1 practices.
Follow up with individual students.
Set up interventions for individual students or groups of students.
Question Bank: Student Well-Being Check-ins
1. How are you feeling today?
2. What emotion are you feeling the most today?
3. What was the best part of the past week for you?
4. What was the hardest part of the past week for you?
5. What can teachers or other adults at school do to better help you?
6. During the past week, how often did you feel [Excited? Happy? Loved? Safe? Hopeful? Angry? Lonely? Sad? Worried? Frustrated?]
7. How clearly did I teach things in class today?
8. If your friend missed class today and asked you to explain the lesson, what would you tell them?
9. What was confusing for you today?
10. How much did students in class help each other learn today?
11. How included did you feel in class today?
12. What was your favorite part of class today?
13. What got in the way of your learning today?
14. What's the biggest thing I/you could do better tomorrow to help you learn?
15. Do you feel bullied by other students?
16. How have you been sleeping recently?
17. If we had free breakfast at school, how much would that help you?
18. If you could do laundry at school, how much would that help you?
19. If you could get free clothes (like jackets and shoes) at school, how much would that help you?
20. If we could improve your internet access outside of school, how much would that help you?
21. Would you like to talk privately with an adult from school about how you're feeling or something on your mind?


If you use Panorama: You can send a check-in to students using our pre-built question sets. Choose the questions you want to ask, and send it to your students within minutes.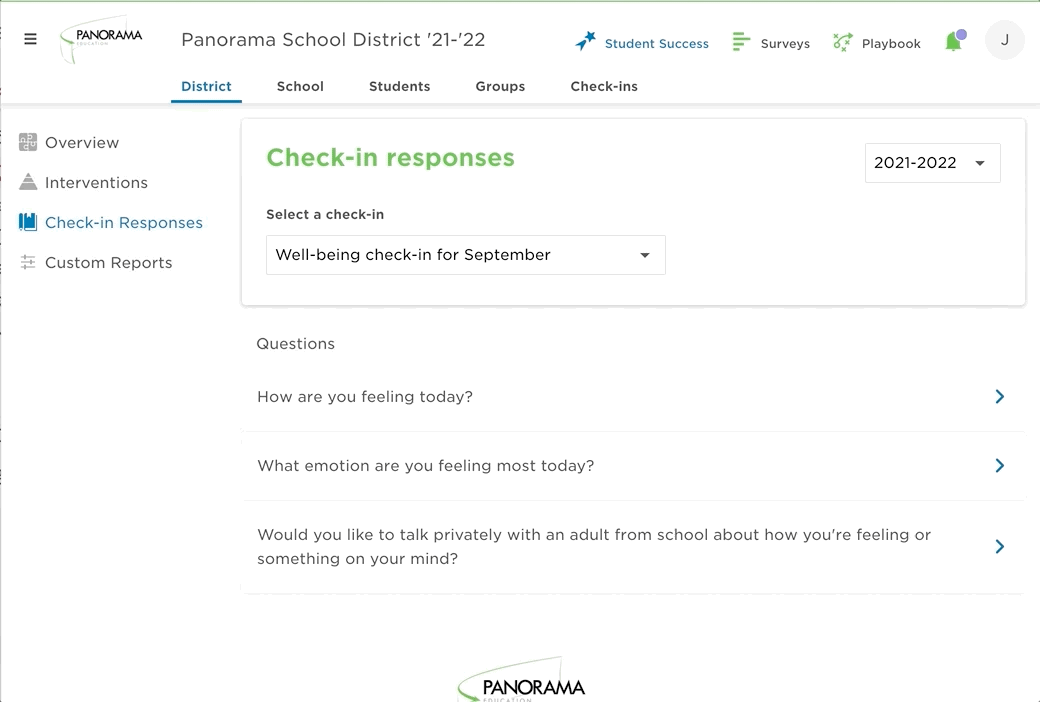 Example of reviewing check-in responses in Panorama (mock data pictured)
Interested in bringing Panorama to your district? Get a demo of our SEL measurement and check-ins platform.