Each year, thousands of educators at districts across the country use story-based learning resources from Peekapak to equip young people with the skills they need to succeed in school and in life. Peekapak's library of ELA-aligned engaging games, e-books, and social-emotional learning activities helps to reinforce concepts such as empathy, respect, and self-regulation.
Now, practitioners can explore a collection of social-emotional learning activities from Peekapak on Playbook, Panorama Education's online professional learning library that equips practitioners and school leaders with strategies for creating a positive school climate and implementing SEL in K-12 classrooms. This evidence-based and standards-aligned set of activities from Peekapak provides educators with digital resources to weave SEL into existing literacy, reading, and writing lessons, whether they are teaching in-person or remotely.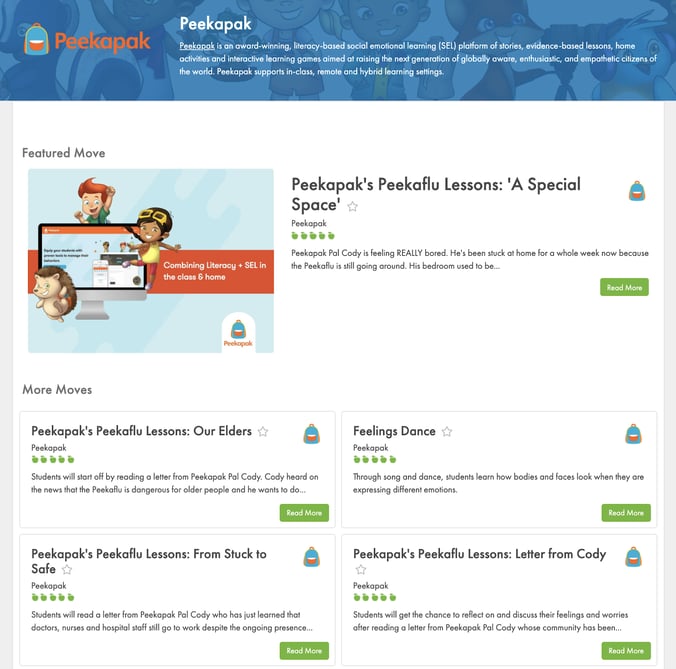 Peekapak is an award-winning, literacy-based social emotional learning (SEL) platform of stories, evidence-based lessons, home activities and interactive learning games aimed at raising the next generation of globally aware, enthusiastic, and empathetic citizens of the world. Peekapak supports educators working in in-person, remote and hybrid learning settings.
Based on extensive interviews with teachers and education experts, Peekpak identified ten core topics that educators and experts agree are critical to a young child's character and social-emotional development, and which should be taught beginning in the pre-kindergarten years. These ten core topics (self-regulation, respect, gratitude, kindness, perseverance, teamwork, empathy, honesty, optimism, and courage) are explored in-depth throughout Peekapak's stories and lessons. (To learn more about the research and design principles behind Peekapak, you can refer to this document.)
The activities from Peekapak on Playbook align directly with topics from the Panorama Social-Emotional Learning Survey, including:
Emotion Regulation
Growth Mindset
Self-Management
Social Awareness
Self-Efficacy
Engagement
School and Classroom Climate
Sense of Belonging
Sense of Safety
Social Awareness
Teacher-Student Relationships
Download the Panorama Social-Emotional Learning Survey.
To support schools and educators during the COVID-19 pandemic, Peekapak developed a new set of eight lessons to help students make sense of this new reality. These lessons – which are now available on Playbook – explore topics such as understanding and managing our emotions, practicing gratitude despite feeling 'stuck', showing kindness to our elderly community and more.
For example, the lesson What Do We Need? helps students understand the importance of mindfulness, personal awareness, stress management, and self-care in the context of the COVID-19 pandemic.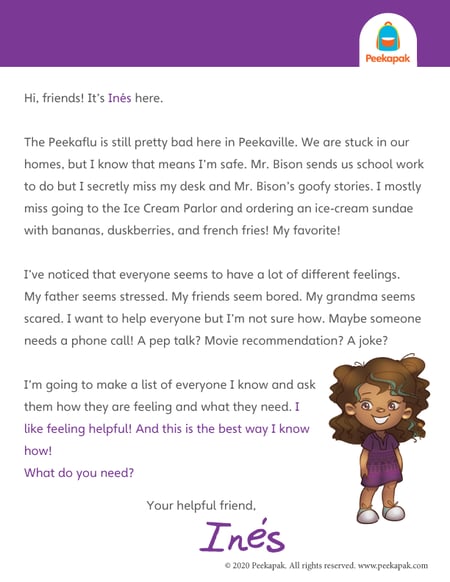 For educators looking for resources to help students explore self-awareness and emotion regulation through physical movement, Feelings Dance is an interactive activity designed to help children learn how bodies and faces look when they are expressing different emotions.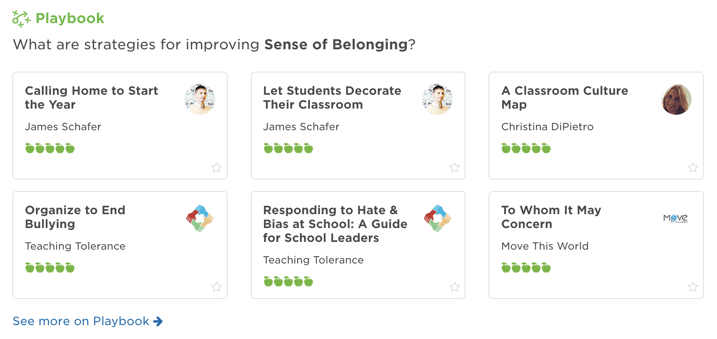 Panorama's Playbook connects teachers, counselors, and school leaders with easy-to-implement resources, activities, and research related to emotion regulation, sense of belonging, teacher-student relationships, adult SEL, and more. Teachers explore Panorama's Playbook when they are looking to take action on their Panorama student survey data on school climate and social-emotional learning.
As schools and districts across the country continue to support students' social, emotional, cultural and cognitive competencies, we are thrilled to share innovative strategies from expert organizations such as Peekapak! Find them at @Peekapak on Twitter and share how you're implementing these activities in your school or classroom with us @PanoramaEd!