To gather high-quality stakeholder perception data, your students, staff, and families need to believe in the process.
That's why Desert Sands Unified School District (DSUSD) took things to the next level in promoting their recent LCAP survey. Serving 28,000 students in La Quinta, California, the team at DSUSD created a quick video to increase awareness of their Panorama surveys and encourage the district community to share their voices.
The video features Kristen Wood, LCAP coordinator; Lizzy Hartman, principal at Indio Middle School; Tiffany Norton, principal at Dr. Carreon Academy; and Marcus Wood, senior director for secondary curriculum, instruction, and assessment.
Watch their three-minute video to hear why they value their Panorama survey data and how they use it to drive strategic planning and student supports. You can also access the transcript below!
Kristen Wood, LCAP Coordinator: Every time we run our Panorama surveys, site administrators and district administrators want to know when our results are in. So, I thought we'd take the time to listen to just what they do with those results!
Download Panorama's open-source school climate surveys.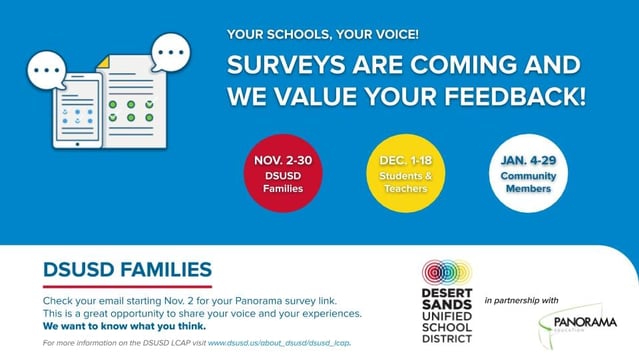 Pictured above: A Panorama flyer for the DSUSD community.

Lizzy Hartman, Principal at Indio Middle School: For us, Panorama has been everything. When we looked at our school vision, we knew we wanted to narrow our focus on developing a positive and engaging climate and culture for not just our students, but for our staff, families, and communities. When we pull our Panorama data and see our continued growth everywhere, it's amazing. It's what leads us in the directions we take. It makes us see: Where are we growing, and what do we need? Then, we can put specific actions in play to support those needs.
Our Panorama data has been the center of the work we do at Indio Middle School to make it a warm, inviting, and engaging climate for all of our stakeholders. And we definitely want a place where everybody feels connected and a part of a family here at IMS.
Tiffany Norton, Principal at Dr. Carreon Academy: We use our Panorama survey results from staff, students, the community, and our families to anchor our mission statement work. We also use it as the foundation for our Tier 1 culture and climate framework.

Marcus Wood, Senior Director for Secondary Curriculum, Instruction, and Assessment: The Panorama survey is a valuable tool, as you heard, for our school sites. In addition, it's a valuable tool for us as a district. This survey instrument allows us to elevate student staff, parent, and community voice on school climate, teaching, learning, relationships, and belonging. The survey information allows us to look at the data as an entire district so that we can provide supports district-wide.
In addition, we can isolate schools that need more detailed, focused support. The information allows us to disaggregate the data by different student groups—whether it be our English learners, students with disabilities, students with different ethnicities—for us to ensure that we're meeting the needs of all of our students. Data sometimes may look pretty good overall as a district, but when you isolate it into specific student groups, you realize that there are areas of growth.
Lastly, I'd like to mention that—through our LCAP process—our survey tool reaches out to parents and the community for valuable information and feedback that helps us develop and prepare our LCAP so that we have appropriate actions and services to meet the students here in Desert Sands.
Learn more about how California districts partner with Panorama to support LCAP development.