School and district leaders continue to wrestle with the impact of the Covid-19 pandemic, which brought significant disruptions to student experience. Research shows these disruptions led to declines in self-efficacy and self-management skills. Students also experienced significant learning loss across reading and mathematics, leading many educators to focus on learning recovery.
Additionally, chronic absenteeism doubled over the course of the pandemic, up from 8 million from pre-pandemic to 16 million students in spring 2022, posing a major barrier to these learning recovery efforts.
So how can school and district leaders address this chronic absenteeism and provide support to students who need it most? In 2018, Panorama's Data Science and Applied Research Team sought to answer this question. In this blog, we're unpacking their research on the ABCs of Student Success, which explores the connections between SEL, attendance, and academic achievement.


Want to dig deeper? Download our complete findings on the connections between SEL and the ABCs of student success

Attendance and the Achievement Gap
We know the value of attendance in promoting student achievement. In fact, Panorama's research finds that the largest achievement gap in schools exists between students who regularly show up and those who are chronically absent. Chronically absent students are twice as likely to fail one or more courses than regularly attending students.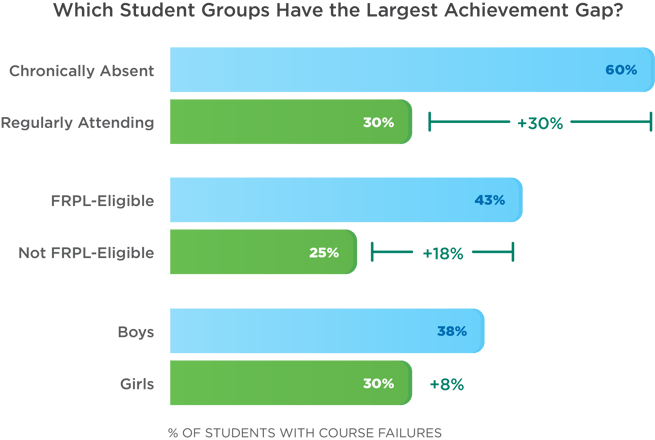 So as educators focus on learning recovery, it's crucial that they have ways to identify students in need of attendance support and strategies to support these students. Focusing on certain SEL skills is part of that effort. In this installment of "Research Minute," Dr. Tara Chiatovich sheds light on potential steps for improving attendance by leveraging the connections between attendance and social-emotional learning (SEL).


Which Skills Are Most Closely Correlated With Attendance?
To answer this question, Panorama's Data Science and Applied Research team analyzed data from over 100,000 students in nearly 200 schools across the country. We looked at the correlations between absenteeism and topics from our student surveys including classroom effort, classroom engagement, emotion regulation, self-efficacy, and self-management. Here's what we found: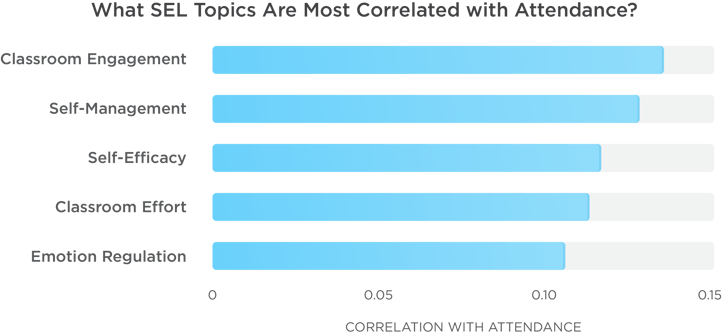 Absenteeism is most correlated with classroom engagement. Next is self-management, or how well students manage their emotions, thoughts, and behaviors. The third most correlated topic is self-efficacy, or how much students believe they can succeed in school.



Classroom Engagement and Attendance
Let's focus on classroom engagement to unpack the links between SEL and absenteeism. Out of 100 kids who report being disengaged, 23 of them will be chronically absent that year.
However, out of 100 kids who report being highly engaged, only 11 of them will be chronically absent. This means that students who report low engagement are more than twice as likely to be chronically absent.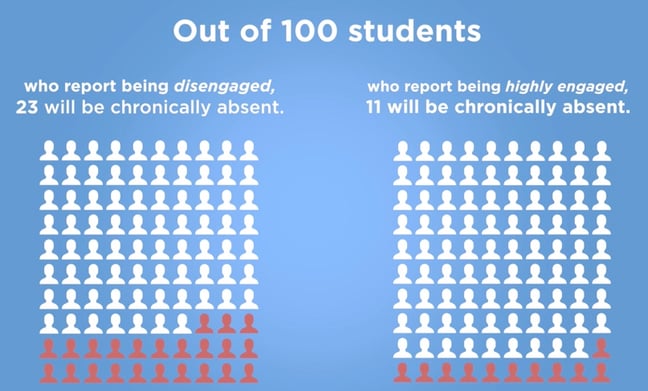 That's a striking difference, and shows the potential of targeting students' skills—such as self-efficacy and self-management—to get to the root causes of chronic absenteeism. Attention to students' social and emotional well-being is an important part of supporting stronger attendance. And by prioritizing students' social and emotional growth, districts can support learning recovery efforts and improve student well-being.

Next Steps For School and District Leaders
Having access to reliable, actionable data is the first step toward improving attendance. Insightful data can help you identify which students need support, and can highlight meaningful connections between students' attendance and other key indicators.
Panorama's attendance dashboards provide this data. They allow educators to seamlessly connect aggregate data to specific, individual students who need attendance support. Educators can quickly see which students are currently missing 10% or more of their enrolled school days, along with the proportion of those students receiving an attendance intervention.
These dashboards make it easier to spot emergent needs, ensuring resources and supports are allocated where they'll make the most impact.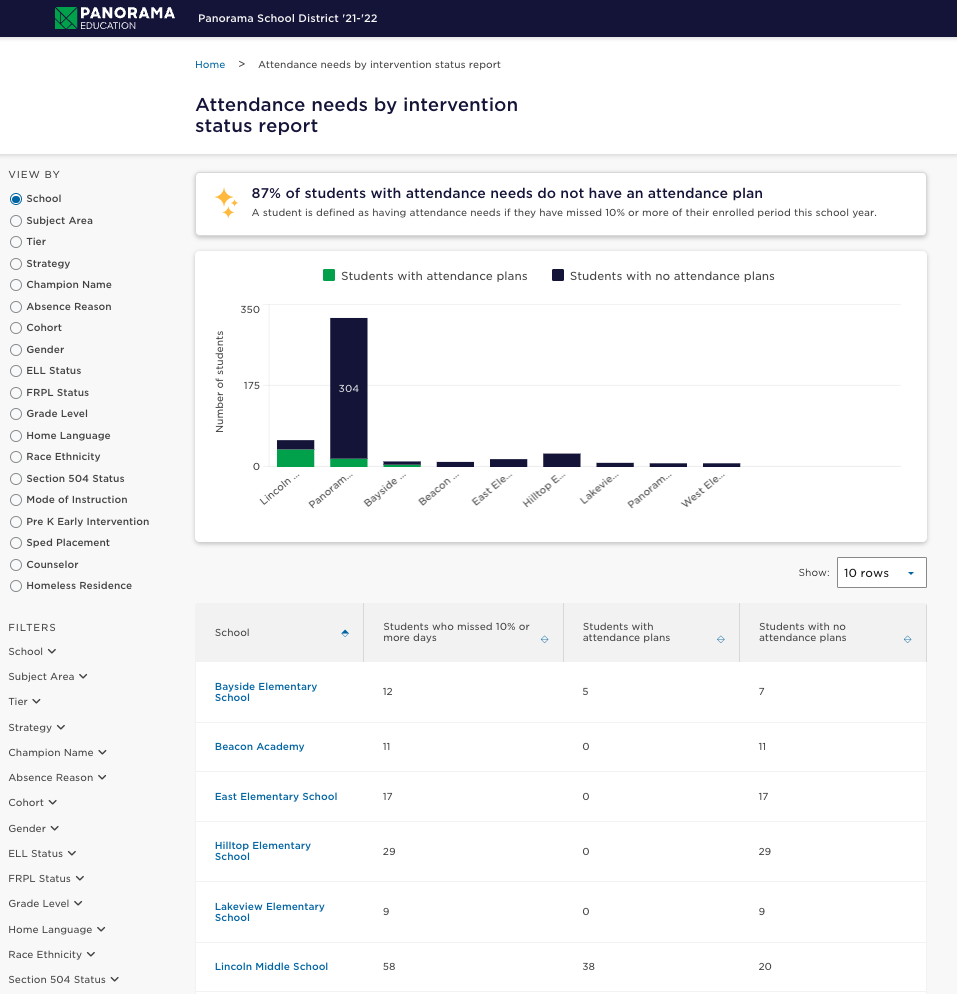 Panorama's "Attendance Needs by Intervention Status" Report (demo data pictured)

Want to learn more about the attendance dashboards and how they can support your district? Join our live demo, Achieving Your Attendance Goals with Panorama Student Success, where you'll learn how to:
Leverage our attendance dashboards to identify students who need attention
Understand how attendance rates compare to customized school-wide goals
Evaluate connections between students' attendance and other key indicators
Save Your Spot! Register For Our Live Demo: Achieving Your Attendance Goals with Panorama Student Success