Behavior is a key early warning indicator that tells us a lot about students' college-career readiness and likelihood of graduating. Whether or not you use a Positive Behavioral Interventions and Supports (PBIS) approach, your district is probably already tracking data on discipline referrals, suspensions, and detentions to understand behavior across your school sites.
Yet, we know that systematically improving student behavior requires an understanding of the many factors that can affect behavior—from school climate, to student mindsets, to teacher training in behavior-specific praise and other PBIS interventions. It's important to look at the root causes of student misbehavior to help us intervene before behavior becomes an issue. Could social-emotional learning (SEL) play a role in preventing behavior problems?
In this episode of Research Minute with Dr. Sam Moulton, Research Director at Panorama, shares our new research on the relationship between student behavior, SEL, and other key demographic variables.
Download the research brief to see our complete findings.
What factors are most closely linked to behavior incidents in school?
To answer this question, we analyzed data from over 100,000 students in nearly 200 schools across the country. We grouped variables into three categories:
Traditional metrics that students are evaluated on, such as assessments, classroom behavior, and school attendance.
Social-emotional learning variables such as self-management, growth mindset, and classroom engagement.
Demographic variables such gender, race/ethnicity, and poverty.
After looking at over 30 variables, here's what we found: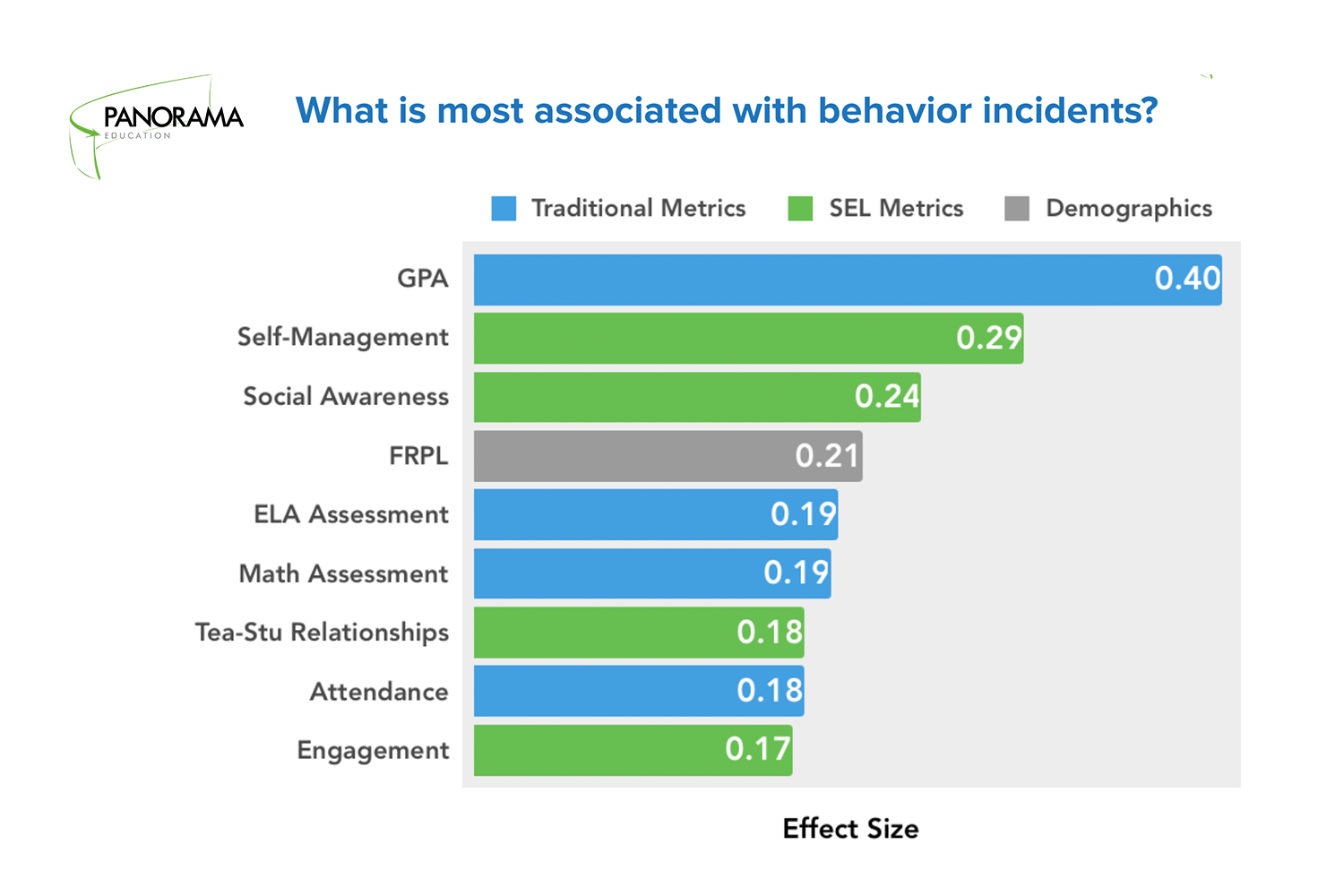 Behavior incidents are most predicted by GPA, followed by the SEL variables self-management and social awareness—which makes sense. These measures capture how students manage emotions, follow instructions, and get along with other students.
Explore Panorama for Positive Behavior to log, analyze, and support student behavior.
What's most striking, however, is that not only is social-emotional learning in the mix, but SEL is showing up more than demographic variables like race/ethnicity—and sometimes more so than assessments.
Let's focus on self-management, which shows the strongest ties to behavior.
Looking at this data in another way: Out of 100 kids who report self-management problems, 45 of them will have one or more behavior incidents that year. Out of 100 kids who report high self-management, only 14 of them will have behavior incidents. So, students with poor self-management skills are more than 3x as likely to also have behavior problems.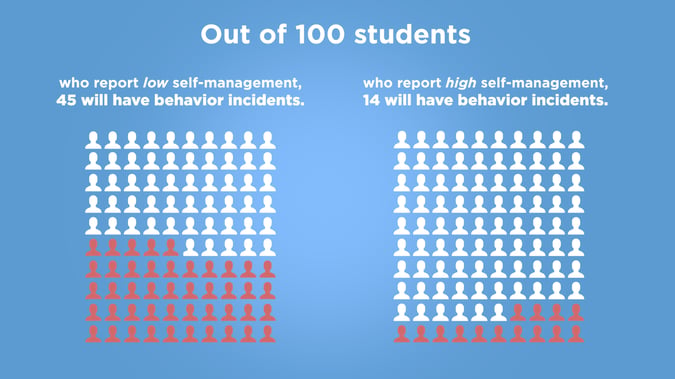 That's huge, and suggests that social-emotional interventions can help us prevent discipline issues before they happen. This also motivates us to look for the root causes of behavior problems. Is a student in the principal's office because of motivational, self-regulatory, or social needs that aren't being met? The intervention for that student may look different than our typical behavior interventions.
That's it for today. We want to hear from you about what educators can do to address student behavior. Send us an email at research@panoramaed.com with your questions, comments, and insights.
For more findings from this study, download our research brief on the connections between SEL and the "ABCs" of student success (attendance, behavior, and coursework).