A 2021 report from Tyton Partners called "Finding Your Place 2021: Social Emotional Learning Takes Center Stage in K-12," supported by the Bill & Melinda Gates Foundation and the Collaborative for Academic, Social, and Emotional Learning (CASEL), has ranked Panorama Education the number one supplier of social-emotional learning (SEL) measurement tools.
The report follows up on a 2020 report and is based on primary research conducted by Tyton Partners, including a survey of over 2,000 K-12 district leaders, school leaders, and teachers in the U.S. As students return to buildings after a year of remote learning, the report shares findings on the effects of COVID-19 on SEL adoption and implementation.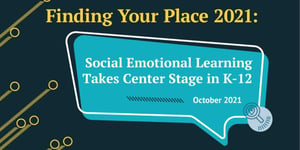 According to the report, SEL measurement—a category that includes tools such as surveys or assessments used to gauge progress on SEL, school climate, or safety for students and teachers—currently has 30% district adoption.
The Panorama Social-Emotional Learning Survey has been taken by millions of students and adults since its inception in 2014. The research-backed, open-source survey offers 22+ survey topics to measure students' social-emotional skills and competencies, including growth mindset, self-management, and social awareness. School and district leaders use Panorama survey data to identify students' social-emotional strengths and areas of need, integrate SEL into school improvement plans, differentiate supports for children, and address adult SEL.
Download the Panorama Social-Emotional Learning Survey.
Districts using Panorama's leading survey analytics platform can benchmark their results against peer schools and districts, disaggregate results by demographics to view the data through an equity lens, and access Panorama's Playbook for actionable, low-lift SEL interventions from expert organizations. Panorama supports many of the nation's largest districts, including DC Public Schools, Everett Public Schools (WA), Miami-Dade Public Schools (FL), and Washoe County School District (NV).
The Panorama SEL Survey aligns with CASEL's (Collaborative For Academic, Social, and Emotional Learning) five core SEL competencies, which is ranked by Tyton Partners as the top SEL framework used by schools and districts today.
The report also names Second Step as the top SEL curriculum provider. Panorama is proud to partner with Second Step and provide access to their resources via our online professional learning library, Playbook.
SEL Measurement Adoption and Top 5 Suppliers (via Tyton Partners)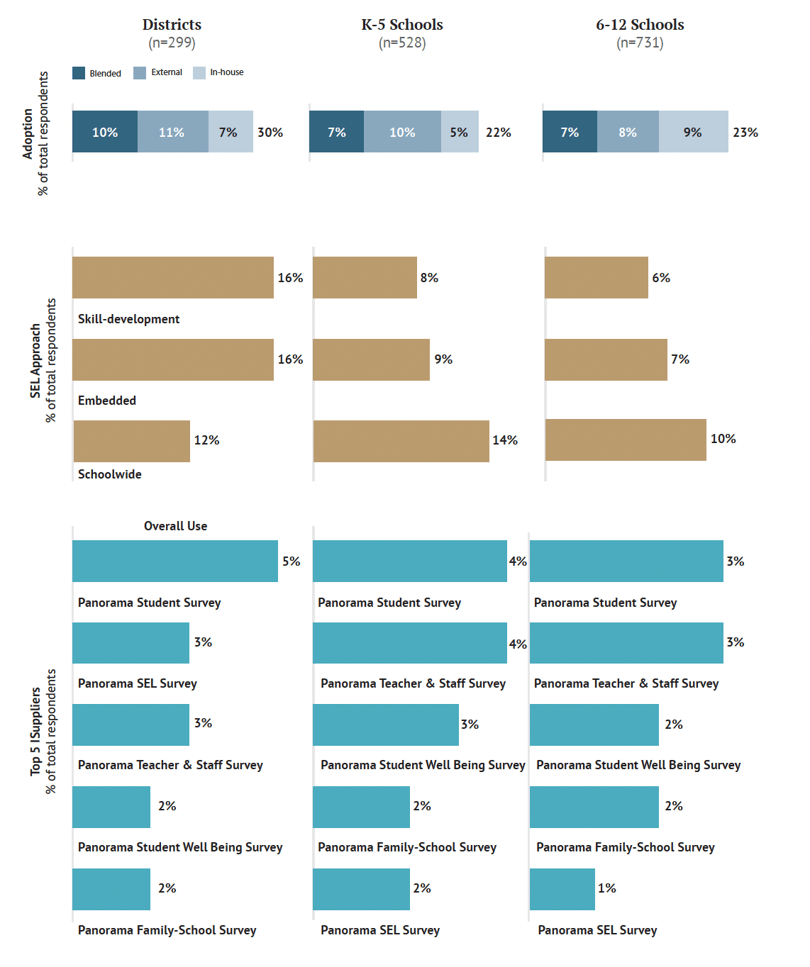 via "Finding Your Place 2021: Social Emotional Learning Takes Center Stage in K-12" (Tyton Partners)
Additional findings from the report:
There is near-unanimous awareness of SEL, and over 90% of districts reported implementing some kid of SEL.
SEL offerings span five categories: curriculum, professional development, measurement, programmatic implementation, and technical assistance.
"Improving students' mental health and well-being" and "promoting students' social and emotional competence" are top strategic priorities for districts in 2021, representing a major shift since before COVID-19.
Since the 2020 report, the most notable increase in SEL adoption was among middle and high schools.
Despite SEL's rapid growth over the last year, adoption of formal SEL programs is still emerging. The authors project that schools and districts will need continued guidance to deepen the adoption of SEL.