Each year, thousands of educators across the country partner with Growing Leaders to develop middle and high school students' social and emotional skills and a school-wide culture of leadership.
Now, partners can explore a collection of social-emotional learning activities and character education resources including Habitudes®, a comprehensive SEL curriculum created by Growing Leaders, on Playbook, Panorama Education's online professional learning library that equips practitioners and school leaders with strategies for creating a positive school climate and implementing SEL in K-12 classrooms.
This engaging set of online course content from Growing Leaders empowers administrators and educators to support students in the development of leadership skills and key social-emotional competencies—from social awareness, to self awareness, to responsible decision-making.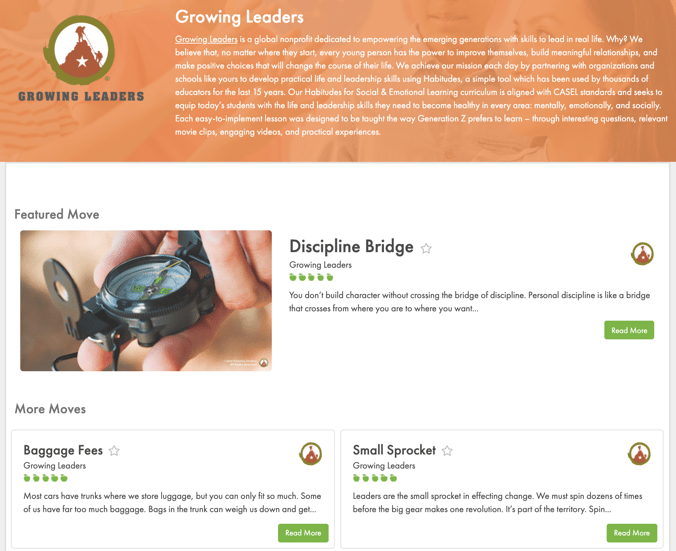 Habitudes® provides an innovative pedagogy that helps secondary students succeed in school and real life. Through engaging in their online curriculum and associated resources, teachers can use images, relatable stories, and experiences to deliberately invest in developing students' impulse control, empathy, and teamwork.
The strategies from Growing Leaders on Playbook align directly with topics from the Panorama Social-Emotional Learning Survey, including:
Emotion Regulation
Growth Mindset
Self-Management
Social Awareness
Self-Efficacy
School and Classroom Climate
Engagement
Pedagogical Effectiveness
Teacher-Student Relationships
Download the Panorama Social-Emotional Learning Survey.
For example, in the lesson "A Compass or a GPS," students examine the concept of self-efficacy. Through a series of interactive video clips, self-assessment activities, and classroom discussions, students receive four new habits and attitudes that they can use to believe in themselves and become more confident in their ability to achieve goals. Educators can use the videos and associated worksheets to engage students in discussions about their personal strengths and ways to overcome their fears.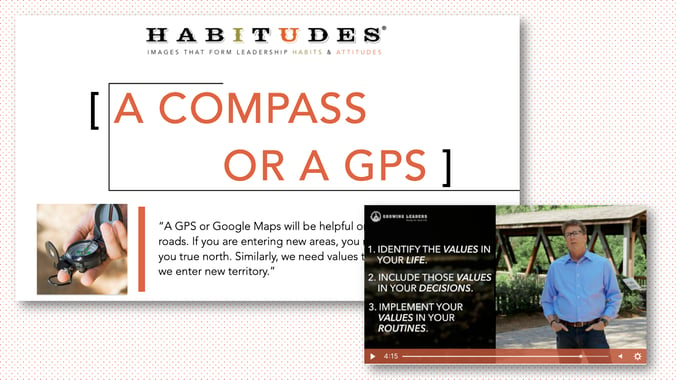 Educators can easily adapt Growing Leader's lessons for distance teaching or hybrid learning environments. For each activity on Playbook, Growing Leaders has integrated a facilitator guide with instructions and recommended timing cues, as well as embedded videos and downloadable worksheets.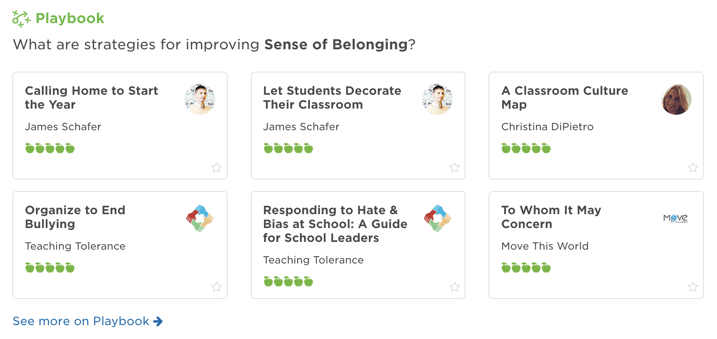 Panorama's Playbook connects teachers, counselors, and school leaders with easy-to-implement resources, activities, and research related to emotion regulation, sense of belonging, teacher-student relationships, adult SEL, and more. Teachers explore Panorama's Playbook when they are looking to take action on their Panorama student survey data on school climate and social-emotional learning.
As schools and districts across the country continue to support students' social, emotional, cultural and cognitive competencies, we are thrilled to share innovative strategies from expert organizations such as Growing Leaders! Find them at @GrowingLeaders on Twitter and share how you're implementing these activities in your school or classroom with us @PanoramaEd!