Each year, hundreds of schools and districts across the country partner with CharacterStrong to bring curricula and trainings to their buildings that improve student leadership and life-readiness, create safer schools, and shift school culture.
Now, practitioners can explore a variety of social-emotional learning and character education activities from CharacterStrong on Playbook, Panorama Education's online professional learning library that equips practitioners and school leaders with strategies for creating a positive school climate and implementing SEL in K-12 classrooms.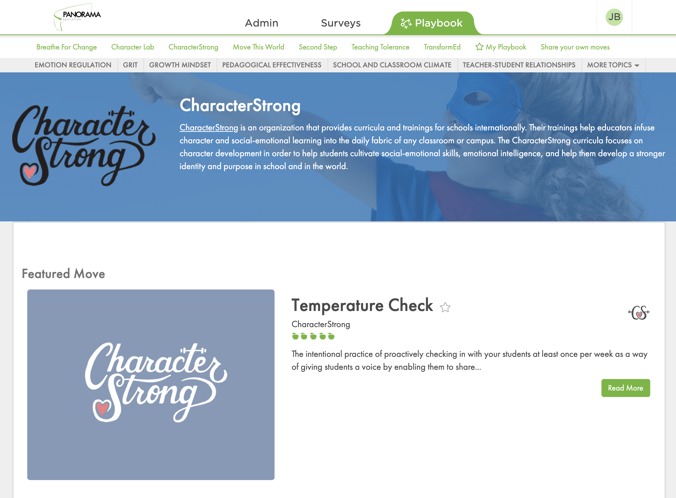 This new set of resources from CharacterStrong provides low-burden, high-impact activities that increase connection and compassion, and cultivate trust with a strong focus on adult SEL.
CharacterStrong's curricula focus on character development and social-emotional learning competencies to help students develop a stronger identity and purpose. Their activities teach both SEL competencies (such as self-awareness, self-management, social awareness, relationship skills, and responsible decision-making) and character education (such as kindness, honesty, respect, selflessness, forgiveness, commitment, and humility) side-by-side, with a strong emphasis on evidence-based practices with educators and curriculum design.
The strategies from CharacterStrong align directly with topics from the Panorama Social-Emotional Learning Survey, including:
Emotion Regulation
Grit
Growth Mindset
School and Classroom Climate
Teacher-Student Relationships
Engagement
Self-Efficacy
Self-Management
Sense of Belonging
Sense of Safety
Social Awareness
Teacher Growth Mindset
Download the Panorama Social-Emotional Learning Survey.
An activity called "Temperature Check," for example, gives teachers a framework for proactively checking in with students in a way that gives students a voice. By enabling students to write down (or submit virtually) how they are feeling, why they feel this way, and what extra support they might need, educators gain crucial insight into their student's lives and can cultivate a strong sense of safety and belonging in their classrooms.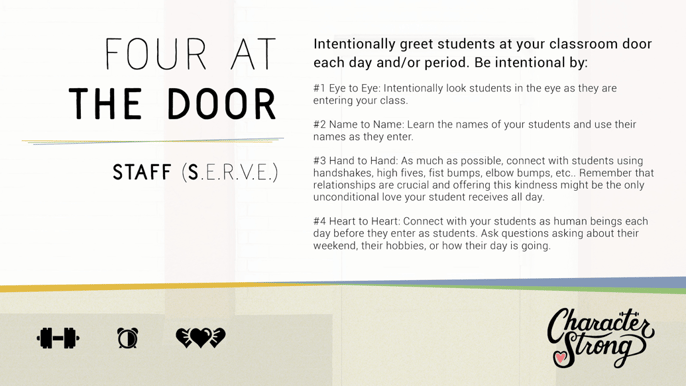 For educators interested in building relationships with students and increasing classroom engagement, a strategy called "4 at the Door + 1 More" is a simple but powerful ritual that teachers can use to intentionally greet students every day.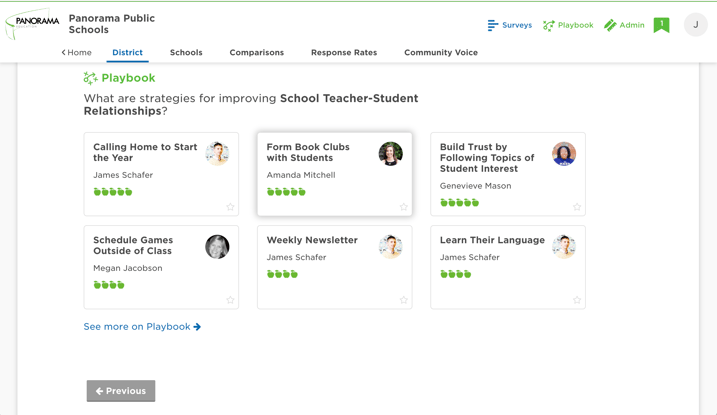 Panorama's Playbook connects teachers, counselors, and school leaders with easy-to-implement resources, activities, and research related to emotion regulation, grit, teacher-student relationships, adult SEL, and more. Teachers explore Playbook when they are looking to take action on their Panorama student survey data on school climate and social-emotional learning.
As schools and districts across the country continue to support students' social, emotional, cultural, and cognitive competencies, we're thrilled to share innovative strategies from expert organizations like CharacterStrong.
Find them at @careacter on Twitter, and share how you're implementing these activities with us @PanoramaEd!