Does your district have a cohesive approach to multi-tiered system of supports (MTSS) or response to intervention (RTI)?
Whether you're using MTSS/RTI to move the needle on students' literacy, math, behavior, or college-career readiness — or all of the above — creating alignment across schools can be challenging.
Not only do you need to ensure that staff have a common understanding of your district's MTSS/RTI vision, but you also need to create clear structures and protocols for school teams to follow. Without these elements, it's nearly impossible to build a healthy tiered system of supports where each and every student gets the appropriate level of support.
To help you develop district-wide MTSS practices, we've compiled advice from leading school districts and a few different templates that you can easily customize — from a Student Support Team (SST) meeting agenda to an intervention menu builder. These templates are perfect for sharing with school-level teams and MTSS/RTI committees.
Access our three most popular templates for rolling out a district-wide MTSS/RTI. [Free Kit]
Here are the three ways to create a unified MTSS/RTI that sets your entire district up for success.

1. Define what it means to be an effective Student Support Team member
Like with any job, you need to set clear expectations for Student Support Team members. Being on a SST may put educators outside of their typical day-to-day, and may require embodying a new set of behaviors and mindsets in order to be successful. Think about this as a job description. What do you hope each SST member will model and bring to the table?
Inspired by a resource developed at Bastrop Independent School District (Tex.), here are four recommended qualities — and associated behaviors — of an effective Student Support Team member.
Positive
Finds positive qualities and bright spots in data to discuss with team members
Communicates positivity to families when discussing their child's performance, needs, and support plans
Objective
Uses data to understand and report on students' present grades, assessments, behavior, social-emotional learning (SEL), and attendance
Lets the data tell the story and support recommendations
Flexible, Open-Minded, and Creative
Brainstorms how students can make progress
Discusses how instruction can be adapted to support each student
Considers interventions that may help a student meet goals
Prompt, Prepared, and Efficient
Arrives on time, ready to review data and discuss information about students
Conveys with words and body language that this time is important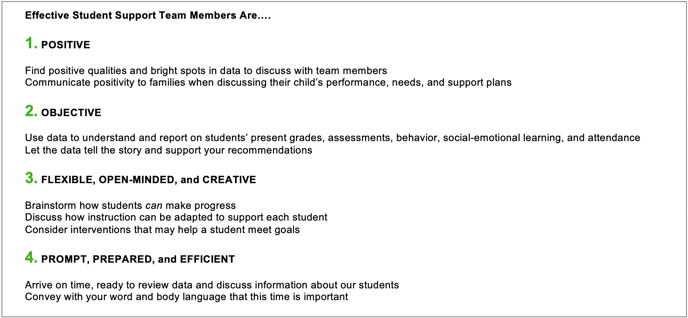 Download the "4 Behaviors of an Effective Student Support Team Member."
"With these guidelines, I've noticed that the conversations in RTI meetings are very different. They are very solutions focused. There's a lot more kindness, compassion, and understanding when we're talking about supporting the whole student."

– Jennifer Greene Gast, Academic RTI Coordinator, Bastrop ISD (Tex.)
2. Set a strong meeting agenda for school-level Student Support Teams
In any tiered system of support, it's important build time into school schedules for Student Support Team (SST) members to collaborate. These meetings can take different shapes depending on who's participating and how much time is available. Regardless, the most effective SST meetings focus on creating data-driven intervention plans for students.
Your schools can and should have the flexibility to make these meetings their own — but it's helpful to give school leaders guidelines on what an ideal SST meeting looks like. Use the elements below (inspired by the agenda used at Waltham Public Schools in Mass.) to craft a SST meeting agenda for your district.
Launch the meeting and evaluate intervention progress (15 minutes)
Start the meeting off on a strong note by re-stating the objective of the meeting. For example, maybe your team's goal is for each participant to leave with an action plan for supporting at least one student in the next month.

Then, have educators partner up to give quick updates on the students they've been supporting. Discuss questions such as:
"Has my student met the goal of the intervention?"

"Does this student still have risk factors?"

"Does this student need an adult 'champion' again this cycle?"

"Will we remove or rethink this student's intervention plan?"

After this small-group discussion, come together again as a group. Ask each educator to share a favorite action step from the last cycle and whether the students in the last intervention cycle still need a champion and intervention plan.

Review student data and make new "matches" (15 minutes)
This block of time gives educators a chance to identify students who are showing signs of struggle and may need to receive Tier 2 interventions. Ask educators to spend a few minutes analyzing data to find students with risk factors — ideally looking across math, ELA, behavior, attendance, and social-emotional learning (SEL) data. If your district uses the Panorama platform, educators can easily filter student rosters by assessment scores, grades, behavior notes, and other key indicators to see who's at risk.

Next, it's time to match each newly identified student with an educator — an adult "champion" — in the room. This educator will be responsible for delivering the intervention plan and reporting back on the student's progress.
Plan and share student supports (10 minutes)
During this portion of the meeting, educators will develop a plan to support each newly identified student. What intervention strategy or support may help the student get back on track? What is the goal of the intervention? How often will the educator deliver the intervention and monitor progress? Here's a list of 42 intervention strategies for inspiration.

In Panorama, educators can easily build a goal-based intervention plan on a student's profile by setting a goal, timeline, intervention strategy, and progress monitoring method. Once saved, the intervention plan will be visible to other educators on the Student Support Team.

Reflection and closing (5 minutes)
Reserve five minutes at the end of each meeting for reflection. What did your educators find helpful or valuable about the meeting? What would make the next meeting even better?

This feedback loop is important so that educators continue to get value out of the meetings. Encourage your Student Support Team Leads to improve the agenda over time using this feedback.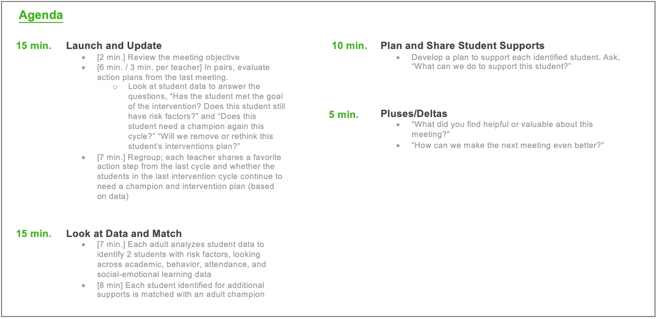 Download this meeting agenda as a Word and Google Doc.
3. Standardize interventions across literacy, math, and behavior
The magic of MTSS/RTI is in personalization — in other words, tailoring intervention strategies to the unique needs of each student. No single intervention will work for every student.
Regardless, it's important to give schools a starting point. Provide a unified menu of intervention strategies across academics, behavior, and SEL that everyone can reference and use. Be sure to make this resource readily available during Student Support Team meetings. (If your district uses Panorama, you can customize an intervention menu inside our platform so that educators can search for interventions from a central library.)
As you learn more about your students and what works, Student Support Teams can get creative and add their own interventions to the menu. For example, at one middle school in Waltham Public Schools (Mass.), educators built their intervention menu together and continue to iterate as they find new, effective strategies.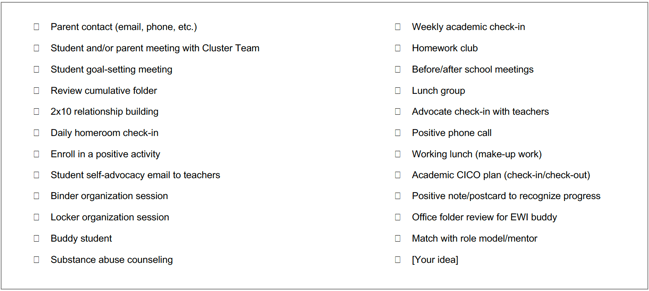 Download our free intervention menu builder.
Are you ready for a successful MTSS/RTI roll-out?
Being in a position to implement MTSS or RTI across a district is exciting, but it can feel like a lot to handle when you have so many educators and students depending on its success. Hopefully, these templates and ideas will make the roll-out easier — setting up your district for a tiered system of supports that delivers the right supports, to the right students, at the right time.
Click here to download our MTSS/RTI implementation kit with free templates.