"What does it mean for school communities to thrive?"
On February 15th, 2022, Panorama will hold its third virtual summit, Thriving Schools. This free, all-day event will bring educators together from across the country to learn from and support each other as together we envision our collective journey to building thriving schools.
You'll hear from leading K-12 experts and practitioners on how to build education spaces through social-emotional learning, multi-tiered systems of support (MTSS), family partnerships, and trauma-informed practices.


Register now for Panorama's free Virtual Summit: Thriving Schools
Inspiring Speakers and Real-World Strategies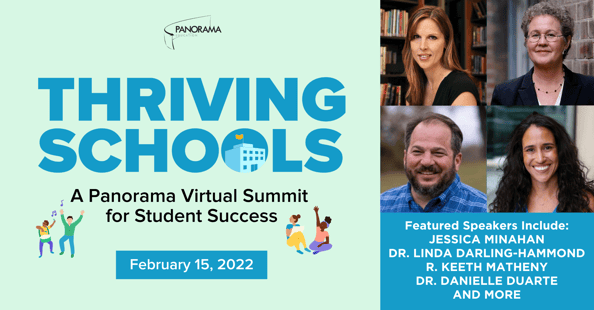 At this year's Virtual Summit, hear from passionate speakers and leaders in the education space, including:
Jessica Minhan: A licensed and board-certified behavior analyst, special educator, and consultant, Jessica Minahan has over 17 years of experience supporting students who exhibit challenging behavior in urban public school systems. She is the co-author of The Behavior Code: A Practical Guide to Understanding and Teaching the Most Challenging Students and author of The Behavior Code Companion: Strategies, Tools, and Interventions for Supporting Students with Anxiety-Related or Oppositional Behaviors.


Dr. Linda Darling-Hammond: Linda Darling-Hammond is the founding president and CEO of the Learning Policy Institute, which provides high-quality research for policies that enable equitable and empowering education for each and every child. She is the author of more than 30 books and 600 other publications on educational quality and equity, including the award-winning book: The Flat World and Education: How America's Commitment to Equity Will Determine Our Future.


R. Keeth Matheny: R. Keeth Matheny, AKA "Coach Rudy," is a national award-winning teacher, speaker and author of ExSELent Teaching: Classroom strategies to support the social, emotional, and academic growth of students. Keeth is the founder of SEL Launchpad

, an organization that provides engaging, inspiring, and actionable professional development to help launch and support SEL programs.




Dr. Danielle Duarte: Danielle Duarte is a recent Education Leadership doctoral graduate (Ed.L.D) from the Harvard Graduate School of Education and the Chief of Staff for Hatching Results, an educational organization that supports the development of data-driven school counseling programs that positively impact student outcomes. She is the co-author of two books: Hatching Results for Elementary School Counseling and Hatching Results for Secondary School Counseling

.




Superintendent Panel:

Superintendents from across the country will share how they are building thriving schools. They'll share how they are leading their communities through today's challenges and building systems to support their districts. The featured panelists are

Dr. Scott Muri

of Ector County ISD (TX),

Dr. Maria Vazquez

of Orange County Public Schools (FL),

Dr. Eric Gallien

of Racine Unified School District (WI),

Dr. Lewis D. Ferebee

of DC Public Schools (Washington D.C.), and

Dr. Mike Barton of Clark County School District (NV).


Learn more about the speakers and explore the agenda.
Envisioning Thriving School Communities
These past few years have both challenged us and taught us the importance of prioritizing empathy, relationships, and social-emotional learning (SEL) to reach students. Now, we look to take those learnings forward to create schools and districts that truly thrive.
The summit aims to provide an opportunity for K-12 educators to engage in ongoing learning and reflection about how we can gather and empower our school communities—including partnering with students and families. At the summit, we can:
Learn from others in the field

Share best practices

Celebrate wins and successes

Reflect on what it means for schools to "thrive"
We know that our school communities work best when everyone works together, and we hope you will join us on this bold journey towards ensuring a thriving future for our schools and districts.
Register now for Panorama's free Virtual Summit: Thriving Schools!