Wake County Public School System (WCPSS) is the largest school system in North Carolina, serving more than 159,000 students across 183 schools. The district, which has over 40 Title I schools, is committed to equitably preparing its students for productive citizenship and college or careers.
Community engagement is one of the five core objectives in WCPSS's "Vision 2020" Strategic Plan, and strengthening family engagement is a key strategy under that goal. The district focuses on building partnerships with families as a lever to improve student achievement and outcomes.
Like at many districts, however, school and district leaders at WCPSS found it challenging to build partnerships with all of their families. For example, at Stough Elementary, a school receiving Title I funding, the same group of families generally attended school events. District leaders, including Title I Family Engagement Coordinator Kelly Harvell, knew that they needed to better support each school's ability to develop meaningful relationships with families.
Download Now: Panorama's Free Family Engagement Toolkit
Building Family Partnerships: A New Framework
Driven by a goal of engaging every family, WCPSS began using Dr. Karen Mapp's Dual Capacity-Building Framework for Family-School Partnerships. The framework, which has been used successfully in diverse communities and adopted by the U.S. Department of Education, promotes building partnerships between schools and families to support students' learning at home.
To understand families' perspectives on engaging with school—and to learn how families are supporting their children—WCPSS also sought to improve their approach to family surveys. Surveys are a proven way to build trust with families and assess what can be done better. While each Title I school had run an annual parent survey through Google Forms, WCPSS wanted to collect deeper, more actionable data from a more diverse group of families.
Now, WCPSS's Title I schools administer Panorama's research-backed Family-School Relationships Survey to families in multiple languages by mail and online.
The survey, developed with Dr. Mapp and tied to the Dual Capacity-Building Framework, allows WCPSS to gather feedback from more families and analyze the data at district, school, and demographic levels. Together, the Dual Capacity framework and Panorama data have served as compass, helping each Title I school craft engagement plans that fit their own community's needs.
"At Stough, they've been learning from more families and how to best build family-school partnerships. The principal saw, in Panorama, that families could be better reached, and is now taking action on that data."

– Kelly Harvell, Family Engagement Coordinator, WCPSS (NC)
Engaging More Families at Stough Elementary
Stough Elementary, located in the heart of Raleigh, NC, is a magnet school with a diverse population of 450 students in grades pre K-5. With the only Chinese Language Immersion Program in WCPSS, Stough puts an emphasis on collaboration with the local and global communities.
Over the past year, Principal Chris Cox and his team have focused on bringing together the Stough community and—guided by the Dual Capacity-Building Framework—more deeply engaging families in their children's learning. With Panorama, Stough now has reliable data on family attitudes in order to drive strategy and action.

Key Insights from Stough's First Family Survey
In spring 2017, Stough Elementary collected feedback using Panorama's Family-School Relationships Survey to gain an understanding of families' perceptions of topics like family support, engagement, and school climate. Stough received responses from 137 families of students across different grade levels, races and ethnicities, genders, and more.
The data illuminated Stough's strengths and areas for growth. For instance, 87% of families reported few barriers to engagement and 77% of families responded that they were confident in their ability to support their children's learning at home.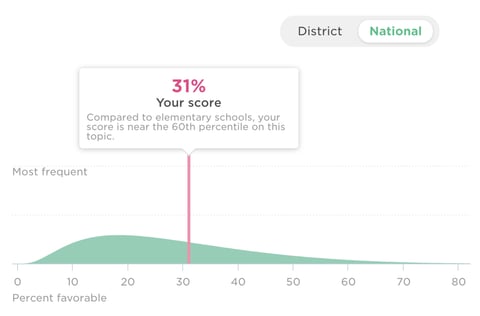 Figure 1: Stough's score on the Family Engagement topic was above the national average when compared to other elementary schools. Even so, the Stough team went to work planning even more ways to engage with families.

How Stough Took Action to Build Family Partnerships
In partnership with the Panorama team, Stough leadership and staff reviewed the data to determine where to focus their improvement efforts. Stough formed a Family Engagement Committee—led by school social worker Lindsay Allen—to discuss engagement strategies aligned to the Dual Capacity-Building Framework.
"We picked out Family Engagement, among other topics, as an area to strengthen," Lindsay said. "We mapped out the five principles of family engagement and talked about how to ensure that families are aware of those goals… because the more aware families are, the more likely they are to support us and participate in the process."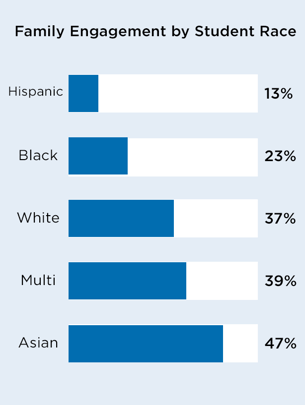 Figure 2: After seeing that families of Hispanic students felt the least engaged, Stough made efforts to better include those families at a recent event.
As a result, the committee decided to host two new family events this year:
1. Literacy-Themed Family Teacher Night
Stough took parent-teacher conferences to the next level by inviting families to school for an evening of learning. The event aligned directly with the Dual Capacity Framework's Linked to Learning principle, which encourages schools to make every interaction with families educational. Not only did parents have their conferences with teachers, but they also participated in sessions about literacy strategies and how to better support their children at home.
In response to the survey data about Hispanic parents feeling less engaged (see Figure 2), Stough offered the literacy presentations in Spanish and had multiple interpreters available.
The school also provided dinner to remove barriers for families. The event was incredibly successful; 267 parents and guardians—more than double the typical number of attendees—came together to learn, connect, and enjoy pizza.
"I got a lot of positive feedback from families at our literacy event. There were a couple of moments when I got the chills because family members talked about how much they love this community. That's good stuff that you can't really duplicate."

– Chris Cox, Principal, Stough Elementary School (NC)
2. A Global Festival
For Stough's next major family event, the school plans to solicit support from families across different cultures, backgrounds, and ethnicities for a global fair. Families will decorate booths where they can share their heritage, and students will perform an international variety of songs and dance throughout the evening.
"We hope that families from diverse populations feel that we're honoring their experiences more than ever before... which will help students feel included in their classroom community and more confident in their abilities in school," Lindsay said.
Chris echoed the importance of the work Stough is doing to partner with families: "It's not just about these students knowing how to multiply decimals. It's about building these families and the community, and partnering with families so our kids are ready to become global leaders."
Interested in learning more about the Panorama Family-School Relationships Survey? Get in touch with our team to see a demo.