For everyone, this school year presents high-stakes challenges around distance learning, physical safety, emotional well-being, equity, and student engagement.
Many students are entering this school year with disrupted academic growth and will need increased support, particularly around emotional well-being.

In a

YouthTruth survey

of over 15,000 students,

one in two reported having problems learning

because they felt "depressed, stressed, or anxious," most felt less connected to their friends, and nearly half did not have an adult from school they could talk to when "feeling upset, stressed, or having problems."

Many families are entering this school year with shifted capacities and expectations.

They may be facing everything from childcare challenges and homeschooling responsibility to unemployment.

According to a recent survey,

two out of three parents are somewhat or very likely to "demand that the school provide better support for students' mental health and emotional well-being."

Teachers and staff

are on the front lines of a new, uncertain educational system—expected to do more with less under exceptionally stressful circumstances.

According to data collected by Panorama from over 13,000 staff and faculty members,

over one in five are "quite" or "extremely" concerned

about their social-emotional well-being.
This school year—more than ever—frontline feedback from students, families, and educators will be essential inputs to district planning and policymaking. School and district leaders must continue to understand the first-hand experiences of their school community through surveys, and take action on that data to deliver timely, targeted supports.
Gathering Feedback From Students, Families, and Educators in 2020-21 With Panorama
Panorama's survey instruments and measurement scales were initially developed because we believe that they matter for students, families, and educators. At the same time, we appreciate that some topics are more relevant than others in certain contexts, and we strive to help districts select topics that are most relevant to their contexts.
After reviewing our entire survey catalog, we have identified the following topics (shown in the below table) as most relevant to this year's unique challenges. Some topics are particularly important for schools operating with in-person instruction, and others are particularly important during remote instruction.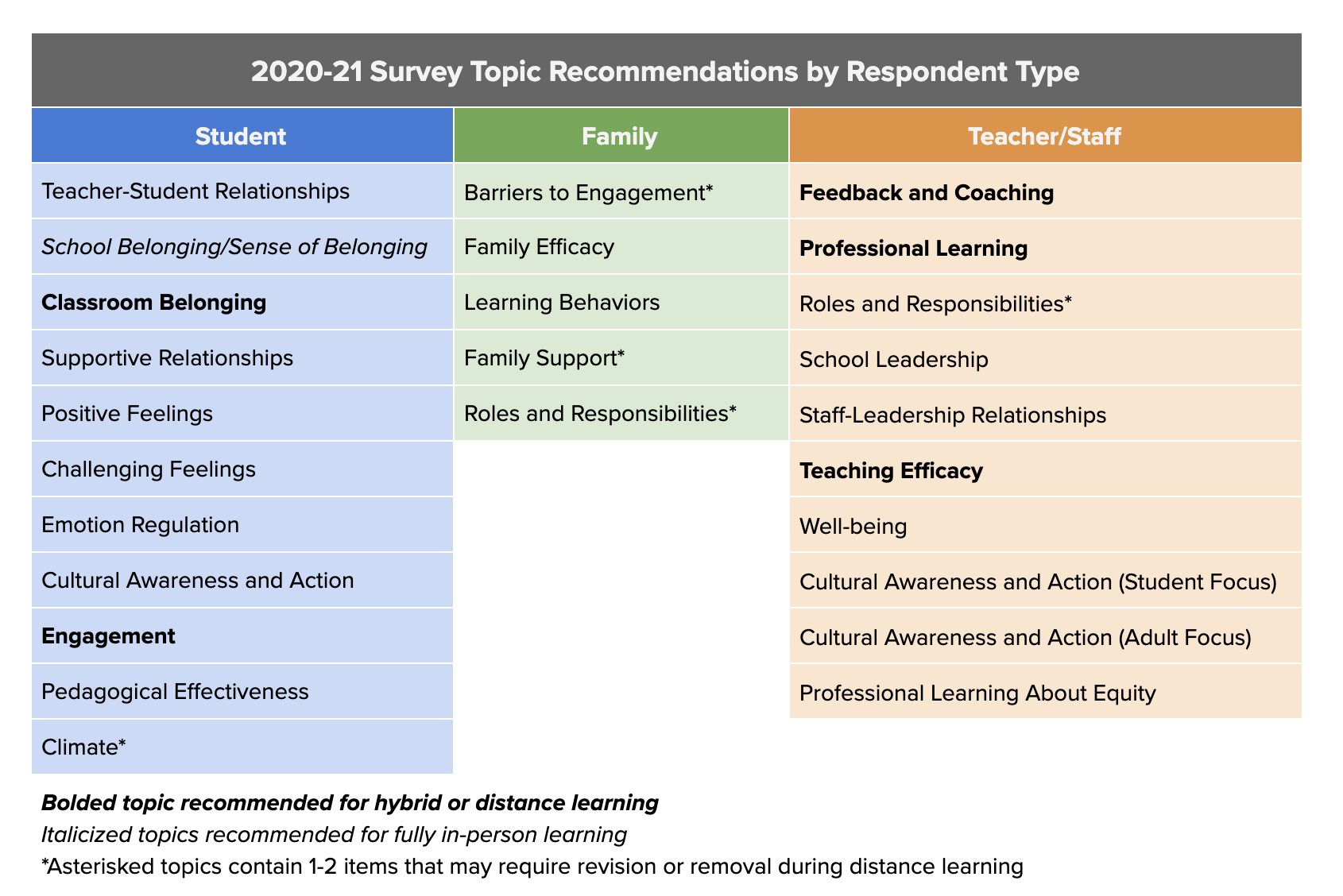 Some topics not included here, such as School Safety, are important constructs but have taken on a new meaning in today's learning environment. School safety concerns, for example, center on pandemic precautions and contagion instead of violence or respect. We encourage districts to use content from our Back-to-School Surveys to cover COVID-specific topics such as school safety.
Finally, we recommend that schools and districts select survey topics based on a variety of considerations, not only these research recommendations. A school or district's strategic priorities, past measurement foci, and individual circumstances—in conjunction with input from researchers and policymakers—should collectively guide topic selection.
To learn more about partnering with Panorama to gather stakeholder feedback this year, get in touch with our team.