Over the past year, Harvard Graduate School of Education researchers and Panorama Education have been collaborating to develop a best-in-class, valid, and reliable survey tool to help educators collect feedback from students. Today, I'm tremendously excited to announce that we're releasing the Panorama Student Survey, version 1.0. We're providing this survey as a free, open source resource for educators everywhere.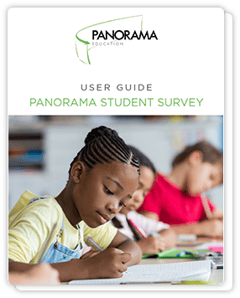 Feedback gathered through the Panorama Student Survey will help educators work toward a future where every student has great teachers, great schools, and a great education. The Panorama Student Survey provides teachers and principals with feedback about how students see their classes. Decades of research have shown that such student feedback is strongly correlated with educational outcomes and can be an important improvement tool for school systems. But until today, educators haven't had access to a valid and reliable, open source survey that they could use to collect student feedback on teaching and learning.
The Panorama Student Survey was developed by a team of scholars at the Harvard Graduate School of Education under the leadership of Associate Professor Hunter Gehlbach, a leading survey methodologist and education researcher. Dr. Gehlbach's experience as a public school teacher in Pennsylvania inspired him to get involved. "When I taught high school social studies, feedback from my students played a vital role in helping me improve my pedagogy. Feedback can be a really powerful tool, but you have to ask the right questions in the right way. We want every educator to have access to the best tools available. Panorama was already a leader in the field, and when they pitched me on the idea of creating this survey and making it free for schools, it was a perfect match."
This spring, the Harvard Graduate School of Education research team and Panorama piloted the survey in 13 school districts across the country. One pilot partner was the North Carolina Department of Public Instruction. Thomas Tomberlin, Director of District Human Resources, coordinated our collaboration there: "Our teachers deserve the best tools and the highest quality feedback. Measures developed with this level of rigor fill a big need in public education. So we were eager to participate in the pilot."
Interested in working with Panorama?
Panorama helps hundreds of school districts and various state departments of education run surveys of students, parents, and teachers. In addition to our validated survey instruments, we offer a technology platform for running surveys online and on paper, analyzing the data, and creating interactive reports for each teacher, principal, and superintendent. Our client services team also works directly with school systems to help them design and implement survey programs.
Interested in learning more or signing up? Please contact us and we'd love to talk!
---
Aaron Feuer is the co-founder and CEO of Panorama Education.