Today the Collaborative for Academic, Social, and Emotional Learning (CASEL), the leading organization promoting social-emotional learning for children in preschool through high school, selected Panorama Education as a winner in its annual Social-Emotional Learning Assessment Design Challenge.
Launched this year, the award aims to "stimulate the development and adoption of social-emotional assessments that support effective instruction and positive student development." A panel of judges from school districts, education nonprofits, and research institutions—including those from Stanford University, the CORE Districts, Washoe County School District, Oakland Unified School District, and the University of Michigan—selected the winning social-emotional learning assessment designs.
Practitioners and researchers alike have long sought ways to directly assess students' SEL skills and competencies in valid, reliable, and meaningful ways. Along with the social-emotional learning assessment design challenge, CASEL has introduced new resources, including a Measuring SEL website, to promote effective measurement of students' SEL skills.
As a national leader in measurement and analytics, Panorama is used by over 350 school districts nationwide to collect data about social-emotional learning, school climate, and family engagement. By being selected in CASEL's inaugural design challenge, we've furthered our commitment to driving innovation and improvements in SEL measurement in the years to come.
About Panorama's Social Detective

Our submission featured a student-centered performance task, known as "Social Detective," which is designed to measure and help students practice social perspective-taking. Social perspective-taking is the ability to understand other people's thoughts, feelings, and motivations. In common terms, it's how you put yourself in "someone else's shoes."
As Panorama's Director of Research, Hunter Gehlbach, Ph.D., argues in a recent Phi Delta Kappan article, the ability to understand others' thoughts and feelings is a (if not the) foundational human competency, and it underlies a vast range of students' social-emotional functioning at school and in life. By focusing on social perspective-taking, we hope to "unlock" students' development of other critical SEL competencies, such as self-awareness, social awareness, and responsible decision-making.
In our performance task, students are challenged to be a "social detective" whose job is to listen carefully and observe other people's thoughts, feelings, preferences, goals, and values. The structure of the assessment is simple, yet accurately recreates an authentic context in which students need to exercise social perspective-taking skills.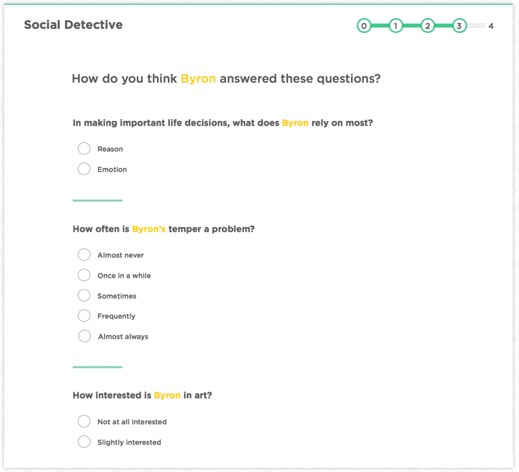 Here's How It Works
Students watch videos of other people authentically answering a range of questions (e.g., What makes a good friend?). They then describe the person in their own words and answer a series of multiple-choice questions about her or him (e.g., What is more important to this person, loyalty or honesty?). To assess how well students can engage in social perspective-taking, we simply compare their predictions of people's responses with the other people's actual responses to the same survey questions.
Our research team, led by Sam Moulton, Ph.D., Brian Rainville, Ed.L.D., and Hunter Gehlbach, Ph.D., developed the concept for Social Detective with several key design principles in mind. First and foremost, we sought to offer an evidence-based, direct assessment of social perspective-taking that meets the challenges of transfer, scale, and validity. Beyond these requirements, we also desired to design a concept that fully engages students in practicing perspective-taking, evolves over time as we collect more data, and can be embedded within an educational environment to advance both learning and teaching.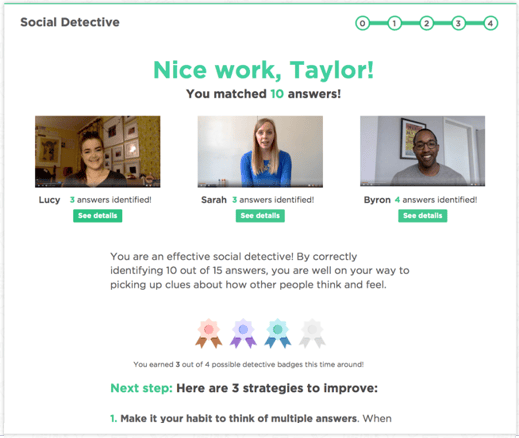 Finally, this initial design of Social Detective is not Panorama's only interactive tool that targets the development of social-emotional learning. Our "Get to Know You" Survey helps students and teachers discover similarities through a brief online survey, and has been shown to boost student-teacher relationships and even close achievement gaps in our pilot school sites.
Interested in learning more?
In the months and years ahead, we view Social Detective as just a starting point for future performance tasks and social-emotional learning assessment. If you're interested in learning more, you can email our team at info@panoramaed.com.