Attendance is a critical metric for schools to focus their attention. More than one in seven students are chronically absent from school, and recent data show that absenteeism is on the rise.
In fact, Panorama's research finds that the largest achievement gap in schools exists between students who regularly show up and those who are chronically absent (per the graph below). Chronically absent students are twice as likely to fail one or more courses than regularly attending students.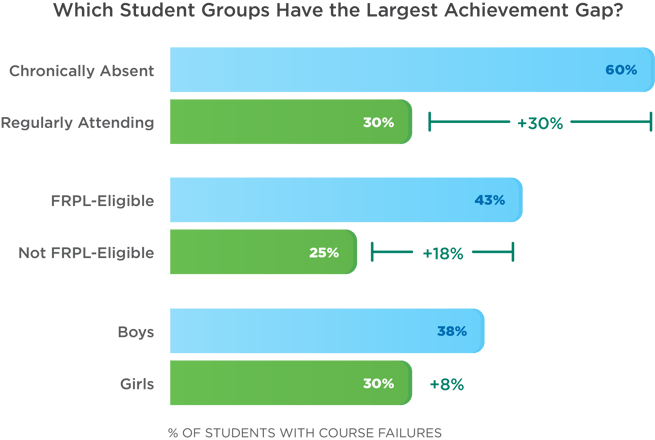 We know the value of attendance in promoting student achievement—so, why is it that certain students don't show up?
In this installment of Research Minute, Dr. Tara Chiatovich, data scientist at Panorama, presents the connections between attendance and social-emotional learning (SEL) to shed light on potential steps for improving attendance.


Download this research brief to see our complete findings on the connections between SEL and the "ABC"s of student success.


Missed our Research Minute episode on the connections between SEL and academic performance? Watch it here.


What social-emotional learning topics are most closely correlated with attendance?
To answer this question, Panorama analyzed data from over 100,000 students in nearly 200 schools across the country. We looked at the correlations between absenteeism and topics from our student surveys including Classroom Effort, Classroom Engagement, Emotion Regulation, Self-Efficacy, and Self-Management.
Here's what we found: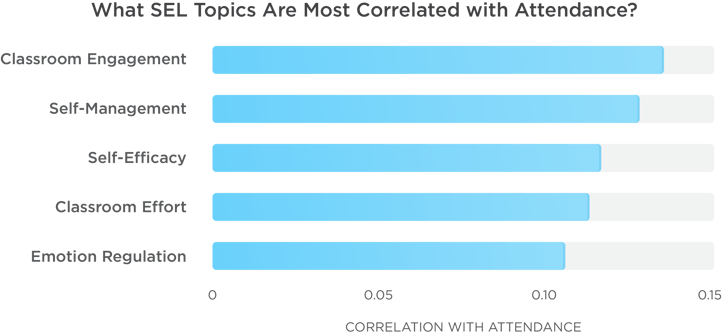 Absenteeism is most correlated with Classroom Engagement. Next is Self-Management, or how well students manage their emotions, thoughts, and behaviors. The third most correlated topic is Self-Efficacy, or how much students believe they can succeed in school.
Let's focus on classroom engagement to unpack the links between SEL and absenteeism. Out of 100 kids who report being disengaged, 23 of them will be chronically absent that year.
However, out of 100 kids who report being highly engaged, only 11 of them will be chronically absent. This means that students who report low engagement are more than twice as likely to be chronically absent.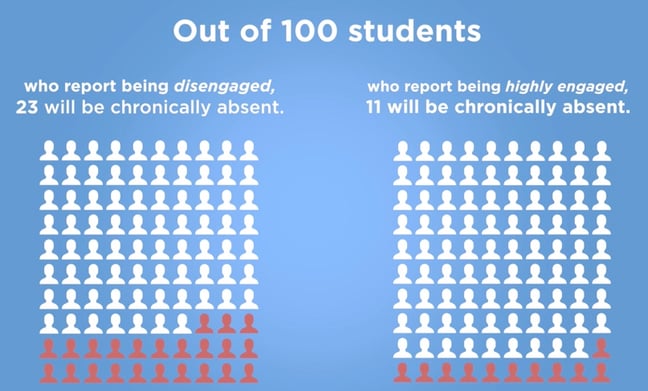 That's a striking difference. This shows the potential of targeting students' social-emotional learning skills to get to the root causes of chronic absenteeism.
For more on this topic, download our research brief to learn more about the connections between SEL and attendance.