With a graduation rate of over 96 percent, Val Verde Unified School District (VVUSD) in Perris, California has achieved steady academic growth over the last few years by providing comprehensive academic supports for its 20,000 students. Building on this success, the district is now focused on pairing academic supports with climate and culture supports to expand equity and access for all students.
As part of this work, VVUSD partners with Panorama to understand student perceptions of climate, culture, and social-emotional learning (SEL). With this critical data, educators are able to support the whole child within the district's Multi-Tiered System of Supports (MTSS) and Positive Behavioral Interventions and Supports (PBIS) framework.
"As we prepare students for jobs that don't yet exist, we need to work with students to improve executive function so they can better make decisions and understand the consequences of those decisions. The starting point is to look at the data and create structures that support teachers and students."

– Michael R. McCormick, Superintendent, Val Verde Unified
Here's how teachers and staff are incorporating SEL into the district's MTSS tiers:
Tier 1: Universal Academic, Behavior, and Social-Emotional Supports
After administering the Panorama Social-Emotional Learning Survey to students, school leaders at VVUSD dedicate time for teachers and staff to analyze student perception in areas like self-management and social awareness.
Teachers and staff work with instructional coaches and the district's PBIS coordinators to understand the results using district averages and Panorama's national benchmarks. In teams, they discuss each school's needs to inform the universal Tier 1 supports that schools put in place.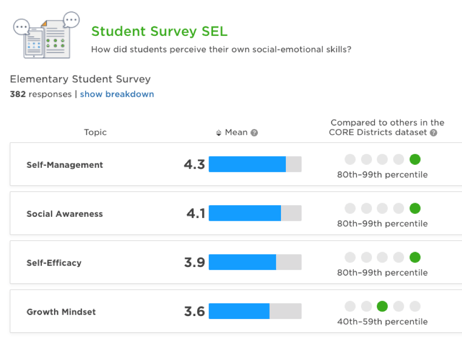 Panorama SEL survey results from one elementary school at VVUSD
Tier 2: Supplemental Supports
Beyond school-wide supports, teachers and staff at VVUSD look at individual students' SEL data to identify who would benefit from supplemental supports. With insight into a student's own perception of his or her SEL skills, adults are able to apply specific interventions for students who may need additional support.
Download Guide: Solving the 5 Biggest Challenges of MTSS
Tier 3: Targeted, Intensive Supports
Student-level SEL reports also allow teachers and counselors to build on the skills of students who have greater needs. For example, adults can provide targeted supports if a student shows a lower-than-average score in critical areas like growth mindset and self-efficacy.
---
How SEL and MTSS are Creating Impact for Teachers and Students
"MTSS is a culture of supporting all students. It doesn't matter if the student has a label. If a student needs a support or a service, we need to deliver it as quickly as possible. Having Panorama is the first time we've had concrete data in order to provide social-emotional supports for all students."

– Jessica Warren, Teacher on Special Assignment for MTSS
"Our teachers are practicing using this data to get to the root cause of students' issues or behaviors. We are reviewing the data often to look for ways to explicitly teach SEL competencies and social skills to get to the heart of what our students need. In order to make this reflection work, you need to have the data and review it often."

– Philander Steward, Teacher on Special Assignment for MTSS
"Looking at SEL data has been super important for me. I'll be honest, it's probably the most important data for myself. I've used the data to reflect on a personal level. The data has enabled me to support my students in a way that I don't know I'd be able to do without the results."

– Amy Harper, 3rd Grade Teacher, May Ranch Elementary School
"We have a high foster population at our school. We've found great success this year by looking at individual students who need help with social-emotional learning. For one student who is in foster care and has an IEP, we were able to reach and change his life forever. It all started with data-driven instruction."

– Katie Ermert, Assistant Principal, Rainbow Ridge Elementary