As schools collect feedback from their students, families, and teachers, we hear over and over from educators that some of the most important, actionable information comes from free response comments—and that educators want to hear more from their community. Yet knowing the right questions to ask and sorting through thousands of lines of text can be overwhelming.
About a year ago, we embarked on a journey to rethink free response questions on our surveys. Could we find a way to deliver actionable insights through well-designed questions and best-in-class text analytics?
Today, we're excited to share the fruits of that project—free response questions that help collect the most relevant feedback from stakeholders, and a new Panorama analytics tool that automatically analyzes free response data in your school or district, visualizes the key themes, and highlights the most important responses for educators.
Start by asking the right questions
Over the past five years, we've supported thousands of schools in using feedback surveys to deliver actionable insights to guide school improvement. Surveys that include well-designed free response questions can yield specific, powerful data stories. Our open-source school surveys provide dozens of free response questions that are designed with these principles in mind.
Here are a few of our favorite free response questions that schools can choose to include on surveys of their communities:
What is your best idea for how groups of people at this school could get along with each other better?
If you were the principal, what is the one change you would make to the school to make it feel safer?
What can the school do to help your child engage in learning activities more productively at home?
Why we built Free Response Analytics
While these questions can deliver rich information, we heard from educators that it simply takes too long to sift through all the responses while looking for patterns and themes. That's why our research team developed Free Response Analytics to help educators efficiently make sense of free response data.
With Free Response Analytics, you can see a high-level overview of the most common and relevant themes in your free responses. Then, you can click on any keyword to instantly dive in and explore what your stakeholders said about that theme.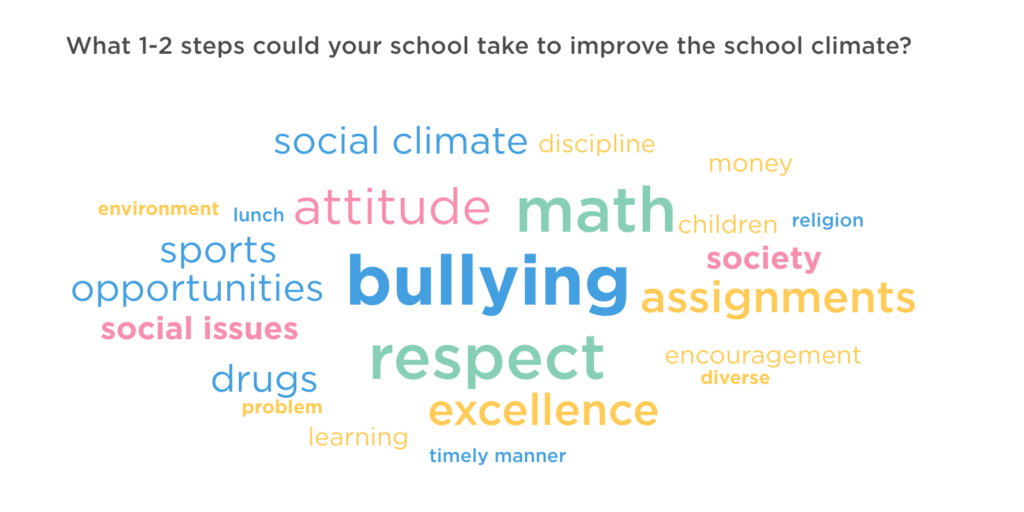 In the example above, students commented with ideas for how their school could do improve its school climate. "Bullying" came up as the most common theme, and educators can then click on this word to instantly see the 20 student responses related to bullying. Responses about "teasing" are also included, as the algorithm intelligently groups related words together under the same theme.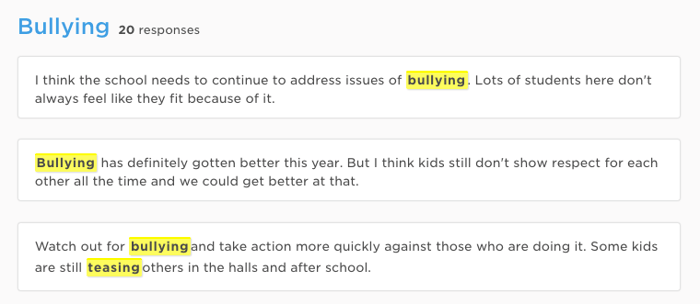 To Ryan Gomez, Chief of Schools at Inner City Education Foundation (ICEF) Public Schools, a charter network in Los Angeles, free responses offer key insights that school leaders can use to drive change:
"It's data that I can take action upon. Free Response Analytics really helps us deliver more specific information to our principals to guide improvement."
With Free Response Analytics in Panorama's reports, we hope to elevate the voices of your school community and provide educators with high-quality quantitative and qualitative data points.
What stakeholders have to say
During our research and development phase, we analyzed survey responses from over 20,000 students, 3,500 teachers/staff members, 3,000 families from 20 school districts nationwide. We wanted to understand how different stakeholders across diverse schools typically respond to the same questions about school improvement. Here's what we found:
"What are two things that this school does well that it should continue to do?"
Students most frequently identified the following themes for what their school does well:
Teachers (13% of all responses)
Sports or gym (4%)
Games or books (2%)
"What recommendation would you make to the school for how to improve communications with parents?"
When parents and guardians were asked how the school should communicate, three main themes emerged from their responses:
Email (18%)
Website (3%)
Conferences (3%)
"If you could change anything about working at your school, what specific changes would you make?"
When teachers were asked about making changes at their school, their responses were most often about the following themes:
Time (14%)
Leadership (7%)
Communication (5%)
Get in touch
We'd love to get your feedback, questions, and comments about Free Response Analytics and our other tools. Share your thoughts in the comments below or email us at contact@panoramaed.com.
Interested in learning more about why Panorama might be right for your school or district? Schedule a demo to learn about our survey and analytics programs today.