Over the last two years, more than 450,000 students, family members, and teachers have used Panorama surveys to provide feedback on their experiences in classrooms and schools. Today, we're excited to announce Benchmarks, a new analytics tool available in our reports.
Benchmarks puts your survey data in context by displaying your results alongside other results from your school, district, and in our national dataset. Benchmarks makes it easy for you to understand what your survey results mean--allowing you to set clear goals and monitor progress when using the Panorama Student Survey, the Family-School Relationships Survey, and the Panorama Teacher Survey.

We designed Benchmarks after listening to educators, many of whom asked: "What do my results mean relative to others at my school?" or "How do our district's results compare to other districts'?" Benchmarks helps answer these questions by putting survey results in context with other results from your school, district, or in our national dataset. With this interactive tool, you can view the range of all responses, the highest score, the lowest score, and the most frequent score on your survey.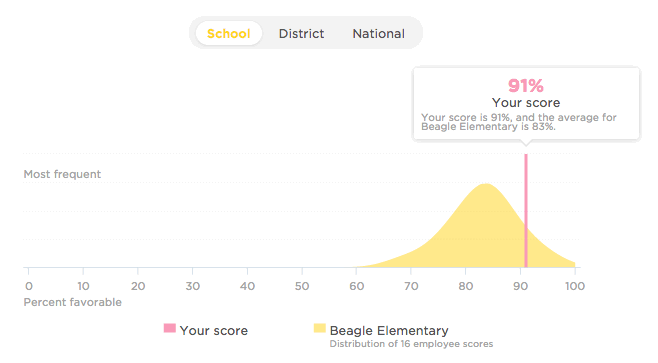 Survey results are not grades—no one receives 100 percent across the board. Without the context provided by Benchmarks, it can be difficult to know whether your results are particularly strong or indicate real potential for growth. By accumulating a large sample of responses to questions on our surveys, we've created a tool that includes over 450,000 survey responses from over 800 schools and 40 districts across diverse geographic areas and school types.
As anyone who's studied statistics will tell you, there's a lot more to "average" than simply finding the mean of a large dataset. That's why Benchmarks is illustrated with a distribution curve, as opposed to a numerical average, in order to offer a more complete picture when viewing your data, and thinking about how you want to set progress increments to measure improvement over time.
Interested in learning more?
At Panorama, we strive to provide educators with clear, actionable insights based on high-quality stakeholder feedback. Releasing new tools like Benchmarks gets us excited about the other ways in which we can make data accessible to educators.
We'd love to get your thoughts, questions, and comments about Benchmarks and our other tools and resources. Share your feedback in the comments below or email contact@panoramaed.com!